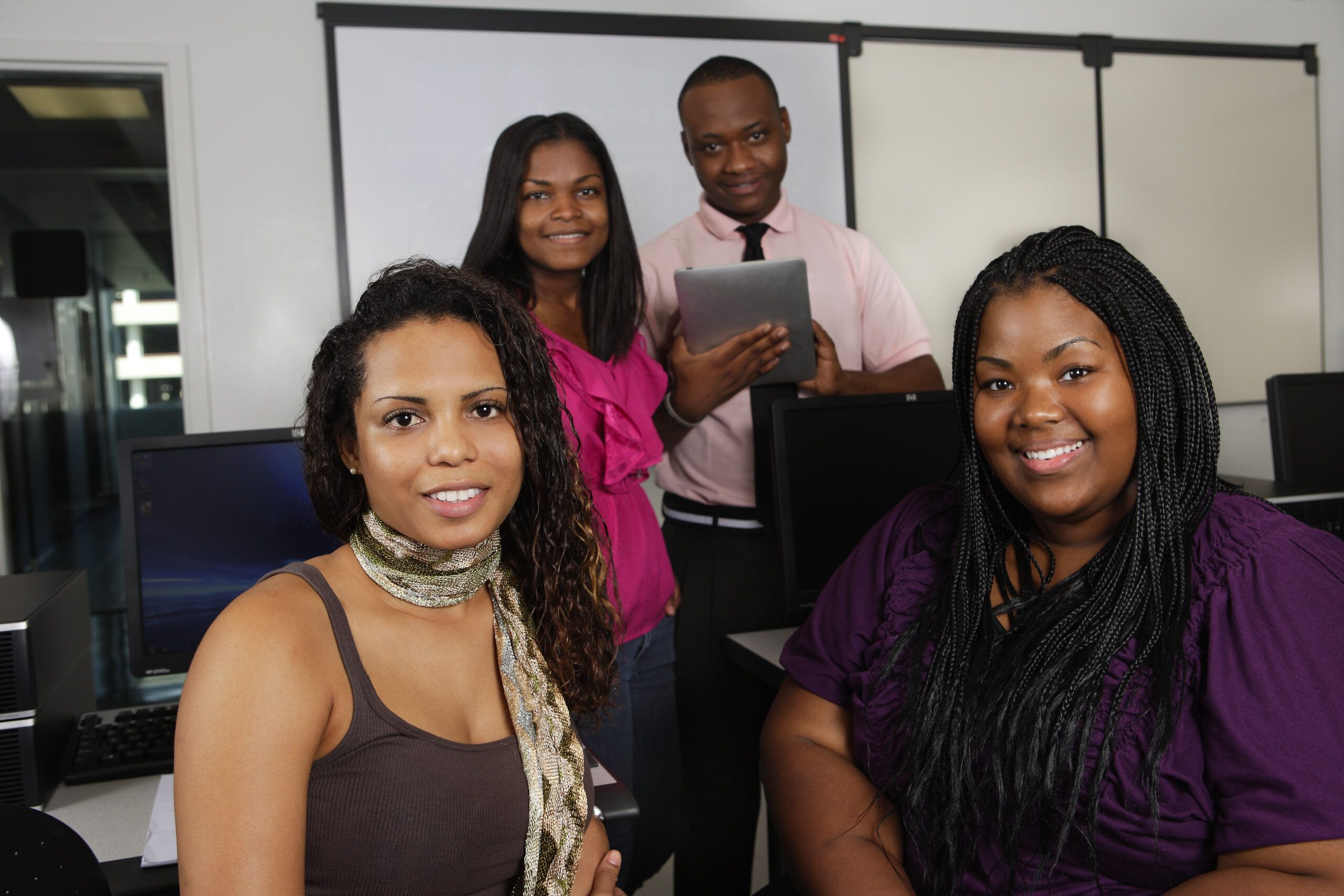 Commemorate Black History Month at These Events on Campus
30 January 2020 | 3 min read
It's February, and apart from Valentine's Day, the month is significant for another celebration – the observance of Black History Month. From February 1 to 29 across the United States, events are held to honor African Americans and their achievements and contributions to the nation.
Broward College is proud to be an institution that serves a diverse population. In 2019, the College was ranked first for the number of associate degrees conferred to African American students by Diverse Issues in Higher Education. African Americans are the second largest group of students at the College, comprising 30 percent of the population.
"Black History Month is not just about African Americans," explains Dr. Robert Morris, professor of History and Political Science, as he extends an invitation for everyone to take part in the month's activities. "Even though we are celebrating the achievements of a particular group, this month is about all Americans, regardless of race or ethnicity. It's an opportunity to come together and honor how we all contribute to shaping the America of today."
Celebrating Activism
Last year, Dr. Morris was the driving force behind the creation of the Broward College Chapter of the National Association NAACP College Division, which launched with 30 students.
"Bringing the NAACP to our College is incredibly beneficial to our students because we are showing them how to become involved and be a part of the solution to issues they deal with every day," says Dr. Morris. The organization's national headquarters will officially recognize the Broward College chapter during a ceremony on February 17. The Chapter will kick start activities for the month on February 4, with a discussion that aligns with this year's theme "African Americans and the Vote" titled #Vote2020, moderated by Dr. Morris.
Researching History
Another major event for the chapter during Black History Month is the Florida Conference on African American History & Culture (FCAAHC), which will host its inaugural session on February 26 at the Judson A. Samuels South Campus. As Dr. Morris explains it, the goal is to position Broward College as a leader in the research of African American history in South Florida. "We must teach our history to the future generations," he says.
Each year, a topic is chosen by a committee, and the research gathered focuses on the local history of the African American community. This year, the conference is focusing on the oldest black churches in Miami and Fort Lauderdale. Historians and representatives from the Macedonia Missionary Baptist Church and Piney Grove Missionary Baptist Church will attend.
Black History Month Events of Campus
Other college-wide celebrations include film screenings, panel discussions, and art exhibits. South Florida PBS is sponsoring a screening of Finding Your Roots with Henry Louis Gates, Jr. on February 10 at 6 p.m. in North campus' building 46, room 152 while the Judson A. Samuels South Campus will welcome executive producer Walt Wolfram for a Q&A after the screening of Talking Black in America.
There are also several panel discussions. At the A. Hugh Adams Central Campus, on February 17 at 11 a.m., students are welcome to attend the U.S. census panel discussion, which will take place inside building 17, by Dunkin Donuts.
Renowned poet Ed Mabrey will visit the Judson A. Samuels South Campus activity center on February 6 at 6 p.m., and a writing workshop with Spoken word Exchange will take place on February 18 at 1 p.m. in room 139 of building 66.
For a full list of Black History Month, activities check out the calendars below:
North Campus in Coconut Creek Hugh Adams Central Campus in Davie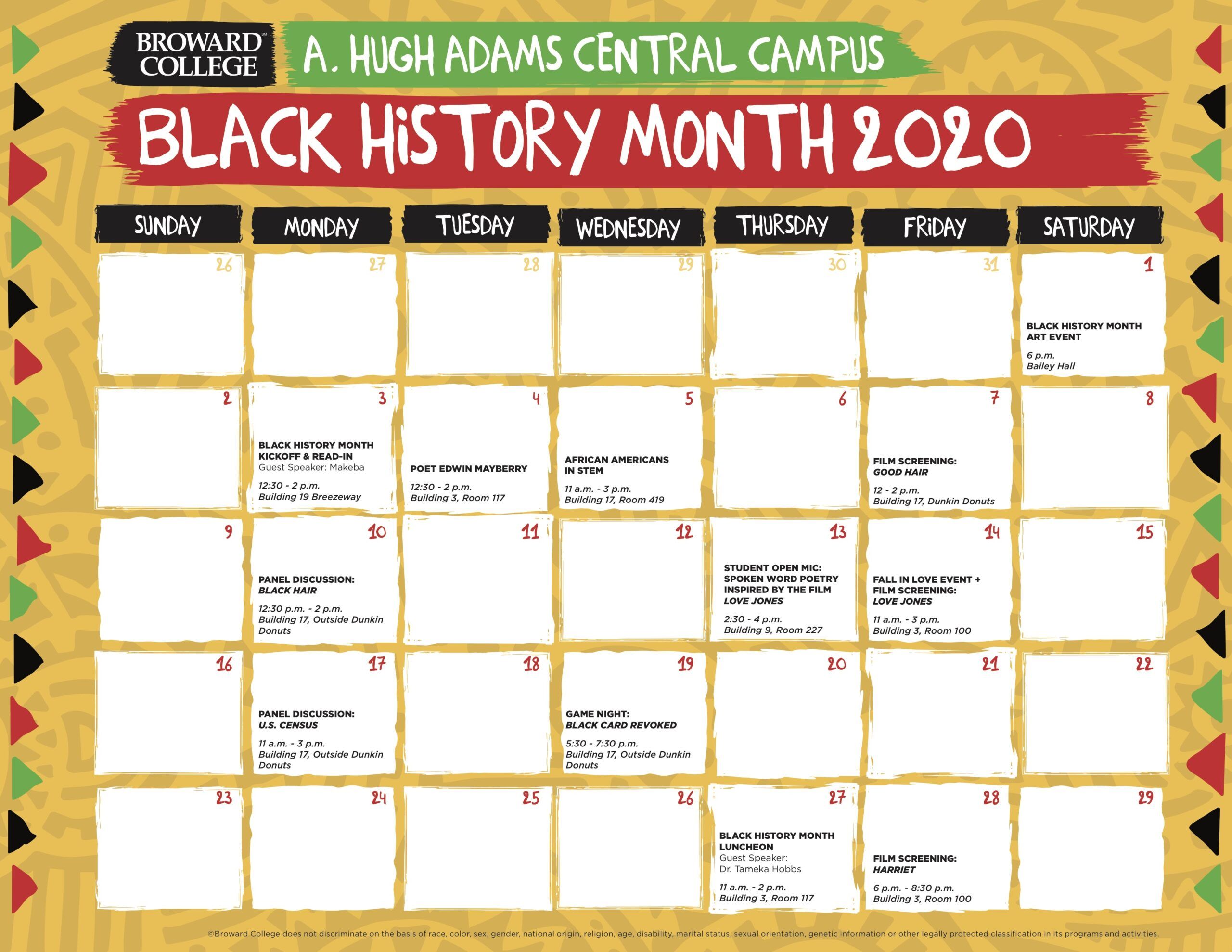 Judson A. Samuels Campus in Pembroke Pines