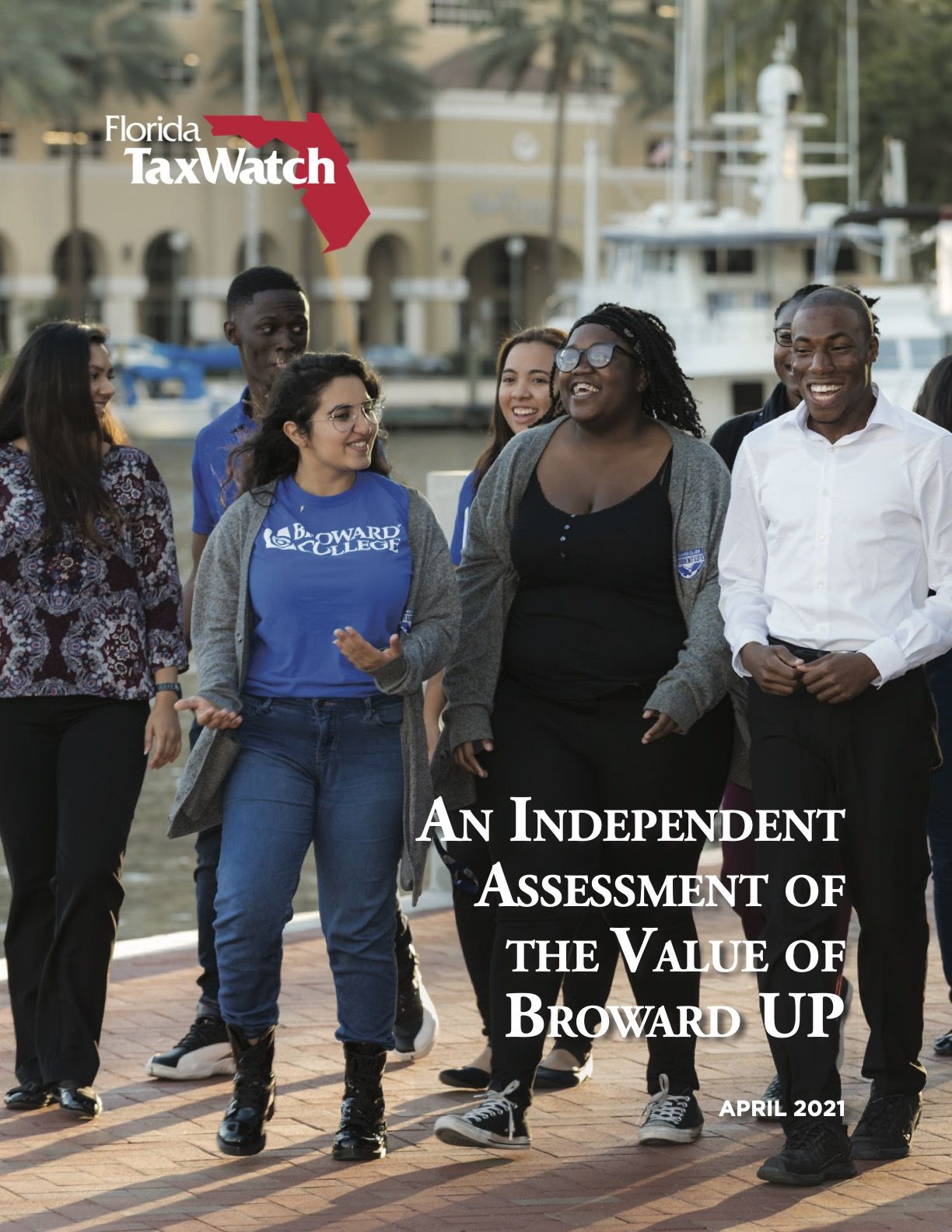 Florida TaxWatch Report Gives Thumbs Up to Broward UP
News

| 16 April 2021 | 3 min read
Her heart was filled with ambition, but her hands were tied by life's terms. Nadine had just moved from Jamaica to Broward County and needed a job. Looking to update her resume to complement her job search, the wife and mother enrolled in workforce training through Broward UP—Unlimited Potential—which aims to improve access to post-secondary education and deliver in-demand skills to communities impacted by high unemployment and low education attainment.
In just five weeks, Nadine said she was able to complete a CORE Supply Chain Management Course, pass the certification exam with flying colors and accept a position with TruGreen, where she is taking advantage of the skills she obtained through Broward UP. Nadine is one of the thousands of residents who have benefitted from Broward College's new innovative approach to post-secondary access.
Launched in 2018, Broward UP is already making a material impact on its participants, the community, and the state. According to "An Independent Assessment of the Value of Broward UP." Broward College President Gregory Adam Haile, J.D., said the report, released by Florida TaxWatch, an independent, nonpartisan government think tank, will fuel Broward UP efforts.
"Broward UP operationalizes a bedrock ideal of Broward College: every resident should be empowered and enabled to pursue post-secondary education," said Haile. "This business model expansion echoes our resolve to bridge the chasm between talent and opportunity. And this report offers credence to our work."
While still in its infancy, Broward UP has been providing residents like Nadine with free workforce training that can lead to certificates and industry certifications in areas connected to in-demand jobs. The results make a difference in communities where the average unemployment rate is triple that of all of Broward County.
"This Florida TaxWatch report finds that the approximate total of Broward UP participants' career earnings is more than $1.3 billion and, what's more, the program has the potential to save Florida millions of dollars in public assistance funds annually," said Dominic M. Calabro, Florida TaxWatch president, and CEO. "Given those far-reaching benefits, we strongly encourage policymakers, other colleges, and communities to use this successful framework as a model for the rest of the state."
Participants in Broward UP enroll in courses that can be taken face-to-face or through remote instructor-led sessions. Focus areas range from medical coding to business and supply chain management. To date, Broward UP has received generous support from philanthropic individuals, corporations, foundations and grants totaling approximately $6 million to cover student tuition for more than 2,000 students through credit and non-credit options. Many of those students likely had difficulty reaching the campus in person.
"It isn't enough for Broward College to be an excellent institution for those who can get to us," said Dr. Mildred Coyne, senior vice president, Workforce Education, and Innovation at Broward College. "We must reach into the community and serve people who may not seek out higher education for various reasons. If we are to have a fully recovered and vibrant economy, we need everyone to be able to connect to jobs that lead to resilient wages, and those jobs require post high school credentials of value."
The success of Broward UP is due, in part, to trusted partnerships with community organizations, such as the Urban League of Broward County, which served as an inaugural pilot site for workforce training.
"Broward UP aligns not only with our mission to promote economic and social equality; it does so in a way that places equity at the forefront," said Dr. Germaine Smith-Baugh, president and CEO of the Urban League of Broward County. "At the Urban League, we believe that when access meets opportunity, people will make the choice to advance their life goals for the better."
The Florida TaxWatch assessment was funded by the Frederick A. DeLuca Foundation, one of the lead philanthropic investors in Broward UP.
To read the report and discover other key findings, click here.
If you are dedicated to promoting opportunities for residents of Broward County to achieve their highest potential, Broward UP™ is a county-wide movement for you to get behind. Here's how you can partner.
Broward UP
Broward College Students