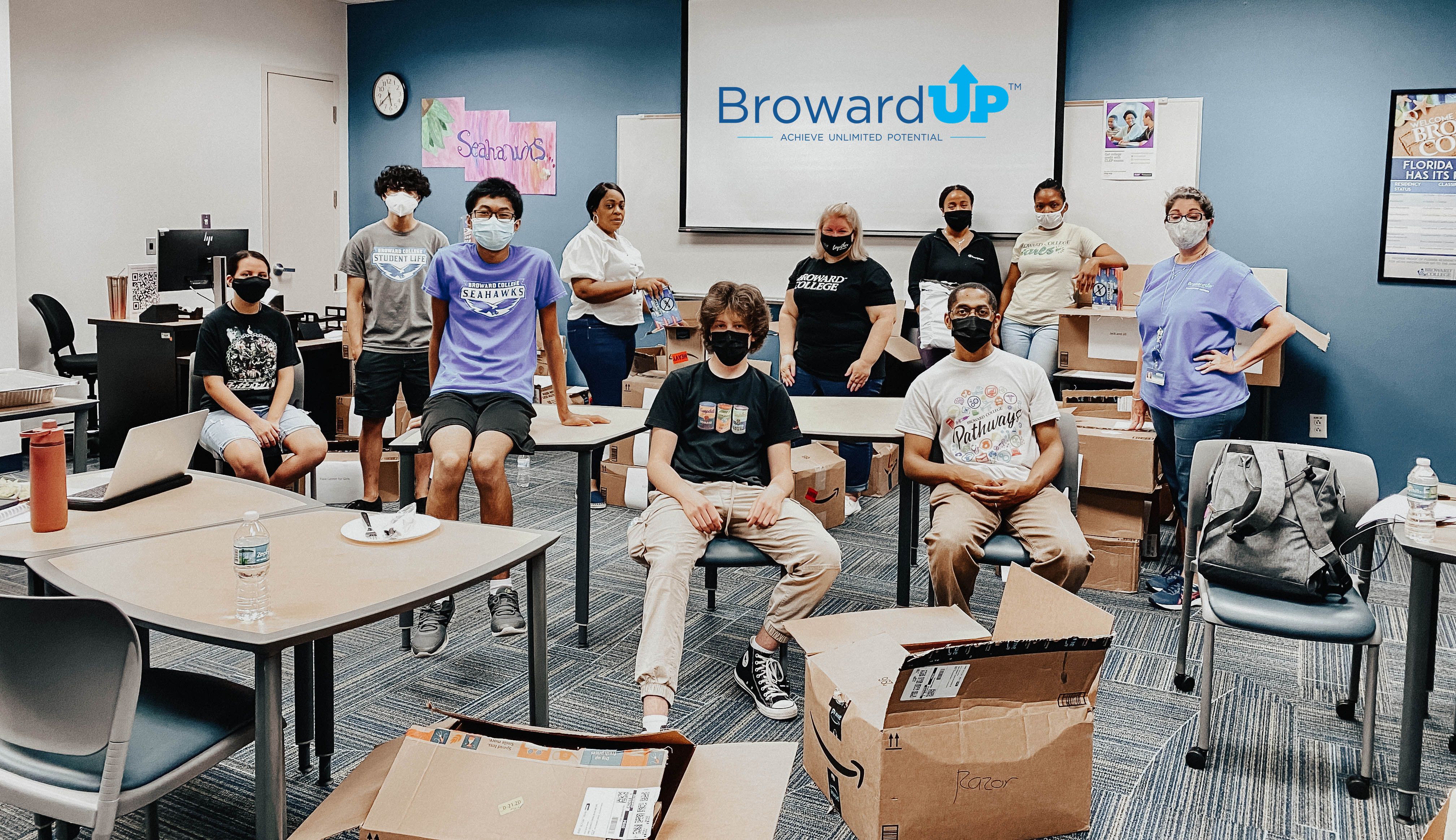 Broward UP™ Employee Volunteers Find in Giving, They Receive
Events

| 13 July 2021 | 3 min read
Some gifts are never forgotten. Alicia Smith Wroble can attest. The associate dean of Student Services was just in preschool at the time, but she fondly remembers the joyful look on the face of her father when he returned home with a package of donated food and living supplies to help their struggling family make ends meet.
Alicia envisioned that same relief and gratitude again when she joined a team of Broward College employees who volunteered to fill boxes with toothpaste, shampoos, deodorants, and other hygiene items on a Friday afternoon in July on North Campus. The hygiene supplies, along with a donated commercial refrigerator, were to be shipped to Broward UP community partner locations, such as the Boys and Girls Club of Broward County, FLITE Center, Jack and Jill, and Pace Center for Girls. They would be distributed to needy families of current and future Broward College students.
"I love doing this," said Alicia, who, in addition to her roles in admissions and registration, volunteers on the Social Services Commission team of Broward UP. Broward College launched Broward UP three years ago to improve economic mobility in zip codes with the highest unemployment and the lowest education attainment rates. "We're Broward College. This is part of who we are. Whatever we can do to support these organizations to make our community better is in our values, in our mission, she added."
The "packing party" was made possible, thanks to a $10,000 grant from Florida Blue, which is enabling Broward UP to respond to a needs assessment it conducted at "share centers" that have been established at partner locations throughout the county. Hygiene was a prevailing concern.
Melanie Gnaizda-Gilson believes the supplies will make a difference. As a coordinator for Student Success at Broward College, she's heard firsthand from students who have received help at one of the drive-through food pantries established on campus in the past year.
"Our students say this is a blessing," said Melanie, who also volunteers as a member of the Broward UP Social Services Commission. "I know that whoever is a recipient can now focus on something else. They're no longer worried about whether they can brush their teeth or have deodorant because they need to go to an interview that will improve their lives. They now have this big box of supplies that they don't have to worry about buying."
Jennifer Saint Louis, district director, Broward UP Commission and Community Impact, explained that the Social Services Commission partners with community agencies and college departments to provide behind-the-scenes support to address basic needs that can be critical to student success. Some of that work has involved creating resource partnerships to tackle food insecurity, performing needs assessments, securing in-kind donations, and helping team members to conduct grant writing training. In the last academic year, the Social Services Commission has supported 18 community outreach events.    
Packing Party
Zhenyi Neri, a supervisor in Student Services, joined the packing team as well. She brought along her sons, Justin, 17, and Jordan, 15, who attend Coral Glades High School, to help.
"I would've been in my room, online, or hanging out with friends," said Jordan Neri. "Obviously, this makes us feel good that we are doing something for someone else."
Alicia knows what it was like to be that "someone." She also knows what it is like to help them. For the past 23 years at Broward College, she says she's probably heard every story and seen every student situation. At least she thought she had until one recently caught her eye.  Alicia came across a post on the Flight Center Facebook page. Pictured was her daughter's baby chair that Alicia had once donated to the center and was now being put to good use by "someone else."
"I try to help them all," said Alicia. "I know what it is like to receive those anonymous boxes. And so, my hope is that people have the same feeling knowing that there are others who do care and want to help."
Broward UP instructors, staff, and community partners are invested in your success. Don't know where to start? They can help you choose the right course or workshop and get you started on achieving your Unlimited Potential!
Learn more about Broward UP
.
Broward UP
Community
Broward College Employees