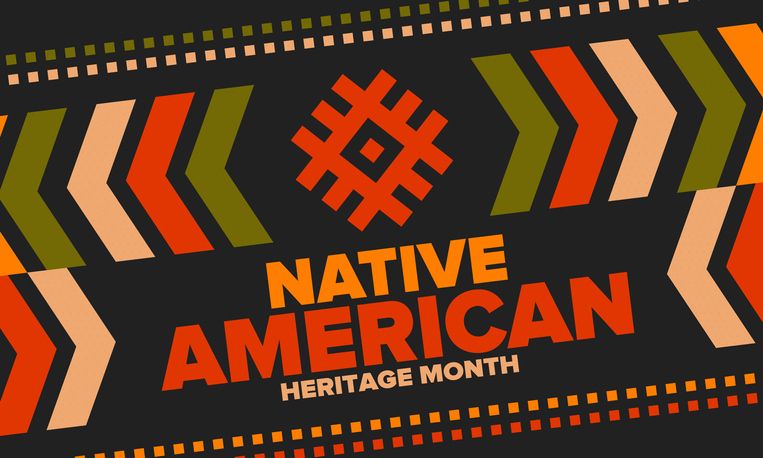 Celebrating Native American Heritage Month
Events

| 03 November 2021 | 2 min read
November is a month of grand celebrations, most popularly Thanksgiving and what many consider a kickoff for the winter holiday season. Amidst the festive spirit, we also celebrate the culture, contributions, and successes of a small but crucial group of people—it is National American Indian Heritage Month.
The month is an opportunity to raise awareness about Native Americans, the challenges their people have faced historically and currently, how they have overcome them and continue to do so, as well as educate the public about their way of life.
In 1990, President George H.W. Bush designated November as "National American Indian Heritage Month," but the origins of the month date many years back. Dr. Arthur C. Parker, a Seneca Indian from New York, was the first to propose an American Indian Day in 1915, which the governor of New York finally declared in May 1916. Over the years, several states adopted the celebration, most of them choosing to do so on the fourth Friday in September.
Two federally-recognized tribes call South Florida Home—the Seminole and Miccosukee natives, who together represent 0.4 percent of the Broward County population. Native American locals have, from time to time, chosen to pursue their post-secondary education at Broward College. The first to do so was Priscilla Doctor from the Seminole Tribe, who enrolled at the College when it first opened in 1960. Today, there's still a representation of the Native American population at the College. They make up 0.2 percent of the student body.
In the Spotlight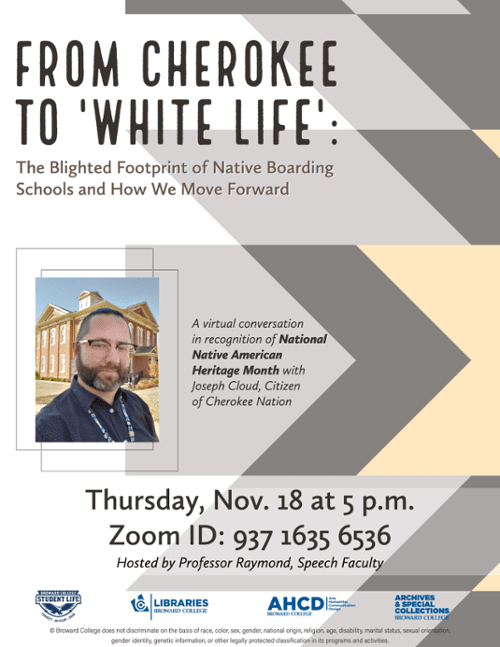 In honor of Native American Heritage Month, Broward College professor Laura Raymond from the Arts, Humanity, Communications, and Design pathway, librarian Andrew Dutka and the University/College Library Outreach Committee will host a presentation on Native Boarding Schools. This issue has gained notoriety in the public eye due to recently uncovered horrors behind it.
"This is a fascinating topic within the history of Native Americans. It's something that's been out in the open recently and it's a great way to start a conversation on how everyone can help. We are very excited for this presentation and everything we will learn from Joseph," says Dutka.
The event titled From Cherokee to 'White Life': The Blighted Footprint of Native Boarding Schools and How We Move Forward will take place virtually via Zoom on November 18 at 5 p.m.
Joseph Cloud, a Fort Lauderdale native and citizen of Cherokee Nation, who is currently completing his bachelor's degree in Oklahoma, will talk about his experience at one of the boarding schools. His presentation will explore how Native Americans throughout the years were pushed towards assimilation into the American culture by trying to erase their heritage and traditions. A Question & Answer session will take place at the end of the presentation.
Broward College  is proud to serve a diverse student body that reflects the community. Regardless of your heritage, we encourage you to join the recognition of Native American Heritage Month to learn how you can support the development of our diverse community. Register for the event
here
.  To view other upcoming events and activities, check out our
calendar
.
students
Broward College Students