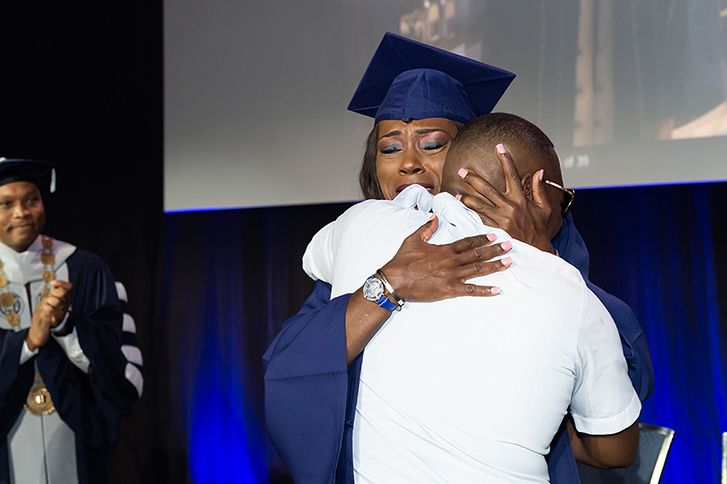 Ahead of Mother's Day, Broward College Graduates Feel the Love at Spring 2022 Commencement
It's not uncommon for graduates and their loved ones to cry tears of joy at their commencement ceremony. When that commencement happens to fall before Mother's Day weekend—as was the case for Broward College's spring 2022 graduation ceremony on May 5—it's a recipe for overwhelming moments of happiness.
Here are some of the highlights from the commencement that will warm your heart this Mother's Day.
Crossing Oceans to Be with Mom
Jennifer Freeman expected to feel the excitement on May 5 when she received her Associate of Arts degree. But her degree wasn't the only thing that brought a smile to her face that day. Before the ceremony, she was surprised by her son, Petty Officer Second Class Marcus Roberts, an Operations Specialist in the U.S. Coast Guard who took leave from his deployment so that he could be with his mom on her special day.
Jennifer's graduation was a long time in the making. She raised three kids as a single mother in Nassau, Bahamas, working full-time to support them even after the family moved to South Florida in 2004. She enrolled at Broward College in 2020 at the age of 52, taking morning classes after working the late-night shift as a card dealer at Seminole Hard Rock Hotel and Casino. For Jennifer, graduation represented the culmination of her hard work and dedication. She wished her son could be there to share in her accomplishment.
When she first reached out to Marcus with an invitation, she was met with bad news: He was scheduled to be deployed aboard a Coast Guard cutter in Malta during that time. But then came an unexpected change in the deployment schedule, and suddenly Marcus realized he would be available to attend her graduation after all. He decided to surprise her.
Working with the Marketing and Public Affairs Department of Broward College, Marcus arranged for his mother to arrive early at the graduation ceremony for what she thought was a Mother's Day picture with the College's president, Gregory Adam Haile, J.D. As she posed with the president for her photo opportunity on the commencement stage, her son, dressed in his Coast Guard Tropical Blue service uniform, emerged from behind a screen with a handful of flowers. Overwhelmed with emotion, she wrapped her arms around her son and cried.
"This is the best Mother's Day ever," she told a reporter from the Miami Herald, who was on hand to document the surprise. "I think this is the best Mother's Day any mother could get."
Read more about Jennifer and Marcus' special moment: https://www.miamiherald.com/news/local/education/article260989927.html
Watch the ABC Person of the Week video: https://youtu.be/8-_1CpSNUGo
Celebrating Degrees of Strength
Jennifer was among hundreds of mothers at the College who graduated this spring. Their journey highlights the strength, care, and dedication of women across our county, state and the nation who have done what it takes to lead their families by example.
Giving the Gift of Education
Also graduating that day was Ingrid Palomino. Originally from Peru, Ingrid came to the United States in 2006, seeking to make a better life for herself and her nine-year-old daughter in South Florida. To make ends meet, Ingrid worked two jobs every day. When she enrolled part-time in the Business Management program, she struggled to balance school and work with learning English and getting acclimated to life in South Florida. But on May 5, after nearly 12 years as a student at Broward College, she finally earned her Bachelor's degree in Information Technology. 
Read more about Ingrid's story: https://news.broward.edu/2022/05/ingrid_palomino_grad_profile.html
Watch ABC Person of the Week video: https://youtu.be/8-_1CpSNUGo
Doing It for the Family
Brenda Amaya came to Broward College in 2019 after hitting the ceiling in her advancement at work. By that point, she had acquired more than 30 years of experience in the construction consulting industry, and she was seeking a degree that could help her earn a higher salary that would match her depth of knowledge. As a student, Brenda continued to work full-time throughout her studies and even managed to reorient her home life around her academic pursuits. On weekends, her family provided 100% support and even accompanied her to the Broward College Math Lab and Tutoring Lab. "With three adult kids at home, I had to teach my husband to cook," joked Brenda. "He would be Facetiming me with questions about ingredients and recipes. Now, he loves it!"
Read more about Brenda's story: https://news.broward.edu/2022/05/brenda_amaya_grad_profile.html
Watch the ABC World News Person of the Week video: https://youtu.be/8-_1CpSNUGo
Living an Exemplary Life
Lucila Marquez came to the United States as an asylum seeker from Venezuela, where she taught English grammar for a living. As a member of the opposition party, she wrote newspaper columns and distributed pamphlets that were critical of what she considered an oppressive government. Lucilia faced prison time and even received death threats for her views. So, when the prospect of fleeing the country as a political asylee was raised, Lucilia had a tough choice: stay with her family and fear for her life, or pursue freedom alone in the U.S.? As a mother and grandmother, she shuttered at the idea of leaving her family behind. But when her grandson told her that he'd rather have a grandmother who lived far away than a grandmother who could be killed at home, she decided to relocate to the United States.
Read more about Lucila's journey: https://news.broward.edu/2022/05/lucila_marquez_grad_profile.html
Inspired by the stories of Jennifer, Ingrid, Brenda and Lucila? Explore more or learn how you too can fulfil your dreams at www.broward.edu.
To all our students, alumni, faculty and staff members who are mothers – Happy Mother's Day!
Commencement
students
Broward College Students