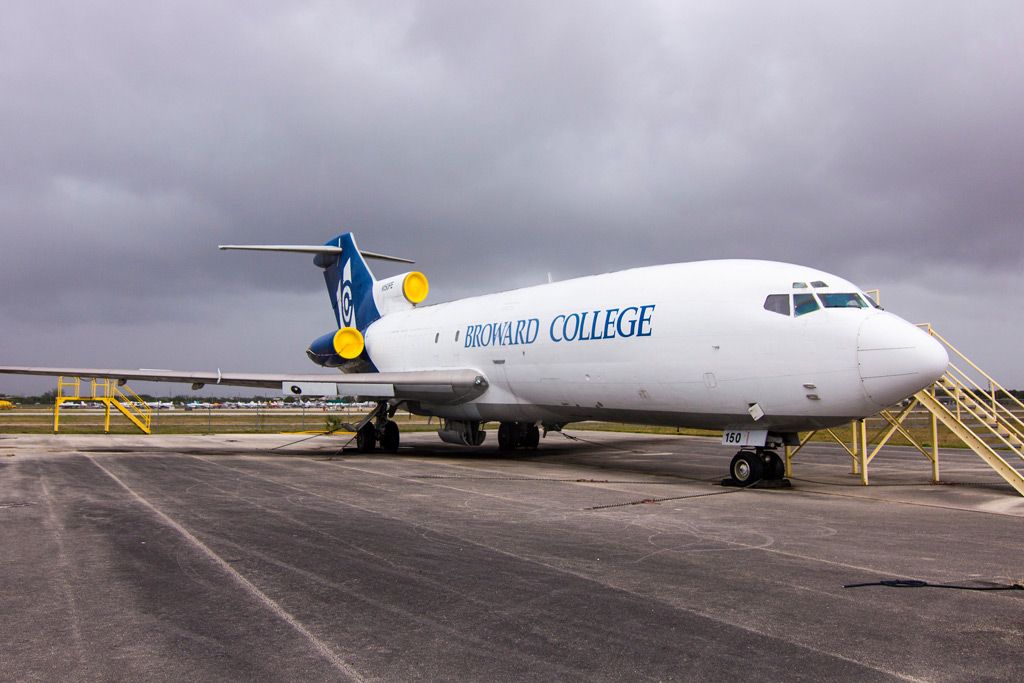 Broward College Announces New Bachelor's Program in Aerospace Sciences
News

| 03 December 2018 | 3 min read
​​​​​Broward College has announced a new Bachelor of Science degree in Aerospace Sciences for students seeking to study pilot and aviation management. The program was approved by the Florida State Board of Education on November 16 with kudos and accolades for the College's commitment to providing education which directly aligns with local business growth. Classes will begin in 2017. 
Students will now have the opportunity to continue their education as the new degree builds on the existing three associate degrees and five certificate programs the institution currently offers. The degree will include two tracks; professional pilot and aerospace management.  Those who earn both the Associate of Science in Professional Pilot Technology and the Bachelor of Science in Aerospace Management Professional Pilot Track with as few as 1,000 hours of flight experience will be eligible for hire by an airline, pending Federal Aviation Administration approval.
The aerospace management track is ideal for individuals looking to complement their first two years of technical training with a focus on leadership and a broader survey of the industry, particularly in airport and airline operations. The aerospace management specialization is eligible for the $10K bachelor's program if students first pursue the Associate of Science in Aviation Administration Aviation Business specialization.
"This program is much more affordable than many others across the country, and offers a bachelor's degree option to a whole new segment of people who otherwise would simply not continue their education," said Russell McCaffery, dean of Transportation Programs. "Aviation and aerospace has been identified at both the state level with Enterprise Florida and county level through the Greater Fort Lauderdale Alliance as industries we want to bolster. Our students will have the technical skills earned at the associate's degree level, but now they will have the opportunity to learn management and leadership skills as well. Their earning potential will increase significantly."
INCREASED DEMAND MARKS GROWTH
The new degree will ensure the aviation industry in South Florida will have a highly skilled and qualified talent pool. According to data acquired by the Greater Fort Lauderdale Alliance, the aviation industry is a multibillion-dollar sector in Broward County where airlines, general airports, airframe and engine manufacturers, component parts suppliers, and allied industries such as banking and insurance, and government agencies regularly locate headquarters and branches. In recent decades, Fort Lauderdale-Hollywood International Airport (FLL) has grown into a major transportation complex that now provides more than 139,000 direct and indirect jobs and boasts an economic impact of more than $13.2 billion. In addition, most major airlines require a four-year degree for pilots and upper management. 
The closest state institution with a similar bachelor's program is Polk State University in Lakeland, FL.
OTHER PROGRAM IMPROVEMENTS
The new bachelor's degree is the latest development in a year marked by continuous growth for the Aviation Institute at Broward College. This past summer Broward College and Diversified Companies broke ground on a new aviation facility at the North Perry Airport for its Aviation Maintenance Management Associate of Science program. The new facility houses four classrooms, faculty offices, and shop space in its 13,500 square feet. It is anticipated the new facility will be ready in spring 2017.
In addition, the College signed on Phoenix East Aviation (PEA), a top pilot training school backed by private equity firm Renovus Capital Partners, to become the aviation training provider for the flight training program. 
The Bachelor of Science in Aerospace Sciences is expected to be offered in 2017. Visit www.broward.edu/aviation​ for more information and updates.
ABOUT BROWARD COLLEGE AVIATION INSTITUTE:
Established in 1966, the Broward College Aviation Institute is the only public facility in Broward County dedicated to the training of aviation professionals. The Institute currently offers Associate of Science degrees in aviation administration with four areas of specializations, as well professional pilot technology and aviation maintenance management. It also has certificate programs in airport management, avionics vocational, airport airframe mechanics, aircraft power plant mechanical and commercial flight operations. 
Broward College is an approved institution authorized to certify its graduates for a restricted privileges Airline Transport Pilot (ATP) certificate with reduced aeronautical experience. The Institute was approved by the FAA for pilot training under FAA Part 141 and are a Collegiate Training Initiative (CTI) institution for air traffic control training and education.
The Broward College Aviation Institute is located on South Campus at 7200 Pines Boulevard in Pembroke Pines, FL adjacent to North Perry Airport. For more information, visit www.broward.edu/aviation​.