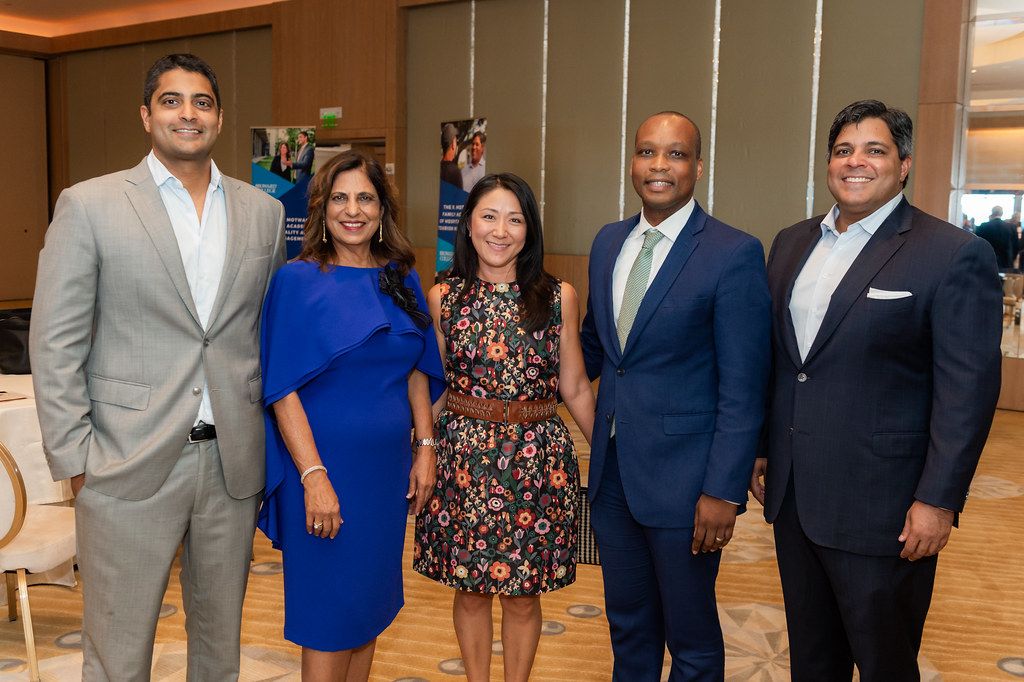 Broward College Receives Commitment from Motwani Family to Establish Named Hospitality and Tourism Academy
Press Releases

| 11 September 2019 | 5 min read
Fort Lauderdale, Fla. (September 11, 2019) – Broward College and its Foundation last night announced a significant commitment from Ramola, Nitin and Dev Motwani to create an endowment to support the College's hospitality and tourism management program.  The College also officially named the program the R. Motwani Family Academy of Hospitality and Tourism Management in memory of Motwani family patriarch, Ramesh "Bob" Motwani, who passed away 25 years ago.
"Broward College is blessed to receive this gift, a gift that will make such a difference in the lives of others, the students who will rise up in the hospitality and tourism industries as a result of the generosity of the Motwani family," said Broward College President Gregory Adam Haile, Esq. at the announcement event. "We have the privilege of recognizing this family, who had a dream for our community, found success in achieving it, and who are giving back."
Ramola Motwani pointed out that the "R" in the R. Motwani Family Academy stands for both Ramesh and Ramola and represents their common dream, noting "one initial, one dream, one vision."
"We celebrate my late husband, Bob Motwani, and his vision for the future of hospitality and tourism in South Florida with the establishment of the R. Motwani Family Academy," said Ramola Motwani, chairwoman of Merrimac Ventures, the company she and Bob founded together. "As a family, we share my husband's dream and continue to be committed to growing, shaping and enhancing our industry.  Partnering with Broward College to develop future leaders who will contribute to this burgeoning industry is one path to accomplishing this goal."
In addition to the launch of the R. Motwani Family Academy, the Motwani family committed to hosting an annual signature fundraising event for five years to secure additional resources for the Academy.  The first gala event will take place on November 7 at the Conrad Fort Lauderdale Beach.  For more information, visit https://giving.broward.edu/motwani-academy-gala. 
Plus, the family is using their extensive relationships in the community to raise scholarship funds earmarked for Academy students. They also have committed to using their relationships with industry leaders to create internships for students within multiple sectors of the tourism and hospitality industry, ranging from cruise lines and casinos to hotels and entertainment.  In addition, to deepen the educational experience for students, they plan to bring in national and international speakers and develop practical, hands-on field trip opportunities.
Ramola Motwani's objective is to connect students participating in 15 public high school hospitality programs, which she has championed for 12 years, to Broward College's R. Motwani Family Academy.  
Motwani Family Academy at Broward College:
Students will be able to secure a position in the industry upon receiving their certification or degree or will continue on to earn bachelor's and/or master's degrees in hospitality, tourism or related fields.  In fact, students who earn their associates degrees at the Academy may seamlessly transfer into Florida International University's Chaplin School of Hospitality & Tourism Management due to an articulation agreement with Broward College.  In all cases, Academy graduates will have opportunities for success while accelerating the growth of this linchpin industry.                                                        
"Bringing up these future leaders will positively impact our community for the long term," said Motwani. "Our South Florida economy hinges on hospitality and tourism, and creating stronger leaders will inevitably create a more robust industry." 
About Merrimac Ventures:
Merrimac Ventures is a real estate investment and development firm focused on prime resort and mixed-use development with significant investment in multi-family residential, condominiums, retail and office.  Partners in Merrimac Ventures currently are involved in more than $3 billion in projects, including Miami WorldCenter, the Four Seasons Hotel and Private Residences Fort Lauderdale, The Gale Boutique Hotel and Residences, Paramount Fort Lauderdale Beach, Broadstone Oceanside in Pompano Beach and the Flagler Village Hotel, among others.  
Merrimac Ventures was founded in the late 1970s by Bob and Ramola Motwani as an import/export business in St. Charles, Missouri. In the mid-1980s, Merrimac Ventures expanded into the hotel business by purchasing hotels along Fort Lauderdale's famed A1A strip. With the elimination of Spring Break in the late 1980s, most hotel owners in the area either suffered foreclosure or were forced to leave; however, Bob and Ramola continued to acquire properties with a common vision of redeveloping and transforming the Fort Lauderdale Beach into a world-class resort destination, a vision also shared by the local community and government at the time.
With Bob's passing in 1994, Ramola continued to pursue that shared vision with a tireless determination. Under her guidance, Merrimac Ventures has continued to expand its footprint throughout the United States and India.  In 2004, Ramola brought in her eldest son Nitin Motwani, who was working with Goldman Sachs at the time, to help expand the business and oversee the day-to-day operations. In 2006, her younger son Dev Motwani left his job with Credit Suisse to work with Merrimac Ventures, while Nitin focused full-time on the firm's Miami WorldCenter project. Today, Ramola serves as chairwoman of the firm, responsible for setting its long-term goals and vision. Dev, president and CEO of the company, oversees the day-to-day operations and the investments in which the firm acts as the principal. He also has served on the Board of the Broward College Foundation since 2015. Nitin is a principal of the firm as well as managing partner of Miami WorldCenter.
About the R. Motwani Family Academy of Hospitality and Tourism Management:
The Motwani family will offer their expertise to build upon the established hospitality and tourism program at Broward College.  The program currently offers three certificate programs and three associate degree programs in the restaurant, hospitality and tourism management fields.  Programs develop the knowledge and skills that underpin an array of professions ranging from hotel management and food service to hospitality law and financial management. Classes are taught by faculty who provide real-world experience and teach using cutting-edge tools and techniques.
About the Broward College Foundation:
The Broward College Foundation is a 501(c)(3) non-profit organization and the officially designated means of making private, charitable contributions to Broward College.  Its purpose is to change lives through education by providing community awareness, advocacy and funding to the College.  Members of the Foundation's volunteer board of directors work closely with the College's Office of Advancement to raise money to support scholarships, academic programs and learning facility enhancements. They believe every person who is determined to change their life through the pursuit of higher education should be afforded that opportunity.  For more information, visit www.broward.edu/foundation or call 954-201-7414. 
ABOUT BROWARD COLLEGE:
Serving approximately 56,000 students annually, Broward College provides residents with certificate programs, two-year university-transfer degrees, two-year career degrees, and baccalaureate degrees in selected programs. The mission of the College is to provide high-quality educational programs and services that are affordable and accessible to a diverse community of learners. For more information, visit  www.broward.edu.