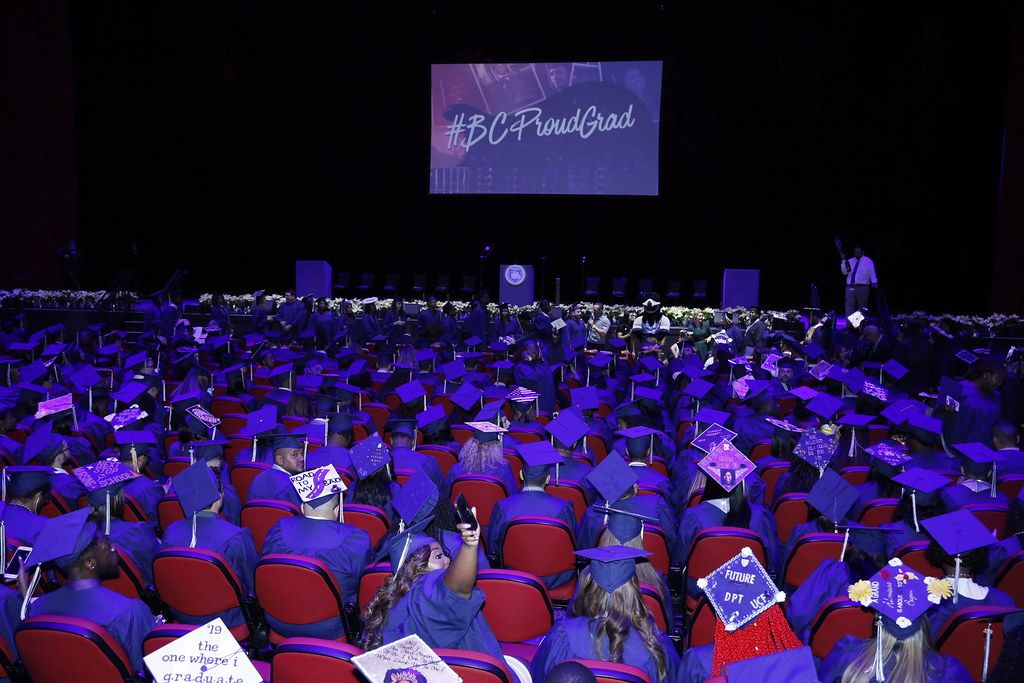 Broward College Celebrates Student Achievements at Fall 2019 Commencement
12 December 2019 | 2 min read
FORT LAUDERDALE, Fla. (Dec. 12, 2019) – Broward College hosted its 91st commencement ceremony on Wednesday, December 11, at the Hard Rock Live, the entertainment venue adjacent to the brand-new Hard Rock Guitar Hotel. In total, 1330 graduates participated in the ceremony from among the more than 4,000 students who met the requirements for graduation.
Highlights from the graduation include:
The keynote address was delivered by Carolina García Jayaram, executive director of the Elevate Prize Foundation. Ms. García Jayaram received an honorary Bachelor of Science in Supervision and Management in recognition of her ongoing philanthropic leadership and advocacy of young artists.
121 veterans graduated
The oldest degree recipient was 81 years old, and the youngest was 17.
412 bachelor's degrees and more than 3,700 associate degrees were awarded.
An honorary Associate of Arts degree was awarded to Daniela Tabares, a Broward College student who died tragically a few weeks ago. Daniela was only a few credits away from graduation. The recognition was presented to her mother Isabel Tavares.
Among those notable graduates who earned degrees are:
Larry and Carolyn Jones, a married couple from Pompano Beach, had the opportunity to walk down the aisle together a second time at the graduation. Larry who works at Broward College as a facilities manager received a Bachelor of Science in Supervision and Management. Carolyn, an eighth-grade science teacher at Howell L. Watkins Middle School, received her Associate of Science in paralegal studies. Both Larry and Carolyn took evening classes after long days at work and are looking forward to what's next to come. This milestone also marked Larry becoming the first in his family to graduate from college.
Roberto Viana graduated at 81-years-old. A resident of Weston, he earned an Associate of Science in Supply Chain Management. After working in electrical engineering for more than 40 years in Peru, Roberto tried to enjoy retirement but found he was missing something. His home, the port city of El Callao, had become more notorious for crime than as a maritime landmark and he, and his wife, relocated to the United States to join their sons. Still not ready to retire, Roberto made the big step to enroll at Broward College, where he learned English and was welcomed by his younger classmates. Roberto has already enrolled full-time for the spring semester and is expected to earn his bachelor's degree next year. 
Maria Acosta enrolled at Broward College following her displacement from Puerto Rico due to Hurricane Maria in September 2017. She earned an associate degree. Following the storm's destruction, Maria was left without power for months. She was also without a job, as the restaurant where she worked as a waitress had been destroyed. She relocated to the U.S. mainland and took the opportunity to enroll at Broward College, which offered in-state tuition to displaced victims from Puerto Rico. At one point, Maria ran out of FEMA assistance and struggled to pay for housing. Her life began to turn around when she made the College's women's volleyball team and received a full scholarship.  She also made the dean's list and finished her last volleyball season with all-academic and all-Southern Conference second team accolades. She currently lives in Puerto Rico, but she plans to complete her bachelor's soon.
Deyonn Daniels slept in empty classrooms, and couch surfed with friends during his academic journey. He has earned an associate degree in information technology. Deyonn found hope in the College's "Get Real" program, which awards scholarships to underserved students. Deyonn has since landed a part-time job with the College's Information Technology department. He is now determined to follow through with his dream of starting his own website design company.
ABOUT BROWARD COLLEGE:
Serving approximately 56,000 students annually, Broward College provides residents with certificate programs, two-year university-transfer degrees, two-year career degrees, and baccalaureate degrees in selected programs. The mission of the College is to provide high-quality educational programs and services that are affordable and accessible to a diverse community of learners. For more information, visit  www.broward.edu.