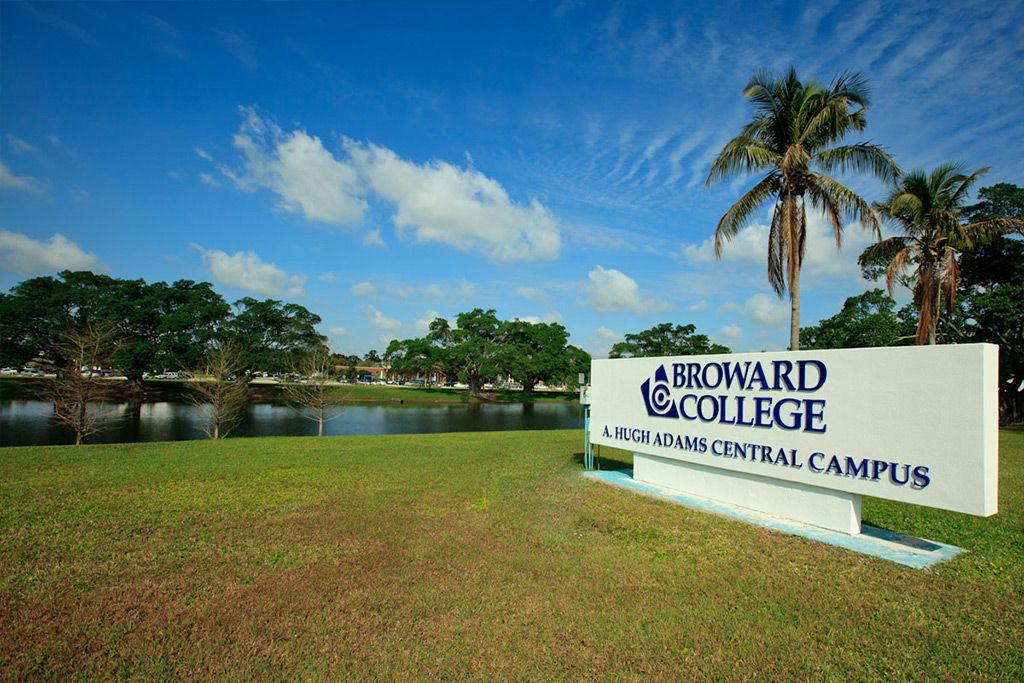 Saluting our Broward College Front Line Employees
People

| 16 April 2020 | 3 min read
In the last five weeks, most of us at Broward College have transitioned to remote work or remote learning. But, to ensure the continuity of our services, more than 300 employees college-wide have remained on the front line. Departments, including Campus Safety, Information Technology, and Facilities, are currently operating at minimum capacity, but their staff remains as committed as ever to guarantee the College's smooth operations. On-site support for some time also included Student Services staff and a few faculty members. Today, we pause to salute them and say, – thank you. Here's an idea of what some of our team members are doing.
Safety First
Regardless of the number of people on campus, Campus Safety remains active. "Even during a crisis like this one, it's important that the campus continues to be monitored regardless of the number of people being on campus or not," says Ashley Harris, campus safety officer at the A. Hugh Adams Central Campus in Davie. "As of now, we still have employees working on-site, so we are here to assist them if they need and keep them safe."
While officers like Harris continue to do their job, the College follows the CDC guidelines for safety measures, which includes providing masks, gloves, and hand sanitizers to employees on campus.  In addition to implementing social distancing, it requires employees to remain at least six feet apart and allow the department to rotate personnel during the week to keep the number of employees on campus at a minimum each day.
Keeping the Campus Going
Just like Campus Safety, the Facilities team remains on campus to assist. Fleet Manager Chris Tavares, who is in charge of maintaining and managing the fuel for campus operations, along with his team. "My team is in charge of refueling the tanks for the golf carts used by all the departments on campus such as the officers from campus safety or the ground team," explains Tavares. "We also provide assistance in the repair of equipment for the electrical, material, and EMS departments." The Facilities team was also instrumental in helping the College with Personal Protective Equipment Support (PPE) support to local hospitals.
Running Smoothly
The largest department to remain on-site is the Information Technology team, which continues to operate from all campuses. Their job is critical in ensuring the smooth transition for students, faculty, and staff to remote learning and work. Over the past month, they had to collect and reimage over 900 laptops to support staff and the College's technology loan program t students. "With very short notice, we had to make sure that the equipment they were taking home was in great condition for offsite usage," explains Lorne Cleaver, campus technology officer. "In total, we successfully prepped and loaned 625 laptops to students and 263 to staff."
To guarantee student success and allow the College to remain functioning while operating remotely. The department continues to offer support remotely for technical issues and concerns.
Despite the challenges that come with being at work in the current crisis, each team we spoke with emphasized how much they love their jobs, their colleagues and the students. Given the choice, to keep the College going, being on the front line is a risk they are willing to take. 
"It's important we continue to be hopeful and even for those of us who continue to work through this lockdown, we are grateful we are able to provide for our families and that the College is taking all the possible measures to ensure we are safe while we do our job," says Harris. 
Broward College recognizes the efforts and resilience of our front-line employees who continue to serve students staff and faculty during this crisis. Please join us in thanking them by using #SeahawksPersist. Interested in working or studying at Broward College? Visit www.broward.edu.