Our Choice is Love: We Love George Floyd, and We Denounce the Injustice Leveled Against Him
News

Events

| 01 June 2020 | 4 min read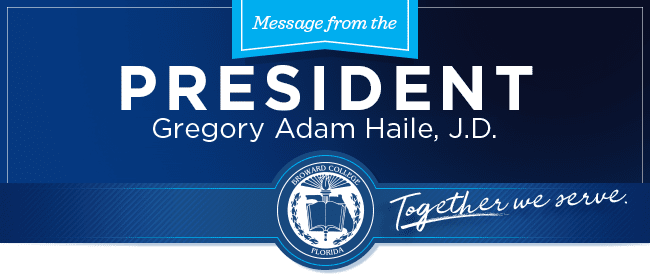 To my Broward College students,
Like me, I am sure that your hearts, minds, and time are captivated by the protests across our Country.  Still, I humbly request your undivided attention, at a time of exceptionally divided emotions. I know that many of you feel anxiety, pain, and anger for the injustice and civil unrest our nation is experiencing; I feel it too. We hunger to find a way to make these feelings recede. I am grateful for each of you, and as we manage our difficult and sometimes conflicting emotions, I want you to know that Broward College is here for you, to ensure that each of you achieves the American Dream of equality.
Ensuring quality educational access, regardless of wealth, regardless of gender, regardless of sexual orientation, regardless of lineage, regardless of nation of origin, and perhaps most pertinently today, regardless of race. Our College is known for uplifting individuals throughout our diverse community. We celebrate diversity each day among our 63,000 students and 5,000 employees, all of whom contribute to the wealth of our programs and the continued development of our community. We provide hope. That hope does not end with what we teach inside the classroom. That is why we have numerous and inclusive programs to support our beautifully diverse student body. Our role is to provide a safe, inclusive environment for everyone. Now more than ever, our commitment to this role is resolute. What we do is grounded in the love of something greater than ourselves. It is grounded in our love for you, the love of our community, the love of humanity.
Like you, I collect various experiences and perspectives over time, and I learn from the collection. My collection yields optimism. I have immeasurable respect for the bravery on display every time a law enforcement officer wears his or her uniform. I have tremendous pride in our College's Institute of Public Safety (IPS), which trains the law enforcement officers of Broward County: our IPS is the very best, and I feel safer because of the leadership of our IPS and its graduating cadets. I have had the pleasure of working with our campus safety officers for nearly ten years; a team that has displayed unyielding service to protect students and employees equally. Numerous officers have helped me personally in my times of need or duress. My very best friend of 25 years is a New York City Police Officer – I could not be prouder of him, and I trust him with my life.
My collection of experiences also yields concerns. Whether I am leaving my home for a few days, or just a few minutes, I tightly hug every member of my family because I am convinced that my return is uncertain. Recently, in my own neighborhood, a message labeled "Urgent alert: Black guy roaming"  circulated on a local social media site.  I am still hesitant of jogging in the dark. When I do jog, I am sure to run the same route every day, reducing the likelihood that I appear to be "roaming" in my own neighborhood. In an abundance of caution, I always jog with my identification. In my previous role as a Vice President at Broward College, while on a work-related drive I was pulled over in my car, and the first question from the officer was of my white female colleague in the front passenger seat, "Are you okay, ma'am?" After I was asked to get out of the car and step away, she was further questioned to ensure I was who I said I was.  Perhaps most heart-wrenching for me personally, my four-year-old daughter asked me just yesterday, May 30, 2020, "Are black people still slaves?"   
I despise these conflicts of my existence, but I despise no one. While hate persists, it will not persist within me.  Hate shall not persist within us. It is not possible to be both consumed with hate, and simultaneously be consumed with the love necessary to usher you towards the opportunities and lives you deserve. It is not possible to be consumed with hate, and simultaneously love each other the way we must to manifest our mission to serve you. Our choice is love.
We love George Floyd, and we denounce the injustice leveled against him, and the countless others who have fallen to the same injustice.
 "Darkness cannot drive out darkness; only light can do that. Hate cannot drive out hate; only love can do that."  Martin Luther King Jr.
Students, you are the light, you are the love. Broward College loves all there is about you. We love your ethnicity, we love your gender, we love your sexual orientation, we love your religion, we love your age, we love every hue of your skin, and we love your race … we love everything about you, and we are here to support you.   
Gregory Adam Haile, J.D.
President