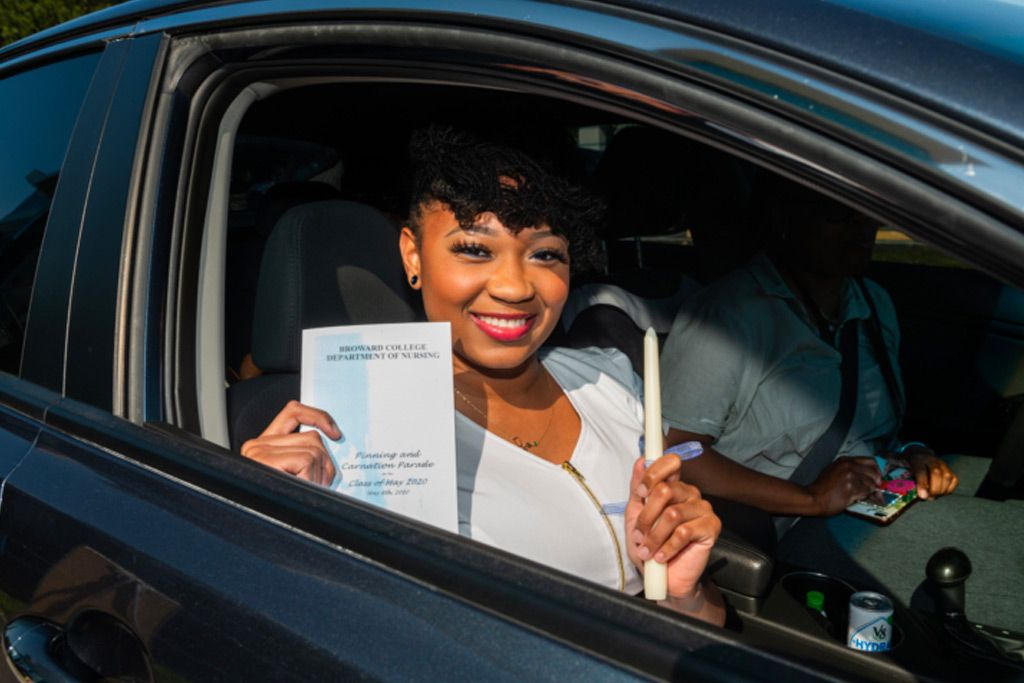 The Future Frontline Workers - Nursing Graduates Participate in Drive Through Ceremony
In an emotional parade, led by an ambulance and firetruck, sirens blaring, scores of vehicles streamed onto the Broward College A. Hugh Adams Central Campus in Davie. It was not a sad occasion, but rather tears of joy, excitement, and a grand finale to celebrate the 116 nursing graduates, who had pushed through the challenges of the current pandemic to complete their program.
The 90-minute Drive Through Pinning and Carnation ceremony on Friday, May 8, part of Nurses Week, replaced the traditional candlelight ceremony to recognize the braveness and achievement of nursing graduates.
Keeping the Tradition Alive in Uncertain Times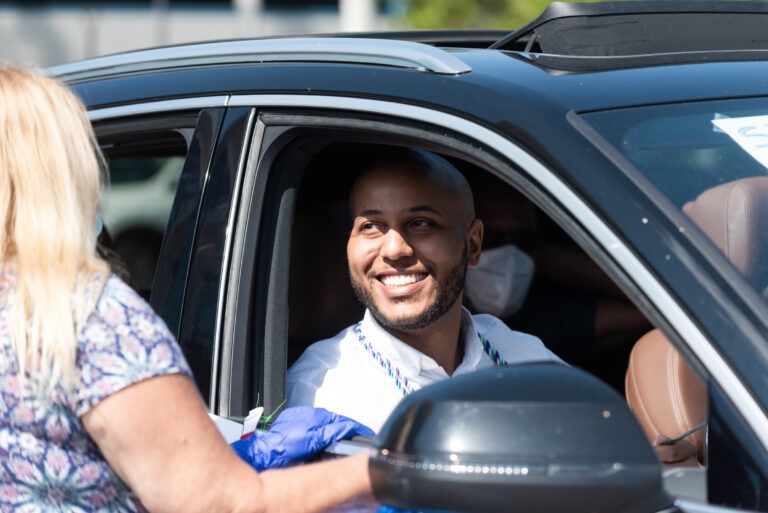 It's a tradition for many nursing schools, including Broward College, to celebrate their graduating class with a pinning and candlelight ceremony during which students take the Nightingale Pledge, named after the founder of modern nursing, Florence Nightingale. At Broward College, each campus also holds a carnation parade on the first day that students wear their traditional white nursing uniforms and caps.
With the need to adhere to social distancing, these traditions have evolved for everyone's safety. Letting the accomplishment of the class of 2020 go without acknowledgment was not on table for faculty and staff of the College's nursing department. Sara Turpel, the dean, along with faculty and members of her administrative team, put together this alternative celebration.
The Parade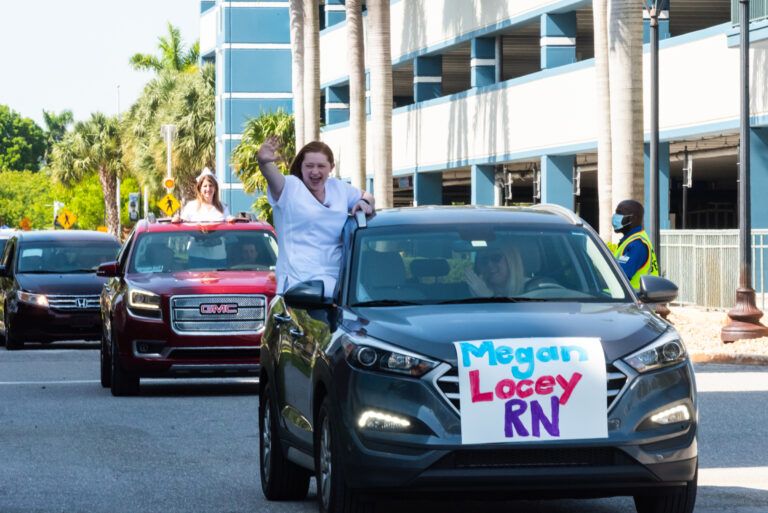 Some graduates drove together with peers, others brought their families with them, and many decorated their vehicles. Some wore their nursing student uniforms, while others wore white nursing graduation uniforms and caps.  Graduates followed a processional line, where Dean Turpel and her team presented them with a candle, a copy of the Nightingale Pledge, their Broward College nursing pin and a flower. As a token, Dean Turpel also provided students with a personal note.
Graduates, like Sophia Vazquez, considered among the next set of frontline heroes in the fight against COVID-19, were grateful for the celebration.
"As I return home from the parade and all the emotions are settling in, I can't help but express my gratitude to you and all of the BC nursing staff," wrote Sophia in a thank you note.  "Thank you so much for planning the parade and finding a way to celebrate our accomplishment! It was the closure that I needed, and I am truly touched by the experience. It was so heartwarming to see all of your faces and to see some of the professors who poured so much time and energy into our education."
Broward College Nursing Graduates Among the Best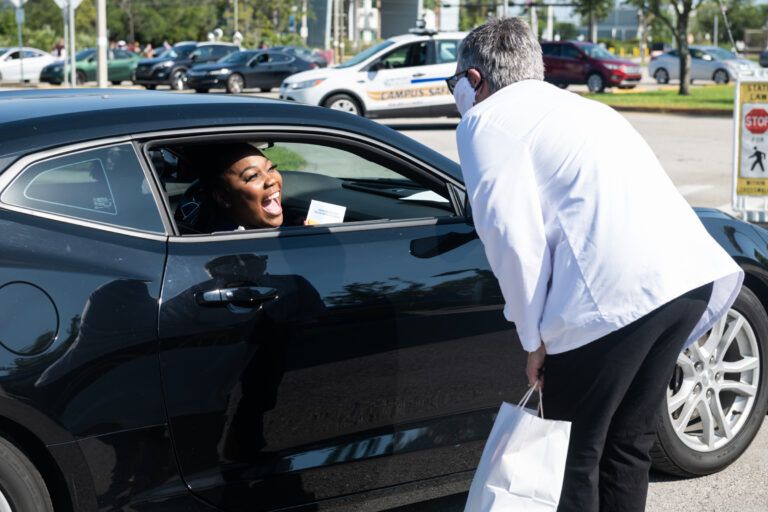 Many Broward College nursing graduates are currently serving on the frontline during COVID-19, and these graduates will join them. The College's Nursing graduates have a stellar record of success in the National Council Licensure Examination (NCLEX). In 2019, more than 96 percent of graduates of the College's Nursing program passed the exam, and the most recent Florida placement data has shown that over 98 percent are currently in the workforce across the state.
Despite the challenges many college students are facing while they pursue their academic goals, Broward College nursing graduates proved their resilience as they continue to prepare for their certification exams during the COVID-19 pandemic. The significance of their most recent achievement is weightier these days as they step into a global pandemic front line.
Congratulations to our exceptional graduates!
You can help others through a career in Nursing. You can begin your academic journey at Broward College. Learn more about Nursing and other professions in the Health Sciences.