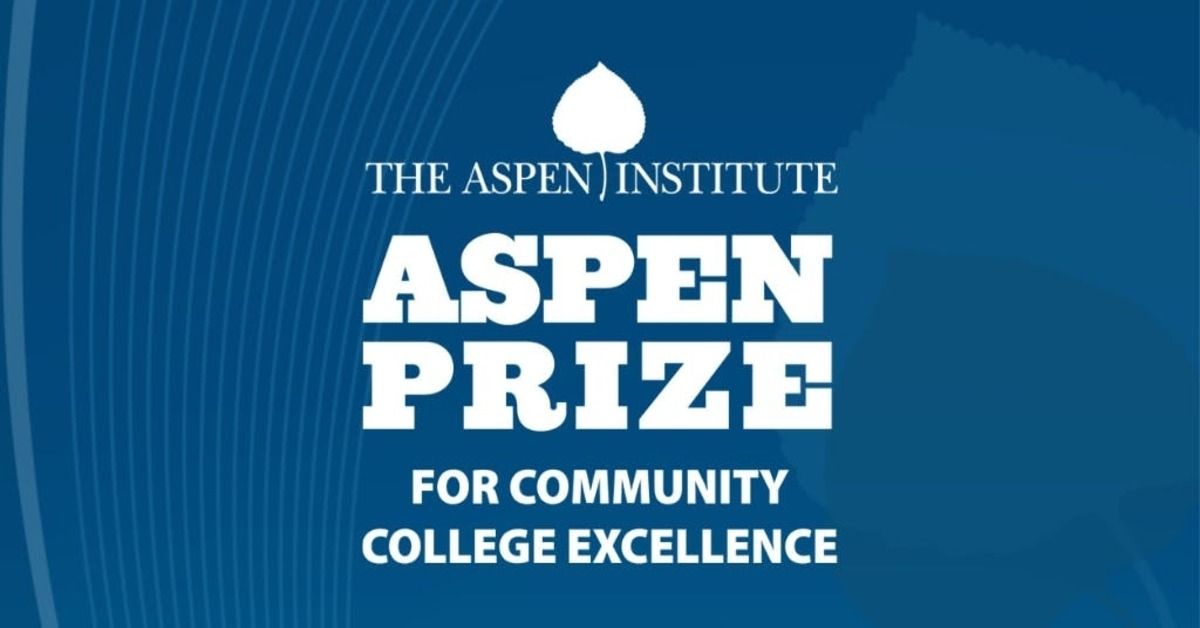 Among the Best in the Nation, Again – Aspen Institute Names Broward College as a 2021 Top 10 Finalist
News

| 15 June 2020 | 3 min read
For the fourth time since its establishment, the Aspen Institute named Broward College a Top Ten finalist for the prestigious Aspen Prize for Community College Excellence. The College was named to the Top Ten list in 2013, 2017, and 2019, earning the award for Finalist-with-Distinction in 2017.
The Aspen Institute's College Excellence Program, a bi-annual competition, which assesses more than 1,000 colleges across the United States, aims to improve college practices and leadership that benefit students through learning and higher completion rates. The 2021 Top Ten finalists for the $1 million prize were announced on June 9. Broward College is one of only two Florida colleges to make the initial list of 150 eligible institutions.
This Aspen Prize celebrates the practices and excellence of community colleges around the nation that have shown improvement and a positive impact in the following four key areas:
Teaching and learning
Degree completion and successful transfer to four-year institutions
Success in the workforce
Equitable outcomes for diverse student groups
Broward College has demonstrated a strong commitment to equitable access and success, serving as a national model for holistic advising, program pathways, and transfer partnerships with four-year universities," said Josh Wyner, executive director of the College Excellence Program. "The college has focused on advancing social mobility, recruiting students from the lowest-income zip codes, and moving them up the rungs of the economic ladder."
What Does the Aspen Prize Means and How it Benefits Our Students?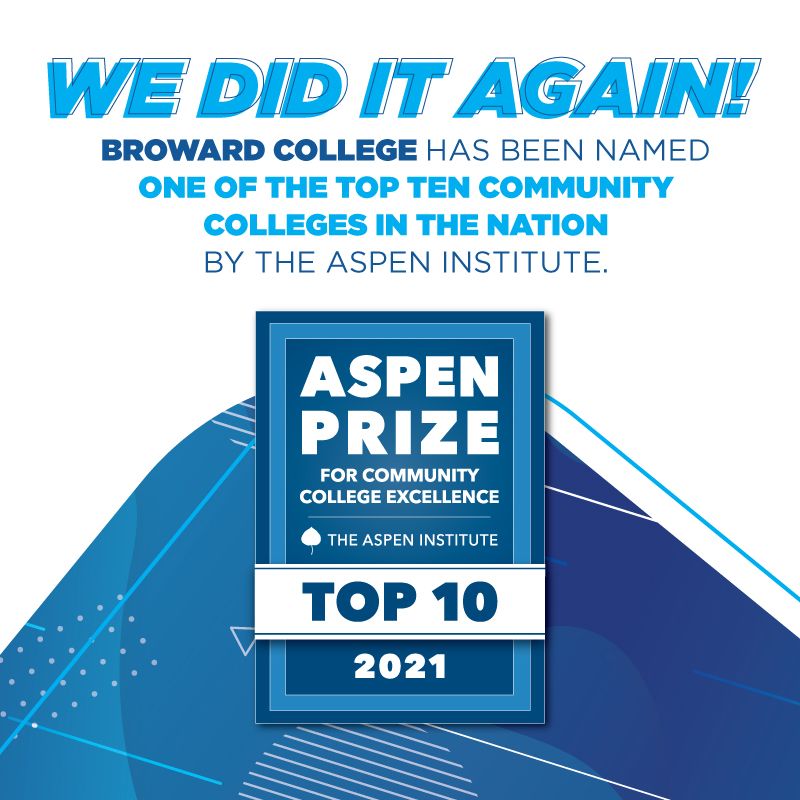 Regarded as the nation's highest recognition of achievement and performance in America's community college, winners of the Aspen Prize are acknowledged as the best higher institutions in the country. For Broward College students and alumni, it places them ahead of their peers in the workforce as it reassures their future employers of their high qualifications and educational achievements.
But the accolades also translate into a financial award for the institutions selected. For the winner, this is a $1 million prize. In 2017, Broward College received a $100,000 prize after being named a Finalist-with-Distinction, which the College invested in funding for new and innovative faculty projects that promote and enhance classroom teaching and learning.
Additional Aspen Recognitions
In addition to being named as a Top Ten finalist for the Aspen Prize four times, Broward College has been recognized by the Aspen Institute in other areas. In 2018, the Aspen Institute and the Siemens Foundation selected three Broward College students as 2018-2019 Siemens Technical Scholars, a designation given to students pursuing degrees in high-demand fields such as Advanced Manufacturing, Energy, Healthcare, and Information Technology at colleges with exceptional programs in the areas. Karine Augustin, Edj Cadet, and Joel Zisholtz, all who were pursuing a degree in Nursing at the time, received a $25,000 prize to assist with tuition and other education-related expenses.
Earlier this year, Broward College President Gregory Adam Haile, J.D., was selected by the Aspen Institute to join their 2020-21 inaugural class of the Aspen New Presidents Fellowship. This initiative was created to assist new community college presidents in the early years of their tenure to guarantee positive transitional change on behalf of the students. President Haile is one of 25 Aspen Fellows selected among a pool of over 100 candidates nationwide.
Drs. Marielena DeSanctis and Mildred Coyne were selected for the 2019-20 and 2020-21 Aspen Rising Presidents Fellowship, respectively. The scholarship focuses on recruiting and developing exceptional leaders who have already shown to take strategic risks, lead strong teams, and focus on results-oriented improvements in student access and success
Broward College serves over 63,000 students annually and seeks to provide residents with high-quality educational programs and services that are affordable and accessible to a diverse community of learners. Visit broward.edu/programs to get started on your path to success.