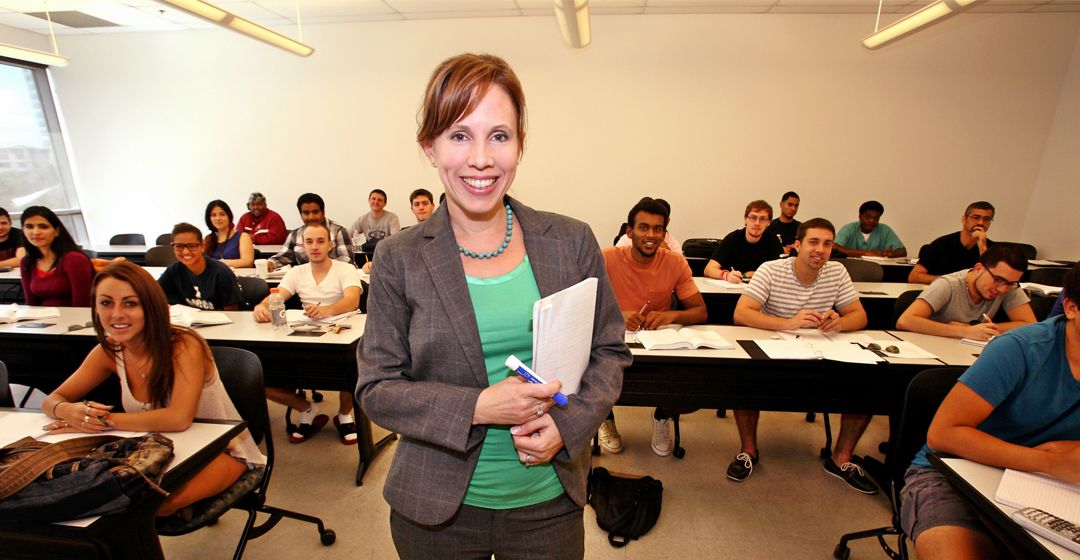 Closing Educational Gaps – Faculty Training is Showing Positive Results Among Broward College Students
28 July 2020 | 4 min read
A new study by Broward College and the Association of College and University Educators (ACUE) assessing the 2017-2018 and 2018-2019 academic years shows the positive impact the Effective Teaching Practices course offered by ACUE to Broward College faculty has on learning outcomes. According to the findings, students are more likely to complete and pass their courses when taught by ACUE-credentialed faculty, with the impact being more significant on achievement outcomes for Black and low-income students. 
"Removing barriers to post-secondary completion remains one of our highest priorities," says Dr. Marielena DeSanctis, provost and senior vice president for Academic Affairs and Student Services, Broward College. "This partnership with ACUE is one way we are creating a pathway to academic success for all of our students regardless of age, gender, race, or financial status." 
The ACUE, which promotes student success through quality instruction, entered a partnership with the College in 2017 as part of the institution's efforts to improve teaching and learning. The five-year contract establishes the credentialing of 500 faculty. Since then, the College has trained a total of 171 faculty. 
"Although the Center for Teaching Excellence and Learning (CTEL) has always offers courses to faculty on pedagogy and student engagement, the ACUE training is different. It's a nationally recognized course and credentialed by the American Council of Education," says Dr. Julia Philyaw, associate vice president, CTEL. 
Academic Success for All 
Broward College serves 63,000 students annually and is considered a minority-majority college. The student body is 34 percent Hispanic, 28 percent Black, 16 percent White, and 22 percent of other minorities, and the College strives to be a welcoming and inclusive institution for all. 
Observing the course outcomes of 42,777 students enrolled in courses from the faculty in the first cohort of the ACUE training and 56,022 students from faculty of the second cohort, compared to all enrollments from the same courses taught by non-credentialed faculty, the study showed the following: 
Among the first set (2017–2018) of ACUE-credentialed faculty cohorts studied, 

the gap in 

the 

likelihood of passing courses between Pell-eligible and non-Pell-eligible students was eliminated

.

 

Among the second set (2018–2019) of ACUE credentialed faculty cohorts studied, 

the gap in 

the 

likelihood of completing courses between Black and White students was eliminated

.

 
Findings from the study also showed that, when controlling student demographics and other factors, an additional 282 students completed their courses.  
 "We have exceptional faculty who are experts in their fields, but that doesn't necessarily mean that they have formal training in teaching practices, methodology, or student assessment. We are addressing that through this training, and it's showing the positive impact we expected," explains Dr. Philyaw.  
When surveyed, over 90 percent of students confirmed the positive impact of the training stating that attending courses taught by ACUE-credentialed faculty provided them with a sense of belonging in the classroom and a productive and interactive environment. The survey also showed 72 percent of students responded that they would very likely recommend their instructor to a friend. 
A College-wide Impact 
In addition to the feedback and data collected from students, faculty who have completed the training are also speaking to the significance of the training and how it has shaped their teaching methodology. "Over the last couple of years, we have received feedback from our faculty to say that the course has truly enabled them to reflect and refine their practice in the classroom," says Dr. Philyaw. 
This fall, the College and ACUE will also offer an Online Teaching micro-credential that will complement the Effective Teaching Practices (ETP) course. "Faculty will be able to obtain the micro-credential in Online Teaching while they are completing the ETP. The faculty has already completed ETP can sign up for Online Teaching," adds Michelle Levine, district director, Faculty Development. 
"We are focused on student success, and I think by having a highly effective, responsive, and engaged faculty body, we will attract new students to come to us and also be able to retain our current students," says Dr. Philyaw. 
In addition to the May 2020 research, ACUE also published research in May 2018 based on Broward College  student feedback on faculty who completed the ACUE course. The survey results indicated that the implementation of ACUE teaching approaches were associated with higher levels of student engagement, persistence, and learning. 
Broward College provides students with the tools necessary to succeed. Explore the career options available.