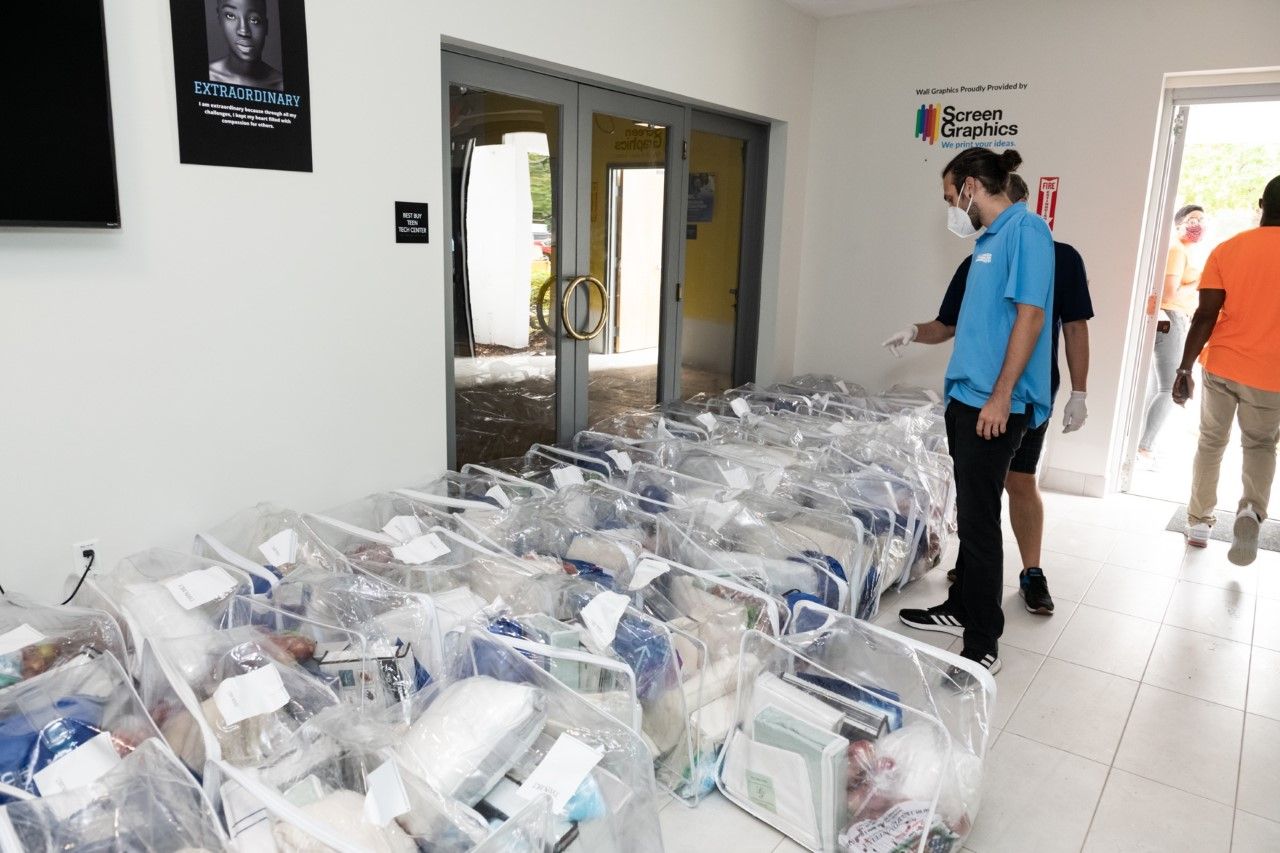 Supporting our Residents – Broward College Partners with HANDY, Valley Forge Fabrics, and Other Organizations for Fresh Start Distribution Event
News

| 23 October 2020 | 2 min read
Supporting our Residents – Broward College Partners with HANDY, Valley Forge Fabrics, and Other Organizations for Fresh Start Distribution Event
Broward College is invested in the community and is always looking for new ways and partnerships to offer holistic support to residents across Broward County. This was the motivation behind Broward UP, the College's new service model launched in 2018, designed to improve the quality of life for residents in zip codes with little exposure to post-secondary opportunities.  But, Broward UP offers more than support to earn college credentials. Through this service model, the College partners with organizations, municipalities, and businesses to help residents overcome barriers to higher education, including food insecurities, childcare, transportation, tuition assistance, among other things.
The need to continuously provide this type of support led the College to join forces with several organizations on October 3 for the Fresh Start Distribution event. Working alongside HANDY (Helping Abused Neglected Disadvantaged Youth), with sponsorship from Valley Forge Fabrics, 150 Broward County families participated in a drive-through event to receive essentials items. Hosted at HANDY's headquarters in Fort Lauderdale, participants received Luxury Beds in Bags; KN95 masks courtesy of Valley Forge Fabrics; Dutch Pot Restaurant gift cards courtesy of the Miami Dolphins; fresh produce from FreshPoint, oximeters for heart rate and oxygen level measurements, and personal hygiene products including toothbrushes, toothpaste, and soap, from Shiff Construction.
The items for the Beds in a Bag, which included contents for twin and full-sized mattresses, were provided by Valley Forge Fabricsnand packed by their employees during the company's annual Give Back Day on September 11. The average retail value of each bag is estimated at $450 to $ 600.
"We very much appreciate our partnership - the Valley Forge relationship with HANDY, Broward College and other local organizations is a great example of how working together creates value for the community and great optimism for everyone involved," says Diana Dobin, CEO of Valley Forge Fabrics.
Broward College representatives were also on-site to share Broward UP information with residents and opportunities for individuals to upskill with Broward College for rapid re-entry to the job market.
"The Fresh Start event was one of many ways Broward College and HANDY come together to respond to the needs of our community's youth. The event speaks to the collaboration in our community – thanks to one gesture by Valley Forge Fabrics, other partners quickly came together to make this happen," said Isabel Gonzalez, Chief of Staff and Vice President of Communications and Community Relations at Broward College. "The distribution means that 150 youth and their families have fewer things to worry about and can focus on staying on track for this academic year," she adds.
There are plans to offer additional community outreach programs before the end of the year in partnership with HANDY and other organizations.
Broward UP already has a significant impact. Between its launch in the second half of 2018 and the end of June 2020, more than 2,000 residents improved their employment prospects in high-demand industries through credit and non-credit courses. These are all residents who, without this service model, may not have considered pursuing post-secondary education. This fall, 353 students enrolled in Broward UP, consisting of 185 registered in credit courses and 168 in non-credit courses.
College has never been closer to home. Broward UP brings education to the community. You can explore the opportunities available to reach your unlimited potential here.