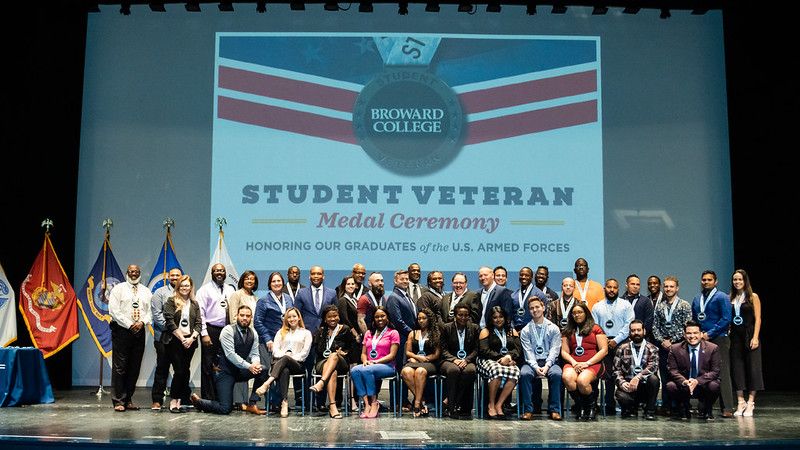 Ask a Veteran – How Broward College Embraces its Veteran Students and Salutes Them this Veteran's Day
Events

| 10 November 2020 | 2 min read
Justin Stuckart joined the U.S. Army right after high school in 2001. For the next 11 years, he served his country. Four of those years were in the infantry and the remaining seven years as a recruiter. After transitioning to civilian life in 2014, Justin began his entrepreneurial journey and building his own consulting company, which helped fellow veterans in their entrepreneurship endeavors, mostly dealing with government contracting.
And while he continues to operate his own business, Justin decided to pursue a college education as well. For the past three years, he has been a Broward College student, completing an associate degree in business and is pursuing a bachelor's degree in Technology Management.
Over the past few years, Justin has volunteered with non-profit organizations dedicated to assisting veterans in Broward County. When he became a student at the College, he continued that mission by volunteering with the Office of Veterans Student Engagement (OVSE.) Given his dedication, Justin is now a work-study with Student Life, who focuses on building a support network for fellow student veterans.
Ask a Veteran
Through his duties, Justin focuses on building and strengthening the support network for veterans at the College.
"Broward College is extremely supportive of its veteran community," he says. "But sadly, we don't have any full-time staff completely dedicated to the veteran program. Which is why the focus of my work is to connect with my fellow student veterans."
As part of these efforts, Justin recently launched a weekly podcast-style Zoom meeting titled "Ask a Veteran." He addresses questions and concerns that are specific to veterans. Every Thursday at 6 p.m., through December 3, he goes live to answer questions and offer tips and resources. "There are so many opportunities and resources available for veterans out there that aren't being utilized because we are not aware of them," he says. "The College has exceptional intentions to help veterans adjust to civilian life by providing them with the tools they need through outstanding education and offering all the additional support they need to navigate college life."
Saluting our Veterans
The observance of Veteran's Day on November 11 this year will look a little different due to the COVID-19 pandemic. Despite the times, the College will continue to honor veterans' contributions and sacrifices by virtually hosting a "Thank you for your service" event to salute each student veterans.
On Veterans Day, the OVSE will host a Drive-by swag pick-up with an assorted variety of items. Additional special events for veterans include an FIU virtual student veteran transfer fair on November 13 and a graduating veteran drive-by medallion pick-up on November 12.
Broward College is proud and thankful for our veterans and their sacrifices for the safety of our nation. Thank you for your service! Broward College invites you to join the network of veterans by joining Justin's podcast here.
If you have questions or need special assistance, you can always reach out to the
Veterans Service Office
.