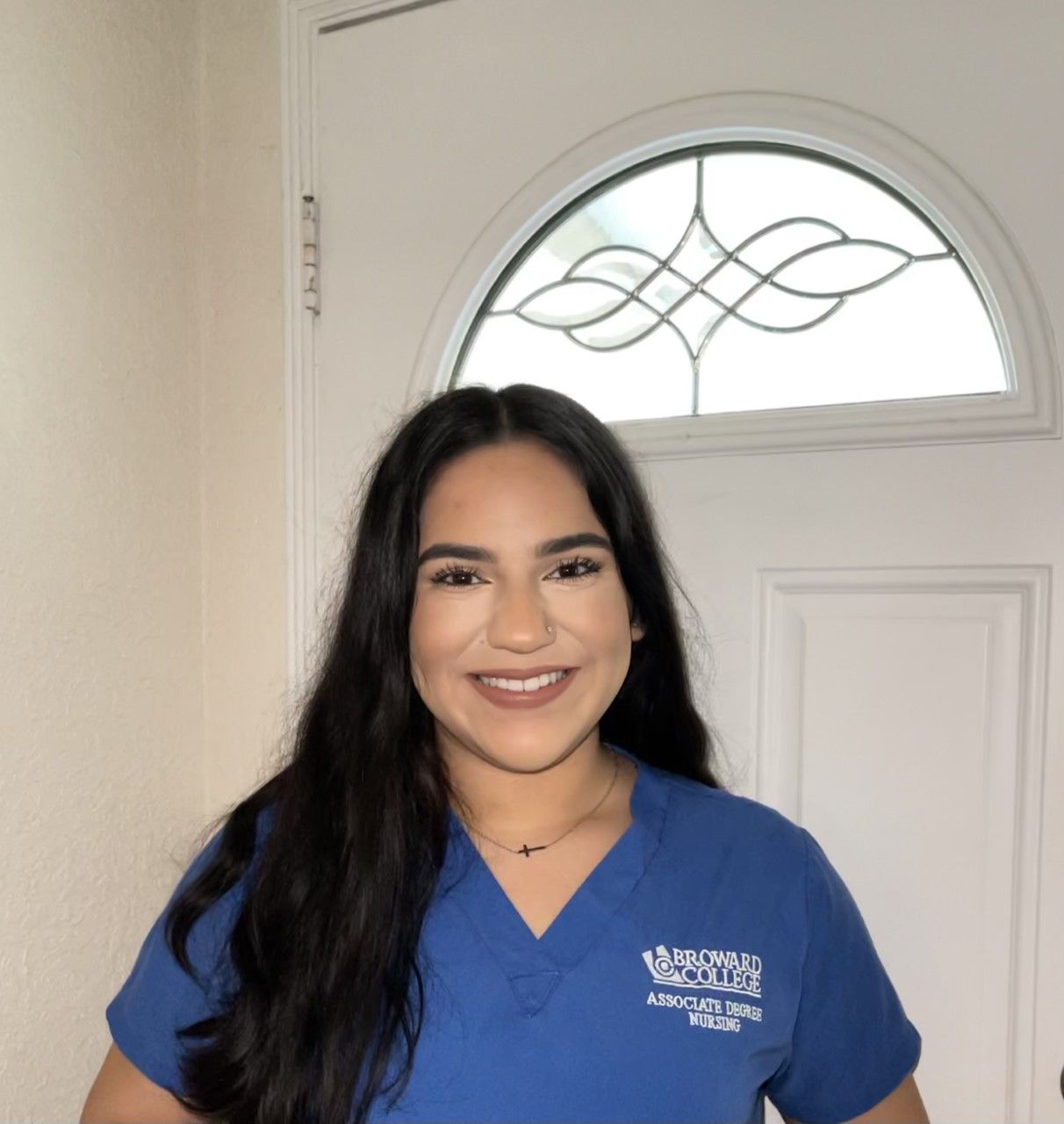 Overcoming Obstacles to Celebrate a Milestone - The Journey of Catherine Corado
People

| 16 December 2020 | 2 min read
Nothing could stop 23-year-old Catherine Corado from reaching graduation. Her dedication, determination, and desire to work in nursing helped her overcome many challenges. The Associate of Science in Nursing December 2020 graduate is a single mother to her 3-year-old son. When the pandemic forced the transition to remote learning, and her son's daycare was closed, Catherine had to balance caring for her son and studying during her final terms of nursing school.
"As a single parent, the journey through school has been hard. The program isn't easy, and you have to dedicate yourself to it by spending a few hours studying every single day," she said. "When I look back now, I think, how did I get this far? It's amazing."
Catherine is excited and feels very prepared to enter the nursing field. She says that her clinical rotation at Broward Health Medical Center was one of the most beneficial experiences as a student. Due to the pandemic, she was one of a few students who were able to complete a clinical rotation in the hospital. She knows she is fortunate and is thankful for the opportunity. For most of her time as a nursing student, she thought she wanted to be a neonatal nurse, but after her rotation in the cardiac unit, she discovered a new passion. After graduation, she plans to study for her board certifications and then pursue a nursing career in neonatal or cardiac care.
The Fort Lauderdale resident didn't always plan to pursue nursing. When she first transferred to Broward College, she saw students around campus in scrubs and often wondered what they were doing.
"After I found out about the nursing program, I decided to apply, and I was accepted," she said. "The first week was overwhelming, and I questioned if I could do it. I immediately loved it, though."
One of Catherine's favorite parts of the nursing program at Broward College is the community. She said there were always other students willing to help, whether in her cohort or upper-level students. These friendships and mentorships were most helpful in the lab setting when students had to practice skills.
Catherine's success coach Jenny Rainey has encouraged her throughout her journey at Broward College. Rainey said, "Last semester [Catherine] was excited to graduate, and due to Covid-19, her graduation was postponed. Her grit and determination are admirable. I am super excited for her accomplishments."
Catherine will celebrate her achievements on December 16 at the Associate of Science in Nursing motorized processional at the A. Hugh Adams Central Campus of Broward College. 
Learn more about the Associate of Science in Nursing here.  Or, maybe you want to touch lives in another area of the Health Sciences. Explore the Health Sciences pathway at Broward College.
ABOUT BROWARD COLLEGE:
Serving approximately 56,000 students annually, Broward College provides residents with certificate programs, two-year university-transfer degrees, two-year career degrees, and baccalaureate degrees in selected programs. The mission of the College is to provide high-quality educational programs and services that are affordable and accessible to a diverse community of learners. For more information, visit  www.broward.edu.