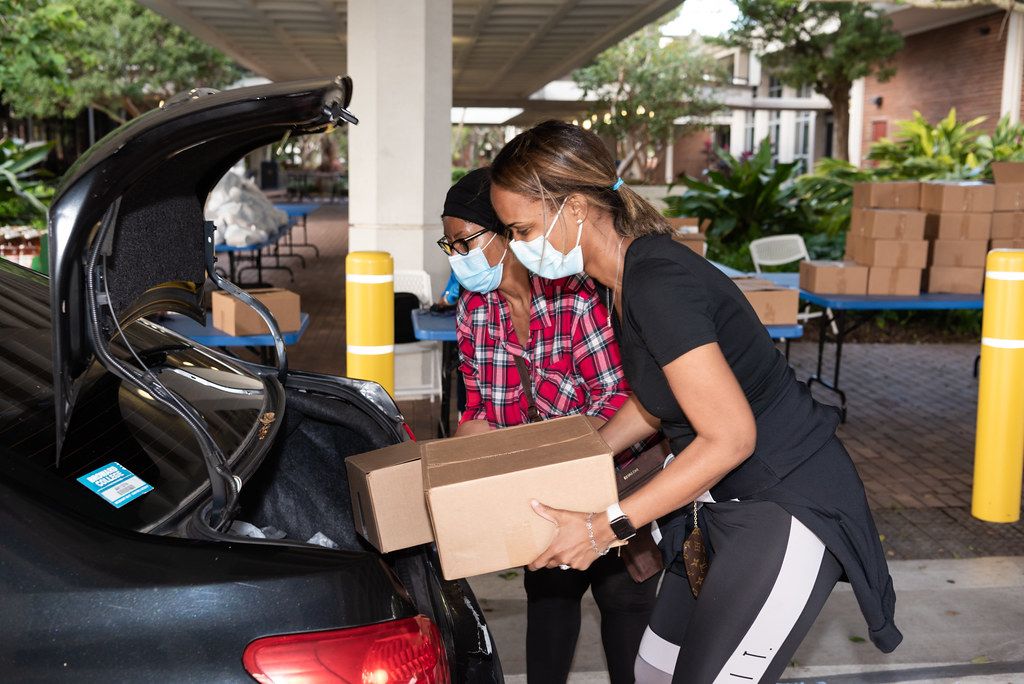 Broward College Weekly Food Distribution Program Helping Students Stay in School
News

| 21 January 2021 | 3 min read
In the summer of 2020, Broward College partnered with LifeNet4Families, a non-profit organization dedicated to helping the hungry and homeless of Broward County, to launch a weekly food distribution drive for students with food insecurity.
Esmeralda Sweeney, associate vice president of Student Success at the College, explains that through a survey conducted about a month before the pandemic, they discovered that 28 percent of students suffered from food insecurity. "What 'food insecure' means is basically that a person may run out of money before being able to replenish their groceries," explains Sweeney. "Once the pandemic was in full effect, we conducted another survey among the same group of over a thousand students, and the results were even worse than the first time around, showing that 72 percent of our students now suffered from food and housing insecurity."
Holy Cross and Florida Blue Grants
Thanks to the partnership with LifeNet4Families, the College can help 125 students each week, providing a bag with food items including rice, peanut butter, pasta, oatmeal, juice, among other things. Over 1700 students have received a food bag over the last few months. With the understanding that there is the possibility to help further with more funding, the College applied for grants to expand the program.
Holy Cross awarded the College with a one-time grant that will allow the addition of fresh fruits and vegetables to the bags each week through the summer of 2021.
A recent Florida Blue grant of more than $370,000 to be distributed over four years will make an even more significant impact as it will allow for a long-term expansion of the program. With the grant, the College plans to establish a Seahawk Marketplace on each main campus that will also serve staff and faculty. The plan is to open one location per year. The College will continue the weekly distributions on campuses where there is no Marketplace until they are all complete. 
Alleviating the Challenges
For students who were already struggling, the pandemic has added even more challenges to meeting daily needs.
Maria Georgiadis, a 20-year old student from Miramar, is no stranger to personal struggles, including suffering from learning disabilities and mental health issues, to losing her job over a year ago.
"It's hard sometimes to find the strength and motivation to keep going and continue with my education when I'm struggling with my personal life, making sure that we have food on the table," she says. "And it's sad because school has always been something that keeps me happy even though it doesn't come easy to me."
However, she says that receiving help through the food drive helps lessen the burden. "I'm really thankful to Broward College for setting up the food distribution because it truly makes a big difference in my life to be able to somehow diminish the stress of not knowing whether or not I will have enough food for the month," she says.
For 29-year-old Rushel Grant, a single mother to a ten-year-old daughter who lives in North Lauderdale, life has not been easy. She is the first person in her family to attend college and is pursuing a career in nursing. "Going through this pandemic has been rough. Being a single mother is hard enough, but with COVID-19, it just made it even more stressful. Thankfully I'm still working, but now that I'm back on campus, I feel like I may need to quit in order to continue my education," she says.
"Even if it seems small, the help is really crucial when you are struggling," says Rushel. "I'm so thankful that I have received help through this program because it's helping me and my daughter get through these difficult times."
The Food Distribution rotates each week through the three main Broward College campuses. Students must complete this form, and the food bags are distributed on a first-come, first-served basis.