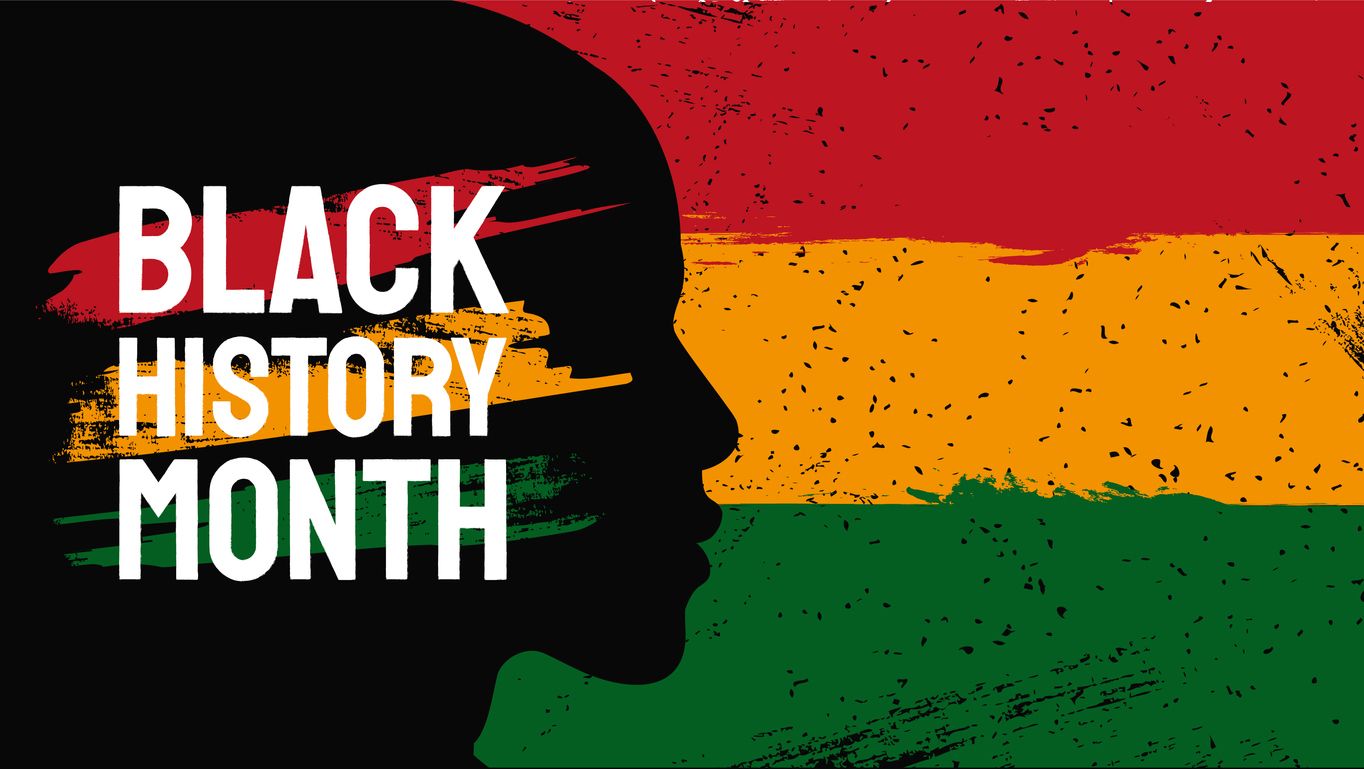 Broward College Celebrates Black History Month Through Virtual Events
Events

| 04 February 2021 | 4 min read
An all-around calendar of events is ahead of us this February as Broward College celebrates and commemorates the achievements and contributions of the Black community in U.S. history during Black History Month (BHM). African American History Month, as it is also known, evolved from the "Negro History Week," which was brought on by Harvard-trained historian Carter G. Woodson. Since 1976, Americans celebrate BHM every February, designating a theme each year. This year, the theme is "Black Family: Representation, Identity and Diversity," which explores the African diaspora and the spread of Black families across the nation.
At Broward College, as of fall 2020, 29 percent of students identified as African American, being the second-largest ethnicity group in the College's diverse student body. A group of faculty and administrators worked together to assemble robust programming that ranges from cultural to educational to celebratory events.
The Significance of Observing BHM
"Black History Month is not only a celebration, but it's also a way to raise awareness, bring people together, and show our youth that they are being represented in society," says Rhonda Bobb, English professor at the College who assisted in creating programming for this year's BHM. "When we were brainstorming the events for the calendar, we knew that it was key that we have events that show our students the representation they seek to have."
She is not alone in the objective of the events and activities. Other members of the committee agree. "I think BHM gives us a great opportunity each to reflect on our history and the insights from the past, so we are able to see how we've grown and what missions we have accomplished," adds Quakish Williams Liner, district director, Robert "Bob" Elmore Honors College.
Williams Liner and Dr. Amoy Reid, co-chaired the committee that created the programming, working along with several other faculty and staff, including Dr. Robert Morris, Jonelle Orridge, Jennifer Kelliam, Billy Jones, Rhonda Bobb, Erika Neff and Carlos Parra.
Honoring the Black Family
Focusing on the Black family this year, BHM will dig deeper into the family unit's significance and influence on Black culture. The events will explore topics including religion, medical traditions, art, music, food, and fashion. "This year's theme is an excellent opportunity to break down stereotypes associated with Black families. Sadly, we always think about the Black family as a single mother with several kids because that's how it's often portrayed in the media, and that's not how it is for all of us," says Williams Liner.
On February 9 and 16, respectively, guest speakers such as artists Najja Moon and Domonique Venzant will host talks about their art, personal experiences, challenges, and family impact. Later, on February 23, Chef Rock Harper will explore Soul Food while talking about stories from the past. Another forum on the same day will analyze Black American Family in Pop Culture.
"I believe that in every single event we will be hosting throughout the month, we will see a lot of our speakers talk about the influence from their families and it just is another testament to how essential family is in the Black community," says Erika Neff, director of Student Engagement and Cultural Affairs.
"We are giving a voice to so many members of our community from Black women in Science, to artists, to activists, that speak to their experiences and challenges personally and professionally, and the influence family has played in them," says Dr. Amoy Reid, associate dean, Academic Affairs.
Celebrate Black History Month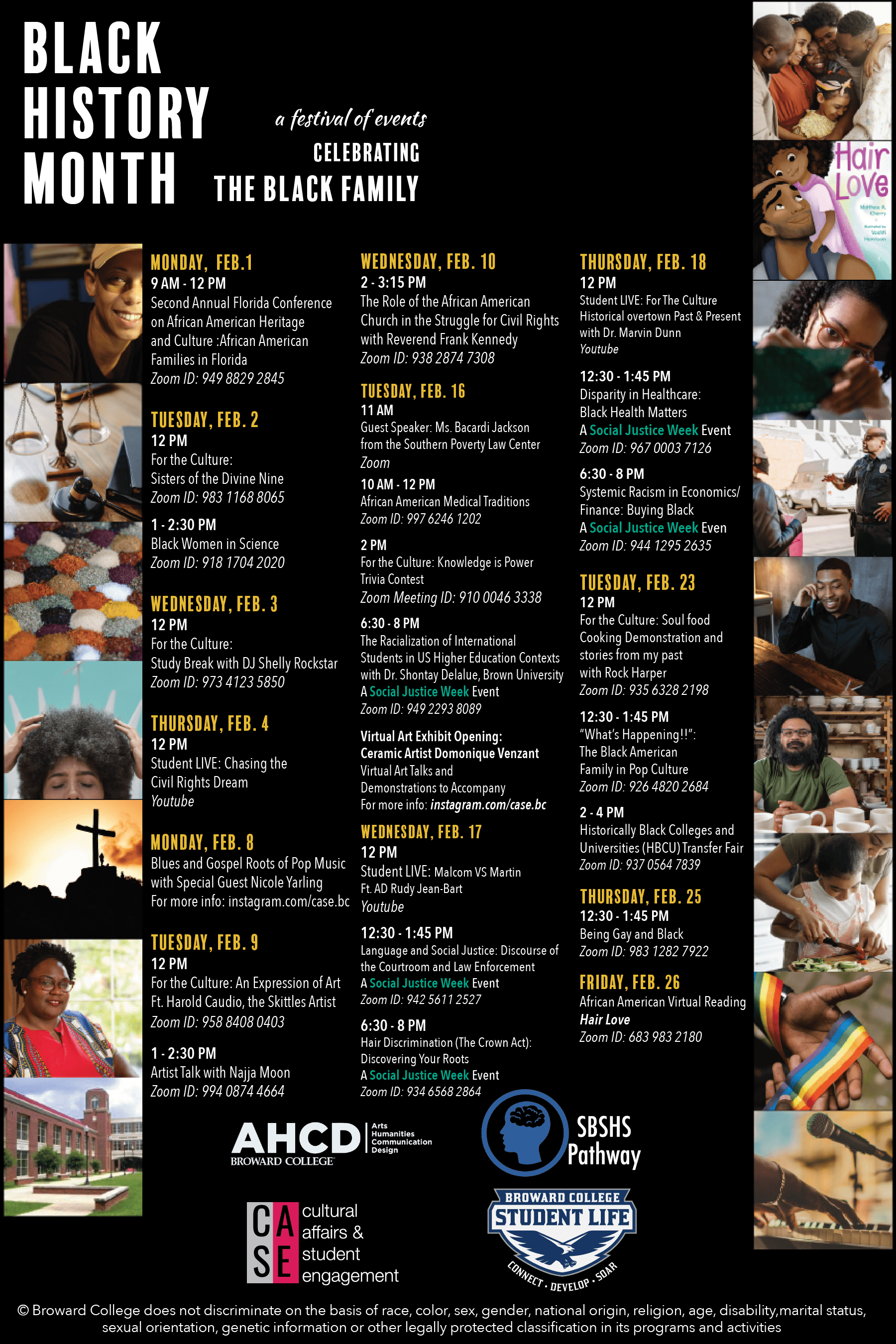 The College is hosting over two dozen events throughout the month that explore a plethora of topics from art and culture to social justice and history. The events kicked off on February 1 and will conclude on February 26. There is a range of cultural events and social justice issues, including discrimination, health care, law enforcement, and finance.
Faculty and staff encourage students to attend as many events as possible as they are equally enjoyable and informational. However, there are some events they are especially recommending.
"As an artist myself, I'm really looking forward to our two artists who will host talks, Najja Moon and Domonique Venzant," says Neff. "They are both extremely talented and accomplished, and they also had ties with members of the College."
"I'm excited to see the Hair Discrimination forum come alive. I'm all for promoting and bringing awareness to the Crown Act, and this event is focusing on that. We will discuss the history, statistics, and economic impacts of natural hair, so it's going to be very interesting," says Bobb.
Both Williams Liner and Dr. Reid are thrilled about the Virtual Reading of Hair Love. "I'm looking forward to Hair Love. It's such a cute story about a father having to do the hair for his daughter for the first time and the struggles to which I know many of our students can relate. It's going to be super fun," says Dr. Reid.
 "We are partnering with Broward County Public Schools for this event, so it's going to be something new for us as we are reaching beyond our own students with this," adds Williams Liner.
Check out the full calendar of events for Black History Month here.
students
Broward College Students