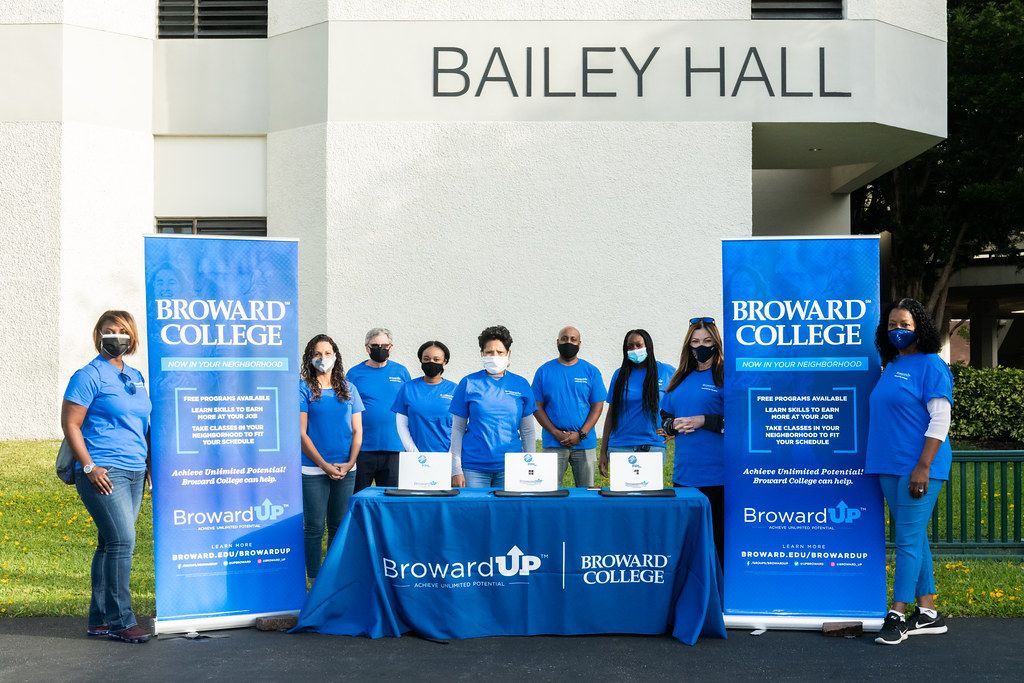 FPL Provides Free Laptops for Students to Complete Rapid Credentials
News

| 02 February 2021 | 4 min read
In the wake of the COVID-19 pandemic, many have faced massive layoffs, reduced hours, and other challenges that bring an extra layer of financial burdens to households across the country. Despite the current struggles, some people are taking advantage of their free time to upskill by pursuing post-secondary training opportunities. Broward College is offering some of these opportunities through its Rapid Credentials program. Rapid Credentials are at no cost for Florida residents who wish to gain a competitive edge to reenter the workforce.
The move to help residents upskill or retool has also received significant support from one local partner. Florida Power & Light Company (FPL) has provided grants to local colleges to purchase laptops for students enrolled in Rapid Credentials. The donation provides 400 laptops to Broward College. FPL and Broward College hope this announcement will entice individuals to enroll in school to prepare for their careers. The laptops are free to students enrolled in the program, and the first 80 students received their devices on January 9.
The event brought tears to the eyes of recipients and messages of gratitude, an early indication the partnership is making a big difference.
Striving for Change
Among the first recipients of the free laptops are Simone Robinson, Lilian Lens, and Erika Allen. The three are all great examples of Broward County residents' determination to pursue better lives for themselves and their families.
Simone, a 41-year-old Miramar resident with a passion for numbers, has been doing accounting for her church for several years. She's never worked in the field before, but she is hoping that by pursuing the Accounting certificate through Rapid Credentials, she will have the opportunity to finally work in an area she loves.
Lilian Lens, an Oakland Park resident and single mother to a kindergarten student, seeks additional income sources. She has been working on her associate degree in Business Administration at the College and is just a couple of classes away from completing it. However, she needs something faster that will give her a much-desired competitive edge. She is pursuing a Bookkeeping certificate that will help her become a Certified Public Accountant.
Fort Lauderdale resident Erika Allen is passionate about helping the community, and her job in Human Services is a testament to that. She wishes to be more effective in helping the youth she works with daily, so she wanted to complete the Human Services Generalist program in the Rapid Credentials. She is also hoping to pursue a master's degree in social work after completing the certificate.
Making a Difference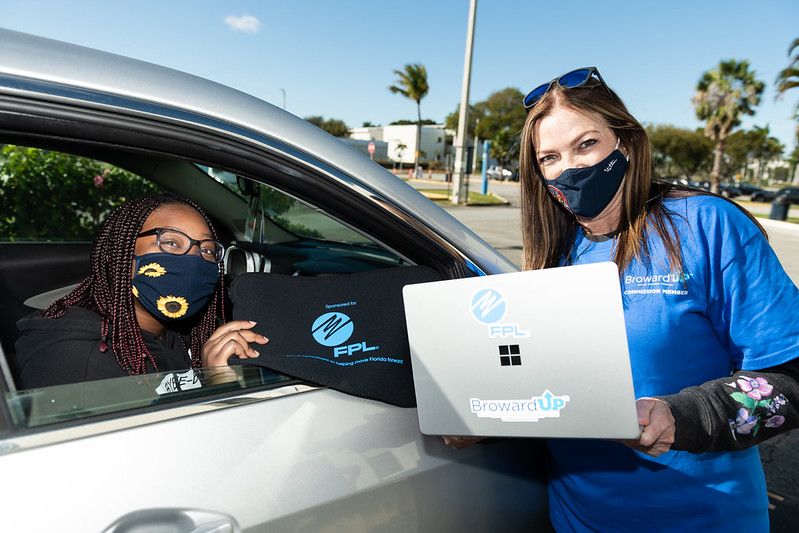 Despite not having the right technology to complete the Rapid Credentials, all three were registered in the program even before knowing they qualified to received one of the free laptops. Once they knew, it was the sign that confirmed they were pursuing the right path.
"Receiving this laptop has been a blessing," says Simone. "I was actually trying to figure out how I was going to do my classes because my desktop computer was not adequate, and out of nowhere I find out that I qualify for getting the free laptop, and it felt like a signal that it was my time to go to school and do what I've wanted to do for so long."
Lilian was struggling with how to share her laptop between her classes and remote learning for her young son. "I couldn't believe it. It was such a blessing because my laptop is being used by my son for his school, so I was worried about how I would do my classes since I have to share the laptop with him," she says.
And for Erika... "It was a burden off my shoulders. I was actually in the market for a new computer because my personal computer stopped working and I couldn't use my work computer for my personal things, so the free laptop couldn't have come at a better time."
A Heartfelt Thank You
After receiving the laptops, Simone, Lilian, and Erika are beyond grateful to Broward College and FPL.
"I had tears of joy," says Simone. "I can only say thank you for being so kind and generous and for helping those who are trying hard to do things they want but can't afford to. It means the world to us."
"I'm extremely thankful to both Broward College and FPL because this makes a huge difference in lives of people like me, who have to provide for our families but want to pursue educational opportunities that position us in a better place to pursue better employment but don't have the means to do it," says Lilian.
"This pandemic has impacted us all, and the fact that both Broward College and FPL are using funds to help people in the community during these difficult times says so much about how much they care to assist people in their journeys towards better lives, better futures," adds Erika.
Are you looking to improve your skillset and gain a competitive edge in the workforce? Register today for one of the many certificates offered at no cost to you through the 
Rapid Credentials
. You can also inquire to find out if you qualify for a free laptop.