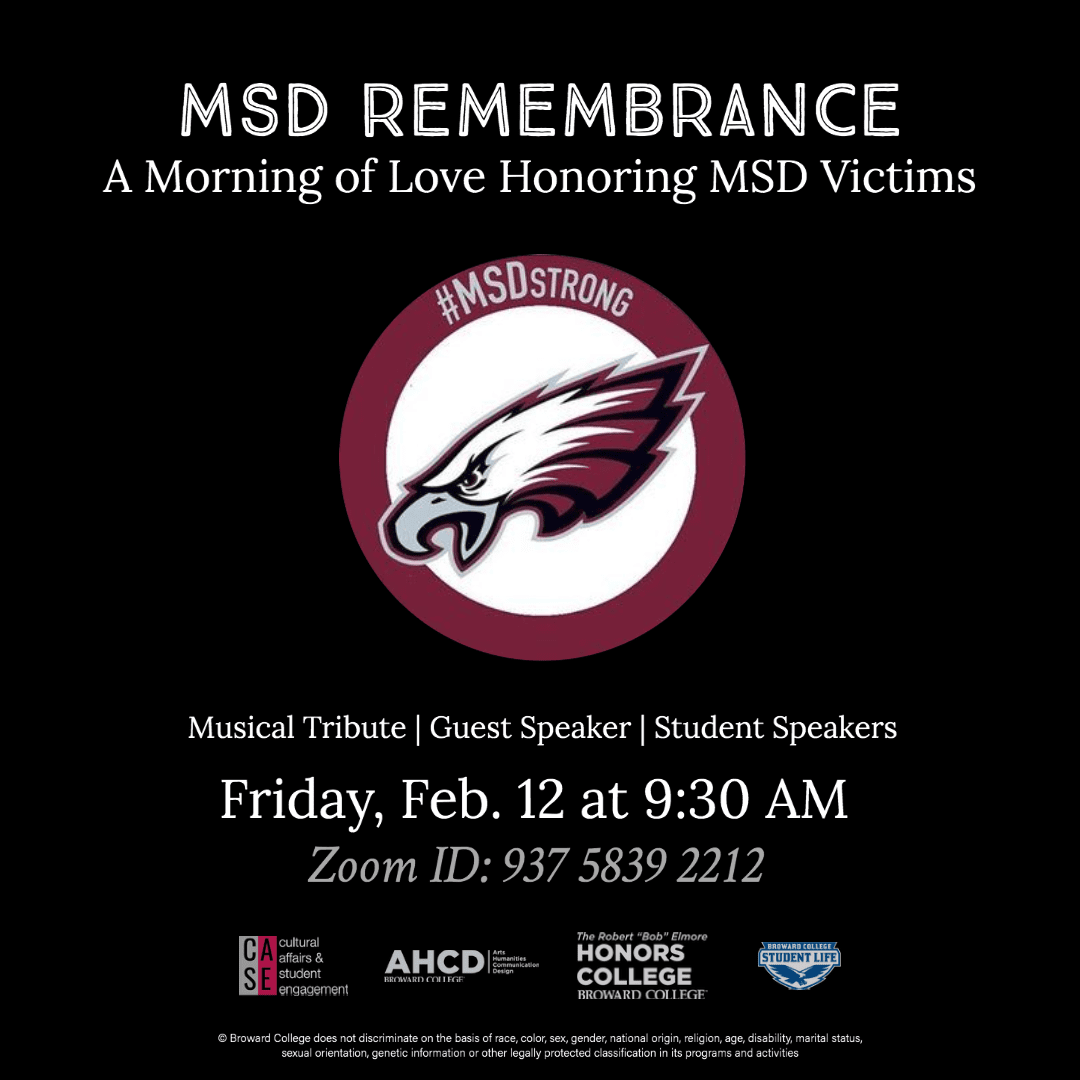 February 14 – Take the Day to Honor Victims of the Marjory Stoneman Douglas Tragedy
Events

| 11 February 2021 | 1 min read
It's almost Valentine's Day. Even as we look to this holiday of love celebrated on February 14 each year, we cannot ignore another significant yet sad event that happened in our community on this day in 2018 - the Marjory Stoneman Douglas High School tragedy. 
This year, the College will hold two virtual remembrance activities to honor the Marjory Stoneman Douglas (MSD) tragedy victims and survivors.
Remembrance Event and Moment of Silence 
On February 12 at 9:30 a.m. via Zoom, students, faculty, and staff are invited to join A Morning of Love Honoring MSD Victims. Organized by the Arts, Communication, Humanities and Design Pathway (AHCD), the event is a musical tribute that will also feature guest and student speakers. 
During the college-wide townhall for employees between 1-3 p.m., there will be a moment of silence, led by President Gregory Adam Haile, J.D., to honor the victims and survivors.
Community Observance
As a member of our community, there are other ways you can join in the remembrance. Each year, during the week of February 8 to 12, Broward County Public Schools (BCPS) hosts a week-long observance where students participate in community service projects and activities that raise awareness for meaningful causes.
This year, the entire district will observe a minute of reflection at 10:17 a.m. on Friday, February 12. BCPS will also observe A Day of Service and Love on Sunday, February 14, to commemorate the tragedy and honor the victims.  
Additionally, BCPS encourages all community members to participate in one of the many tributes, faith-based gatherings, and service events on Sunday, February 14. They are partnering with community organizations including HandsOn Broward, City of Parkland, City of Coral Springs, Children's Services Council of Broward County, United Way of Broward County, and the Interfaith Council, among others for these activities. You can visit browardschools.com for a calendar of events.
As an educational institution that serves the Broward County community, Broward College invites students, faculty, and staff to participate in your local community events that honor the 17 victims of the MSD tragedy.
Community
Local Residents
Broward College Students