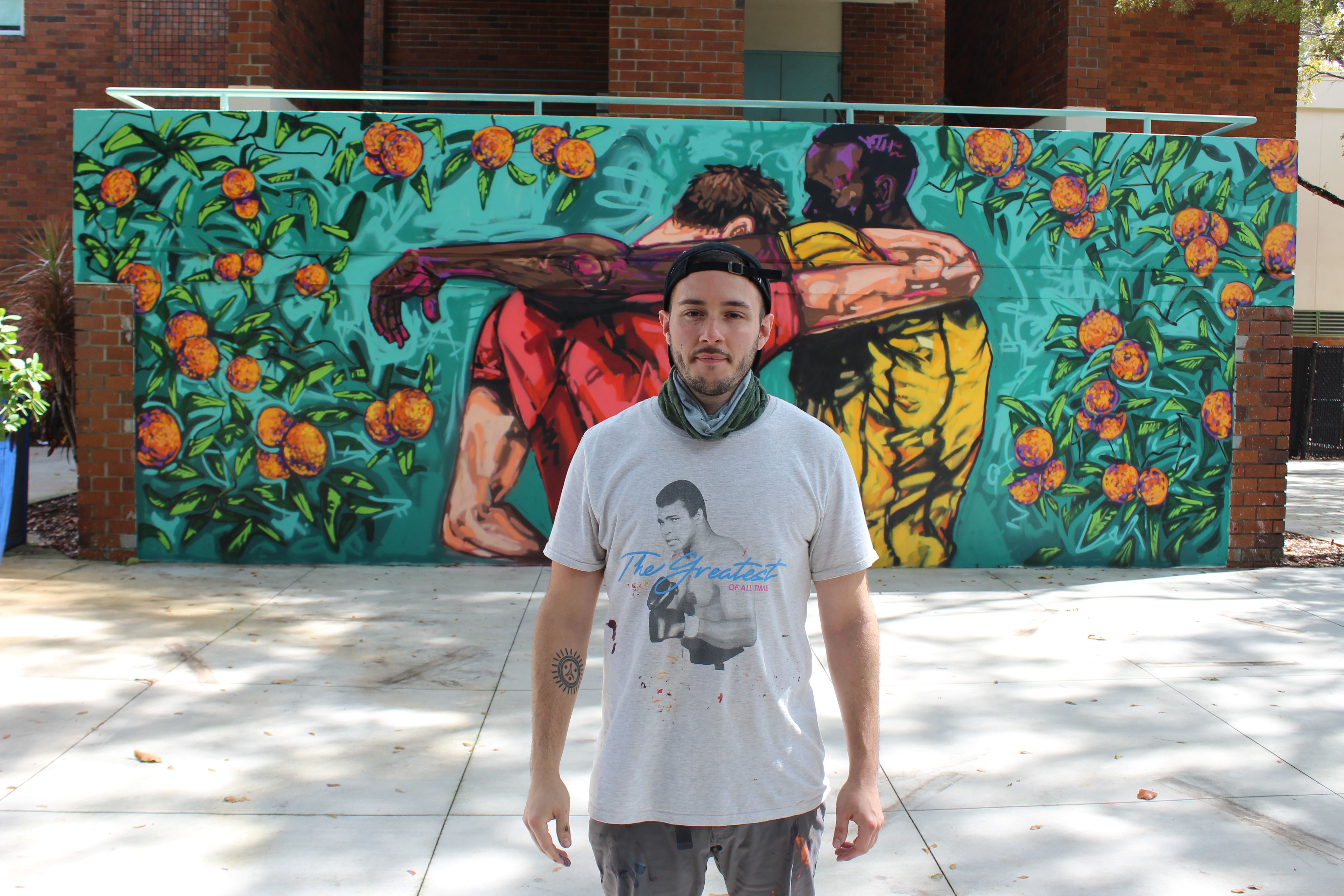 New Murals Unveiled as part of Social Justice Week's Events
News

| 23 February 2021 | 3 min read
Two new murals have been added to the A. Hugh Adams Central Campus in Davie as part of the Social Justice Week events during Black History Month. Mural artist Alec DeJesus is responsible for the social-inspired pieces 'Brotherhood' and 'Lady Justice' that now embellish the exterior west-bound wall of the Library and interior hallway of Building four, respectively. DeJesus first worked with the College in 2018 when he participated in a student-artist engagement activity on the Judson A. Samuels South Campus and created a mural alongside students and other professional artists.
Sponsored by the Office of Cultural Affairs & Student Engagement, the two images were selected by a college-wide committee of Associate and Pathway Deans and other leadership members who reviewed a total of six pieces submitted by DeJesus. "For a while now, we've been trying to install more murals on our campuses. When all the social unrest happened last year, my office gathered several leaders across the College to discuss ideas and come up with the message we wanted to portray," explains Erika Neff, director, Cultural Affairs and Student Engagement. "We agreed that we needed pieces that conveyed inclusion, hope, love, and acceptance."
Creating Meaningful Art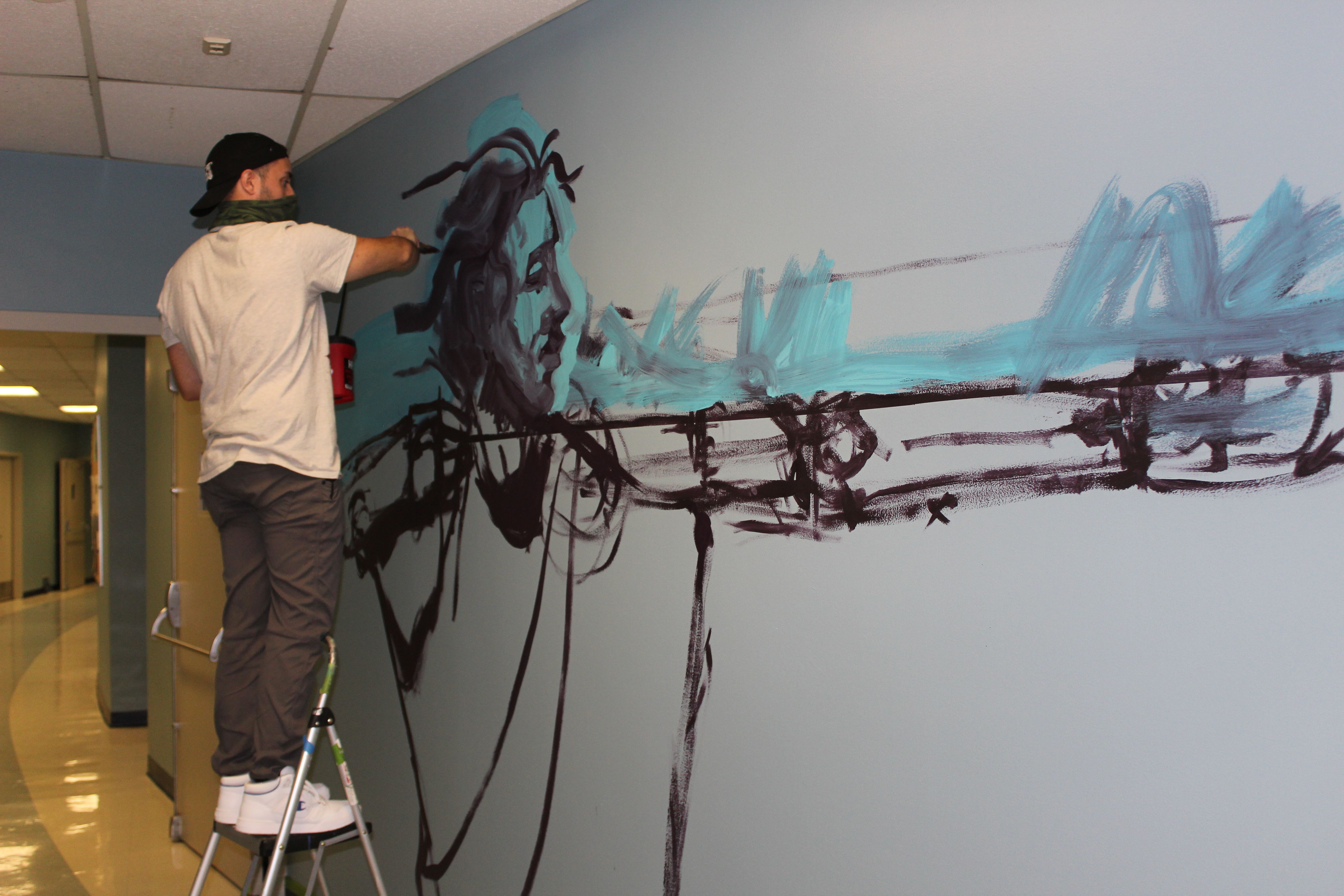 An Illinois native, DeJesus has focused on portraying a message of "strength and pride through perseverance" in his art. When he was approached to create these murals, DeJesus sketched several ideas that embodied the message the College wanted to share with students, faculty, staff, and the community at large.
"These murals are a response to the events of the past year or so," he says. "The College wanted art that represented unity and solidarity. Brotherhood represents exactly that. It's the representation of two young men from two different worlds and experiences leaning on and supporting one another."
A Message Beyond
In addition to conveying the College's message, DeJesus feels these pieces will inspire conversation. "Broward College is a very diverse institution, and I believe that these murals can motivate students to lean on each other and have conversations about their experiences and backgrounds to promote positivity and share a strong connection," he says.
He also explains that mural art is a powerful medium due to the large number of people it reaches, especially when displayed in high-traffic areas. "Murals are impactful because of their size. Sometimes just being in their presence is powerful enough."
A Welcome Back to Campus
During the spring semester, some students have come back to campus in a limited capacity. While the College has not yet determined when all classes will return to campus, these murals are part of the College's welcome back initiatives. "Although we are currently sharing and promoting these pieces through social media, we know that when students come back to campus, it's going to be a great gateway for them to connect with their peers," says Neff.
"As an artist, I can say that seeing art through our phones, as we are currently forced to do, is not the same as experiencing these things in person, so I believe that even those who get to see the murals online will be surprised when they finally see them in person," says DeJesus.
You can connect to Alec through Instagram and TikTok at @youcancallmealec. We hope to see you all on campus soon. If you visit, snap and share your pictures on social media and make sure you tag us! @browardcollege
The Visual & Performing Arts program has been an integral part of the College's curriculum since the early days, offering educational opportunities in Dance, Film Production, Theatre, Music, Graphic Design, and the Visual Arts. You can connect to the Office of Cultural Affairs & Student Engagement through their Instagram account @case.bc.