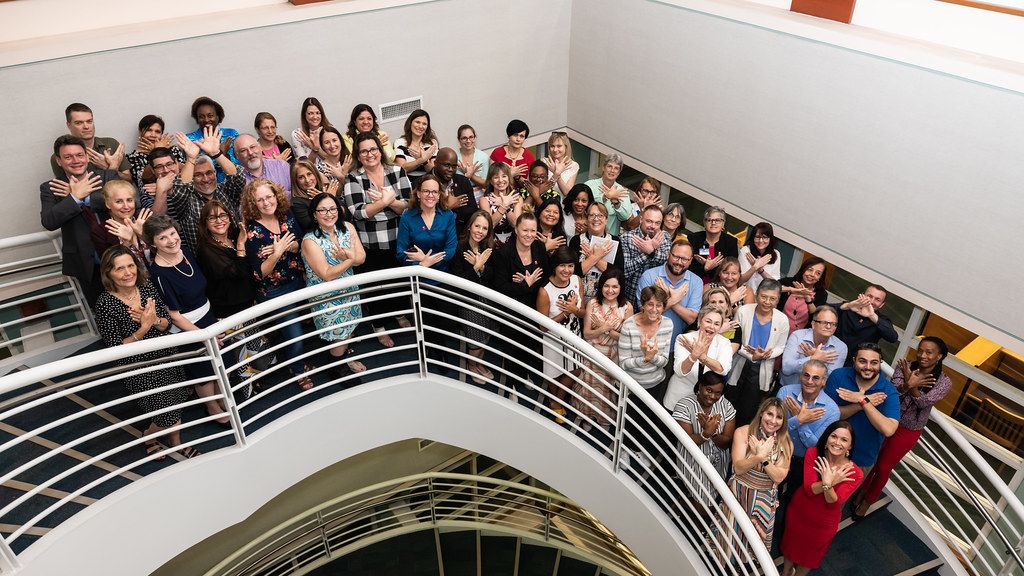 Celebrating 17 Outstanding Faculty Members With the 2020-21 Professors of the Year and Endowed Teaching Chair Awards
People

| 30 April 2021 | 3 min read
In a period that will go down in infamy, Broward College professors went beyond their call of duty to ensure students finished the academic year with the progress they anticipated. They came to class prepared with a thorough knowledge of the subject matter and exhibited the resourcefulness to teach it well—even during a pandemic. The College boasts exceptional faculty, and it is not always easy to give them the credit they deserve, but each year, two awards recognize the work of our teaching staff.
"Professor Weinstein is an amazing instructor for so many reasons. She is flexible and understanding when students have questions and concerns. She makes herself available when we need help on assignments after class. She is passionate about psychology and makes her lessons relatable to where it is easier to understand. She also has made the best of the circumstances we are facing by making our zoom chats fun. I look forward to classes with her because she makes our lessons interesting."
This quote is an excerpt from a student's submission to nominate Dr. Jodie Weinstein, who has taught psychology courses on A. Hugh Adams Central Campus since 2009. Dr. Weinstein's efforts have not gone unnoticed. She is one of ten Broward College faculty members named 2020-2021 Professors of the Year to recognize their invaluable work in the classroom and support for student success.
Students and their peers nominate professors of the Year, and a committee reviews the votes on each campus. This year's recipients are:
HUGH ADAMS CENTRAL CAMPUS
Dr. Idelisa Ayala is a professor in the Biological Science Department who was inspired by one of her chemistry teachers to follow her love of science and teach.
Professor Jennifer Solley has been a member of the English Department for the past 11 years, where she has taught courses in composition and literature, EAP, and teacher education.
Dr. Kimberly Barron has been an educator for more than 20 years and an adjunct faculty member of the English Department for ten years. 
NORTH CAMPUS
Dr. David Perdian joined the faculty at Broward College in 2010 and has since won three Classroom Research Awards. He also serves as a faculty development coordinator for the Center for Teaching Excellence and Learning.
Professor Keisha Johnson is an adjunct who teaches public speaking and an introductory course in speech communications.
jUDSON A. SAMUELS SOUTH CAMPUS
Dr. Abushieba Ibrahim joined the Broward College Mathematics department in 2006 and was named Professor of the Year in 2009-2010 and 2014-2015.
Professor Ryan Mahabir has been teaching chemistry in the Physical Science Department for the past three years and is in his tenth year as an adjunct professor.
ONLINE
Jody Harris, a mathematics professor since 2005, is a Broward College graduate who was named Professor of the Year in 2005-2006 and received an Endowed Teaching Chair in 2016. 
Dr. Carl Letamendi started at Broward College as an adjunct in 2014 and has taught personal finance, business mathematics, principles of financial management, and managing cultural diversity.
The Professor of the Year award is just one way Broward College honors its teaching staff's dedication, innovation, and creativity. Broward College also recognizes professors for their excellence in the classroom with Endowed Teaching Chair (ETC) awards.
ETC winners each receive  $13,500 to be divided equally ($6,750) for professional development and/or classroom enhancements and $6,750 for an honorarium used at the recipient's discretion. The awardees were selected following an in-depth review of their professional work by a panel of their peers and a community selection committee chaired by representatives of the Broward College Foundation Board of Directors. Other committee members are ETC donors, community, and/or industry leaders. The finalists were selected from a group of 16 semi-finalists. The 2020-2021 ETC recipients are:
Professor Ruth Lazard-Germain, a pediatrics instructor at Broward College for the past eight years, received the R. Irene Craney Fischley ETC.
Professor Mariah Reed, a tenured professor and member of the Screen Actors Guild/American Federation of Radio and Television Artists and the Actors Equity Association, received the Gaddis Corporation ETC.
Professor Olayinka Coakley, who was previously awarded the William D. Horvitz Endowed Teaching Chair in 2014, was named the Bank of America II ETC.
Professor Pezhman Jatala, who launched the Film Production Technology program and has served as its program manager since 2014, received the Bank of America I ETC.
Dr. Joanne Kampiziones-Ying, an Associate Professor of Music who remains active in bringing performing arts to campus, was awarded the Cleveland Clinic ETC.
Professor David Hennessy specializes in online and blended technologies to help make a quality college education accessible to all learners, was awarded the Children's Opportunity Group ETC.
Dr. Rajendra Shakya, who has been teaching chemistry since 2012, was awarded the Margaret and Cato Roach ETC.
Congratulations to all the winners!
Empowerment
Broward College Employees