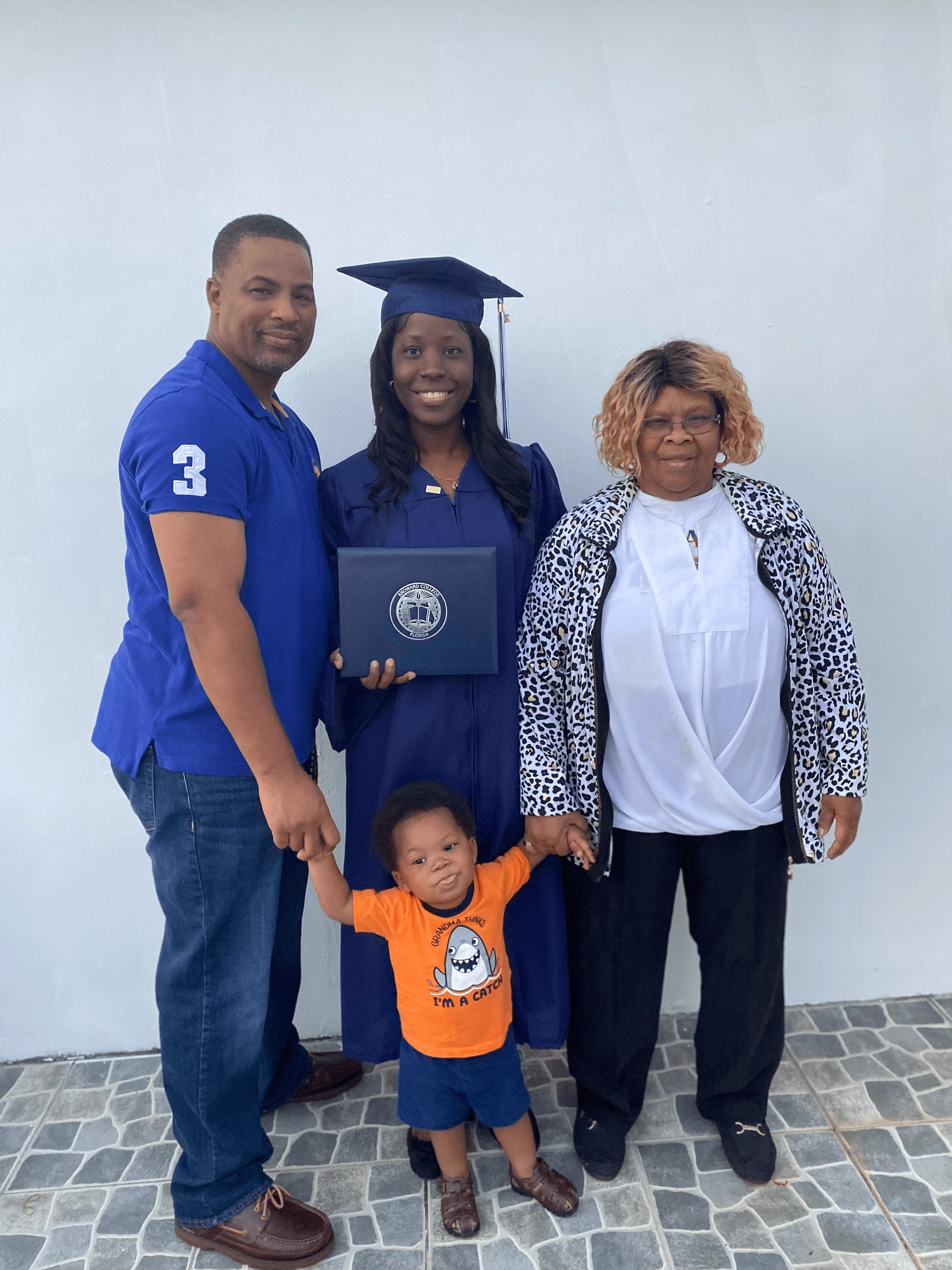 High-School Dropout Prepared for Career in Medical Sonography
People

| 03 May 2021 | 3 min read
The message was clear. It was her turn to clean the bathrooms, per the boss' orders. Still only 21-years-old, Mashava was a high school dropout who took the command to heart; it confirmed the need for her to improve her options and the choice at that moment to trade in her mop and bucket for a new lease on life.
Things have worked out for Mashava since she quit her job at the fast-food establishment and started taking online classes toward a high school diploma. Since then, she married, took on a full-time job, gave birth, and will graduate from Broward College this month with an Associate of Arts degree. With opportunity in hand, the 34-year-old wife and mother will begin classes immediately at Nova Southeastern University, where she is determined to work toward a bachelor's degree in the medical sonography program.
"It's my dream," said Mashava Charles-Piggott, in between her classes at Broward College and juggling her full-time job as a customer service representative with a local airline and mother to her 18-month-old son. "I love babies. It's about bringing new life into the world, and I want to be part of that."
Do not bet against Mashava. Odds are, she will soon be detecting heartbeats and tiny feet. Since she left Guyana with her family for the United States at 13-years-old, she has always set goals. It's just that life kept getting in the way of achieving them. These days, that reality begins from the time she wakes.
"My son motivates me," said Mashava, who will take a short break this year to celebrate Mother's Day with the support vehicle that fuels her drive: her husband, Richard, and her infant son, Rashard. "I get up early in the morning to take care of him, give him breakfast, and wait for my classes to start." 
It's Hard Work
Mushava then hands Rashard over to her mother-in-law for a short interlude, but certainly no break. When her classes are finished, Mashava has her hands full again.
"All of my time is spent with my son," she said. "Rashard loves to climb. When he is next to me, I cannot get anything done—he is all work. I can't take my eyes off him."
When she needs to study for an exam, Mashava gets out of bed by 3 a.m. because she knows her little one is sleeping. Up to five days a week, that is most likely after working an eight-hour shift at Fort Lauderdale-Hollywood International Airport, checking passengers in, announcing departures, and handling customer baggage concerns.
Work and parenting responsibilities have extended her time at Broward College longer than she had anticipated when she first enrolled in the Radiography Program in 2016. But it was not for lack of focus.
"I was just about to finish my program, but I got pregnant," said Mashava. "I know some people when they take a break, it takes them forever to return to school. I could not afford to do that. So, I continued to take one or two classes."    
It's a Boy!
Her own pregnancy and seeing a fetus in her womb provided further confirmation she was on the right track.
"When I saw the pictures, they told me so much about my baby," said Mashava. "The head, the feet…I could see the heartbeat. It was just awesome."
Now she is excited to someday put both her education and personal experience to practice. While she is grateful for her current job, she is excited to move into the career of her dreams—disclosing genders to soon-to-be parents in an obstetrician's office. In the meantime, she is trying to get the day off work on May 8, so she can watch the virtual graduation ceremony with her son—if he permits. Rashard has a thing about Peppa Pig cartoons.
"No cartoons that day," said Mashava. "I've waited a long time for this. Who would have thought I would be getting a degree? My family is proud of me. It's a great accomplishment – and I deserve it."
Does interpreting medical images to diagnose disease and injury sound intriguing? The
Radiography Program
at
Broward College
prepares students for success in X-ray technology and a wide range of transfer-degree opportunities in the
Health Sciences
.
Associate Degree
Job Opportunities
Broward College Students