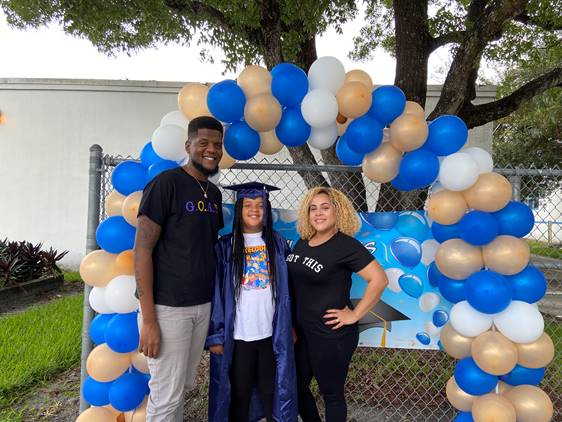 Broward College Student Finds Purpose as Mentor, Role Model and Father
People

Events

| 18 June 2021 | 3 min read
The baby's whimper caught his attention immediately. Being a father is serious business for Bertram "King" Gillings. Not only is the 36-year-old Broward College student a dad to an 11-year-old daughter and 4-month-old son, he is the vice president of Father's Purpose, a nonprofit he co-founded a year ago to mentor at-risk youth and make their broken families whole again.
Gillings knows how important an active father is to a household. He was eight years old when his mother decided to escape an abusive relationship and move the family from Brooklyn to Florida. Relocation with his three siblings at that pivotal age was tough, especially with an absent father. As his weight grew to almost 400 pounds, he was bullied often.
"I've always wanted kids to experience a life that I wanted as a child," said Gillings.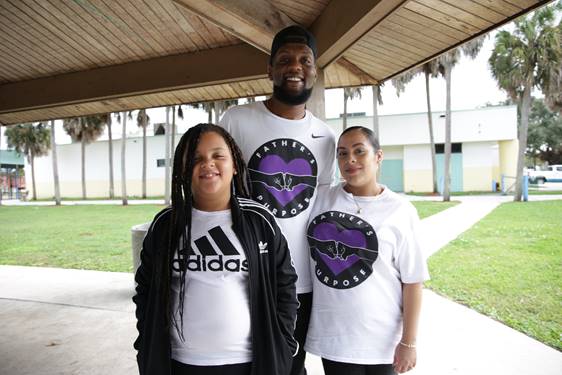 Those kids, many who have experienced life through detention centers and group homes, now include some 100 boys and girls ages 13 through 24, whom he mentors on the importance of values, leadership, and goal setting.
"I've never been in trouble a day in my life," said Gillings, who first began providing mentoring support and guidance ten years ago to young men in the Department of Juvenile Justice System. "Unfortunately, I've had family members who were incarcerated, and I saw the pressure, the stress it creates. I saw the effects of what it did to other kids growing up in my neighborhood."
That doesn't mean Gillings was immune to struggle. His mother suffered a stroke in his senior year of high school, which forced him to put his college aspirations on the backburner. Making the most of a can-do attitude, Gillings landed a job with AT&T at the age of 18. Then another at American Express. Before long, he was managing promotions for nationally syndicated K-LOVE radio.
In the meantime, he and his wife had their first child. When K-LOVE closed the local office where he worked, Gillings chose not to move his family to another state. Instead, he was out of work and without a degree.
"The first decision was to go back to school so that I could have more opportunities," said Gillings, who figured he'd take advantage of his larger-than-life personality and work someday as a television host. "I decided to go with my gut and follow my dream."
Campus Ambassador
Enrolling in Broward College was the catalyst he needed. He twice earned dean's list status, started hosting campus events and got a job as an ambassador with Student Life. Soon, he emerged, arguably, as Broward College's biggest advocate. His big smile has adorned highway billboards and appeared on commercials pitching the benefits of a college education. All while he pursues his bachelor's degree in Supervision and Management, owns and operates a fledgling media company, advises fatherless youth, and raises his own family.
"Not having a dad around, I was raised by women," said Gillings. "I didn't think that was an excuse. I had to go out and look for the support—it wasn't given to me automatically."
Now, as Father's Day approaches—the first with his son—he is the example he set out to seek: a highly ambitious man of faith and family who enjoys being a healthy presence in his kids' lives.
"I try to lead by example, and it's not easy," said Gillings, who is gathering a group of fathers to rent a Fort Lauderdale Airbnb where they will spend the holiday weekend at the beach with their families. "We're all coming together to strengthen each other as fathers. To be the best father, we must be the best men. Once God blessed us as fathers, all we want to do is get better at it."
Student Life at Broward College is designed to help you connect, develop and soar.
Here's how to start
.
students
Associate Degree
Community
Empowerment
Broward College Students