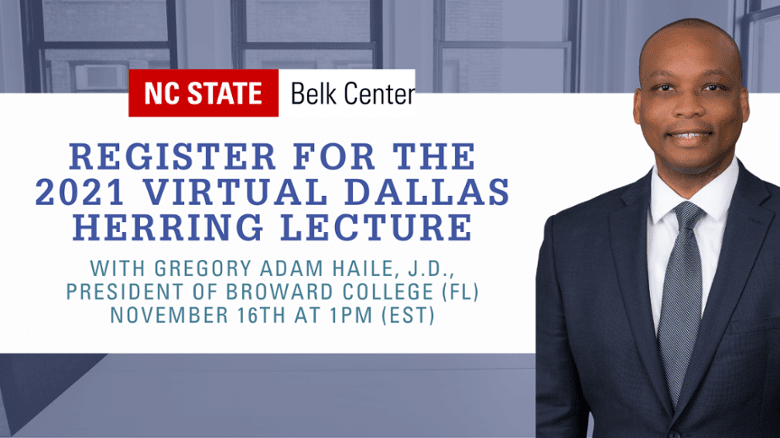 Broward College's Gregory Adam Haile to Deliver 2021 Dallas Herring Lecture
Press Releases

| 17 September 2021 | 4 min read
Haile's presentation, Redefining Access: The Power of Proximity, touches critical issues facing community colleges nationwide
September 17, 2021 (Raleigh, N.C.) –– NC State's College of Education and Belk Center for Community College Leadership and Research are pleased to announce that Gregory Adam Haile, J.D., president of Broward College, will deliver the 2021 Dallas Herring Lecture. 
The annual lecture, which honors W. Dallas Herring, invites community college leaders from around the country to speak on urgent and emerging topics, framing how to address the issues and proposing a path forward. The 2021 lecture, titled Redefining Access: The Power of Proximity, will take place virtually on Tuesday, November 16 from 1-3 p.m. EST.
"The Dallas Herring Lecture has a tradition of fearlessly challenging us not to settle, and to meet the historical and social objectives of community colleges. Delivering the lecture is a truly humbling honor, and I embrace the opportunity to continue this courageous tradition," Haile says.
"We have allowed our lowest income communities to continue to fall further behind in post-secondary attainment. For example, the gap in baccalaureate attainment over the past 50 years between those in the lowest income quartile and those in the highest income quartile has grown from 34 percent to 49 percent," Haile continues. "We should find this reality abhorrent – just as abhorrent is the relationship between the zip code you live in and your income over a lifetime. We must think of new and different ways to disrupt this relationship with another fact: education access and attainment are critical to economic mobility."
Community colleges were designed to magnify access to higher education, to remove geographic and economic barriers and to provide educational service to the entire community. While the current model has had many successes, there is still great work to be done. Through the power of proximity, breaking the confines of current access models, there's opportunity to realize the basis for their existence. In his presentation, Haile will address these topics and more as he reimagines higher education access through a collaborative, replicable and disruptive model.
"Gregory Haile has dedicated much of his career championing education for underserved communities, and he has been recognized far and wide for his leadership, service and excellence in his profession," says Audrey Jaeger, Ph.D., W. Dallas Herring Professor with the NC State College of Education and executive director of the Belk Center. "We are deeply honored to have him as this year's Dallas Herring Lecture speaker."
Immediately following the lecture will be a live panel discussion with thought leaders from some of the nation's top community colleges, including Dr. Pamela Senegal, president of Piedmont Community College (N.C.), Lee D. Lambert, J.D., chancellor of Pima Community College (Ariz.), and Dr. Sunita "Sunny" Cooke, superintendent and president of MiraCosta Community College District (Calif.).
The event is free and open to the public, but registration is required. Please register online. 
###
About the Dallas Herring Lecture
A Rose Hill, N.C. native, W. Dallas Herring made it his life's work to build a system that would serve all of North Carolina's residents by preparing them for productive work and active citizenship. Beginning in 1955, he served on the North Carolina State Board of Education for almost 25 years, during which he oversaw the development of a statewide system of technical education institutes that eventually became the North Carolina Community College System. Since 2015, the annual Dallas Herring Lecture has focused on national issues contextualized to North Carolina, inviting top community college leaders to speak on urgent and emerging topics, framing how to address the issues and proposing a path forward. The impact of the event has grown exponentially over the past several years, and has helped to elevate issues related to community colleges and led to action to address such issues in North Carolina.
About Gregory Haile, J.D. 
Gregory Adam Haile is the seventh president of Broward College. He assumed the role on July 1, 2018.  He has served in more than 40 board or committee capacities and in more than 20 chair or vice-chair capacities. He is past chair of the board of Leadership Florida, and currently serves on numerous  boards, including the Federal Reserve Bank of Atlanta, and the Florida Chamber. He is a member of the Orange Bowl Committee,  the Council of Foreign Relations and serves on the Steering Committee of the Presidents' Alliance on Higher Education and Immigration. As an educator, Haile takes time annually to teach a self-designed four-credit course in higher education law and policy at Harvard University (Summer School). He has received dozens of recognitions for his leadership, service and excellence in his profession. Haile was educated at the Columbia University School of Law, where he was a Harlan Fiske Stone Scholar and served as the editor-in-chief of the National Black Law Journal and as an editor of the Journal on Gender and Law. He received his bachelor's degree from Arizona State University, where he graduated magna cum laude and received the Most Outstanding Graduate award in his college. He received an Honorary Doctorate of Humane Letters from Nova Southeastern University, and is also a fellow of the Vanderbilt University Higher Education Management Institute.
About the Belk Center
The Belk Center for Community College Leadership and Research, at North Carolina State University, develops and sustains exceptional community college leaders who are committed to advancing equitable college access and student success, the social and economic mobility of their colleges' students, and the economic competitiveness of their regions. The Center provides professional development and research related to current and emerging student success opportunities and challenges facing community college leaders and policymakers in North Carolina and the nation. For more information, please visit www.belk-center.ced.ncsu.edu.
About Broward College
Serving approximately 60,000 students annually, Broward College provides residents with certificate programs, two-year university-transfer degrees, two-year career degrees, and baccalaureate degrees in selected programs. The mission of the College is to provide high-quality educational programs and services that are affordable and accessible to a diverse community of learners. For more information, visit www.broward.edu.