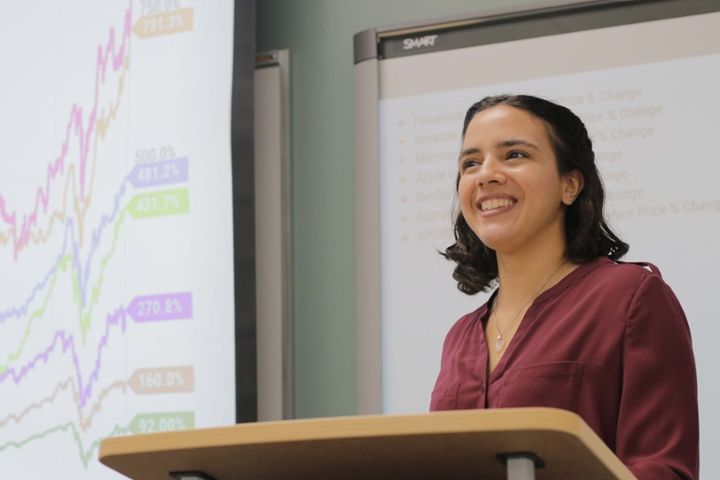 Saturday Business Degree Program Fits Working Student Lifestyle
News

| 02 September 2021 | 2 min read
For students struggling to juggle coursework and life's demands, the balancing act just got a little less complicated. Starting this fall, students at Broward College can earn an Associate of Arts with a concentration in Business Administration by taking courses entirely on Saturdays.
Dr. Paul Moore, dean, Academic Affairs, Business and Management, said the creative solution is rooted in the spirit of eliminating barriers to education and retaining students.
"Three-quarters of our students are working," said Moore. "They are taking care of children and families. Some of them are single parents. Child care and transportation costs are always at the forefront. So, for many of our students, Saturday classes are a big deal."
About 30 students have enrolled in the Introduction to Business course, the first step toward completing their degrees on Saturdays.
"We've built in a one-hour break to give students time to stretch and get some lunch," said Moore. "Then go back and take a second class if they'd like."
Moore said general education courses, such as English, are also offered on the weekend, which means any student can enroll in a Saturday class and earn credits toward their program.
"We've structured it to help not just business students," said Moore. "Maybe a student needs to take a Math class that's in their pathway or an Art or English course."
Convenience Factor
Although the Saturday classes toward the associate degree are offered in the mornings and afternoons, the courses are no different in content and tuition than what is available throughout the week across different modalities campus-wide. When and where is up to the students.
"We're telling students you don't have to disturb your work schedule, don't disturb your life," said Moore. "Taking a class on Saturday doesn't mean you can't pick up an extra class on a Tuesday night or Wednesday morning either."
The Saturday classes also work well for faculty, many of whom are adjuncts who have full-time jobs during the week. But the impetus for the weekend courses rests primarily with helping working students who are enrolled part-time make a seamless transition into a bachelor's degree program.
"We don't want to cut off the pipeline to any student," said Moore. "Most of our students are part-time. Many like the idea of being at home in their sweatpants and keeping an eye on their children while they take classes and, perhaps, not have to worry about transportation to class. Others want some type of in-person instruction and like the convenience of a course on the weekend."
Depending on the response, Moore said the Saturday courses might expand to include other areas.
"We've got to do everything we can do to help students complete their degrees." Said Moore. "So, we're always thinking about ways to serve students and give them options. It's what Broward College is all about."
Have life's demands complicated your path to a college education? Saturday classes allow you to complete an Associate in Arts (A.A.) with a concentration in Business with no interruption to your busy schedule. To register in your preferred class modality (remote, online, on-campus), visit
MyBC
 and make your selection.
Associate Degree
Job Opportunities
Broward College Students