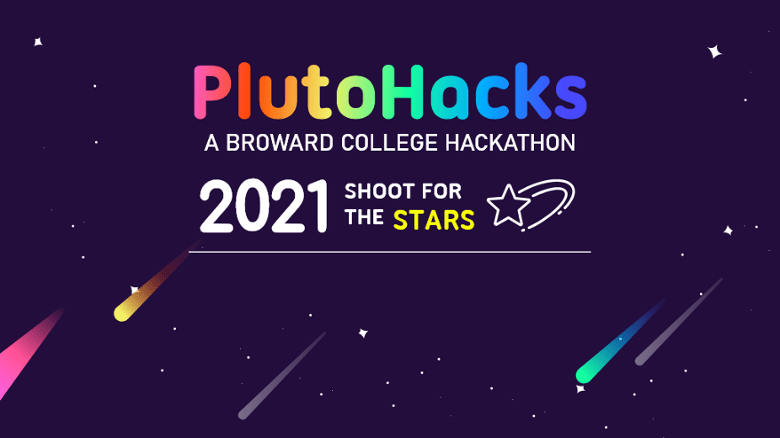 Dust Off your Keyboards, Hackers! The Broward College Hackathon is Back
Events

| 20 October 2021 | 2 min read
The Computer Science and Information Technology Department and inTech of Broward College will be hosting the 2021 PlutoHacks, the Broward College Hackathon where students will have the opportunity to build, create, and design an application or website to solve a problem.
The event will take place October 22 to October 24, 2021. The opening ceremony will kick off at 1 p.m. on Friday while the closing ceremony will be held at the same time on Sunday. This year's edition of the Hackathon is part of the Major League Hacking – the official student hackathon league - (MLH) 2022 Season. 
Due to COVID-19 restrictions, this year, the event will take place on a virtual platform. Students will participate via Zoom for the opening, judging, and closing ceremonies as well as the raffles, games, and workshops. Students may also use Discord, a gamer communication platform, for their team gatherings while they work on their project.
What to Expect
Given its virtual platform, this year's Hackathon will see participants from all over. Students may work on their projects individually, form a team beforehand, or create one at the team formation event. To provide an honest and transparent competition, hacking categories will be announced at the start of the event.
"Although we are disappointed about not being able to hold the event on campus, we are excited about the opportunities available by hosting it virtually. This year, we have participants from our Broward College's Shanghai and Vietnam campuses and any student from anywhere can register to participate," explains Ester Sims, academic technologist, Computer Science and Hackathon organizer.
As usual, students will be able to join over ten different workshops over the course of the weekend that will cover everything from coding, software, and project submission. Additionally, participants may also engage in activities and games during hacking breaks.
Regardless of your hacking experience or lack thereof, you're invited to participate. You are only required to be a student. From the 287 registered guests thus far, there are students from every level from middle school to college.
Behind the Scenes
The 2021 PlutoHacks is sponsored by a dozen organizations that include Cengage Unlimited, uCertify, Hotwire Communications, Broward College Student Life, Cre8tive Software, Pearson, Essentials Spa, COX Logistics, Broward College, Ester's Domain, Florida Atlantic University's College of Engineering and Computer Science, and Major League Hacking.
"We are so thankful to all our sponsors, who provide the financial support for the prizes our participants will win, including the raffles and swag bags that students will receive once they submit a project at the end of the competition," says Sims. This year cohort of mentors and judges will include Broward College alumni, faculty, and professionals from the industry.
Registration will remain open until the start of the event on Friday, October 22 for both
participants
and
mentors
.
students
Empowerment
Broward College Students