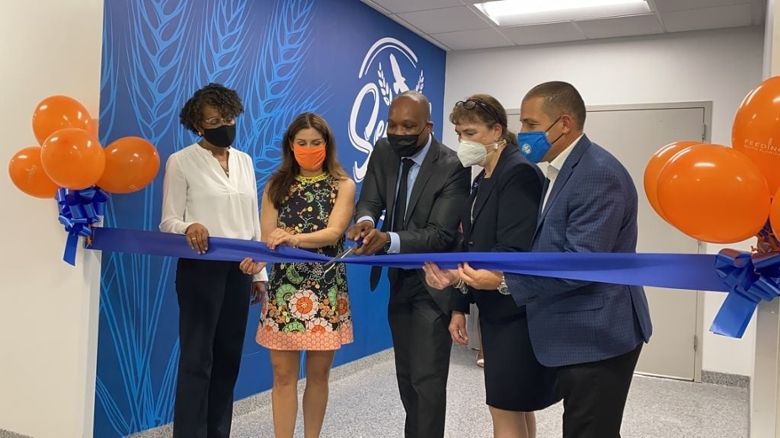 Fighting Food Insecurity – Broward College Opens New On-Campus Pantry
News

| 13 October 2021 | 2 min read
Broward College's commitment to its students goes well beyond providing outstanding experience in the classroom. The College is aware that many students face challenges in their personal lives that directly impact their ability to succeed academically.
According to a Broward College survey conducted before the COVID-19 pandemic, 28 percent of our students faced some degree of food insecurity. More recent data shows that the numbers have almost tripled during the pandemic, now reflecting a staggering 61 percent of students facing food insecurity.
Over the last year, the College has offered some reprieve to alleviate this challenge through weekly drive-through distributions that rotated among the three main campuses. However, the Seahawk Marketplace, which opened recently, now provides a permanent solution for students.
Thanks to a partnership with Feeding South Florida, the Florida Blue Foundation, and Holy Cross, the first three planned pantries opened in September on the A. Hugh Adams central campus. Students will be able to get free food and hygiene items once per week at the Marketplace.
"The opening of this food pantry is a perfect example of the caring nature of this institution," says Esmeralda Sweeney, associate vice president of Student Success.
How it works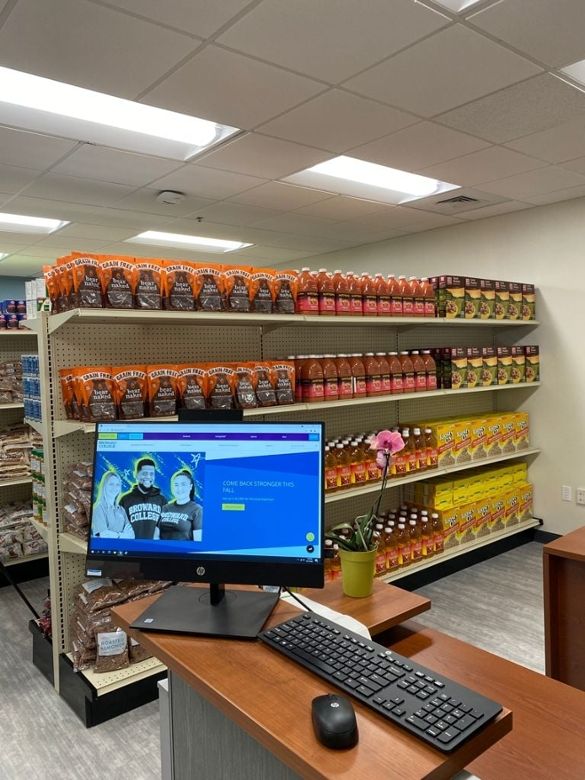 The Seahawk Marketplace is meant to help all students. A simple process is in place for its users.
"Once students walk in, they must fill out an intake form provided by Feeding South Florida, where they will state their household information," explains Paullet Symes, part-time food pantry coordinator. "It only takes a couple of minutes to complete, and it will help determine how many items they are entitled to according to the size of their household."
Afterward, a food pantry volunteer will help the student retrieve their items and help them to their car if needed. There's no checkout process.
Stronger Together
The Seahawk Marketplace is a reality for the Broward College family, thanks to the collaboration and donations from community partners.
"This is just a profound example of how this institution, along with our community partners, come together to make a tremendous difference in the lives of our students," says Broward College President Gregory Haile, J.D.
For many families in South Florida, choosing between food and education, health care, or utilities is a harsh reality. And the same applies to many students.
"Food shouldn't be an impossible choice. And the sad reality is that food is an impossible choice for many families right here in South Florida. The opening of this pantry is a commitment to addressing all of the needs that a student faces," says Sari Vatske, executive vice president of Feeding South Florida.
How You Can Help
If you wish to be a part of the efforts to help our students soar, you can donate hygiene items through this Amazon wishlist. The items will be delivered directly to the Marketplace on campus when you select "Esmeralda Sweeney Seahawk Marketplace" for the shipping address.
Additionally, drop-off donations sites have been set up at North, the Judson A. Samuels South campus and Cypress Creek Administrative Center.
The Seahawk Marketplace is open Monday and Tuesday from 1 p.m. to 7 p.m., Wednesday and Thursday from 10 a.m. to 3 p.m. and Friday from 11:30 a.m. to 4 p.m.
Volunteer positions are open for anyone who wishes to help by donating their time. If you're interested, you may reach out to Paullet Symes at psymes@broward.edu.
Community Partnership
Broward College Students
Service
Student Support