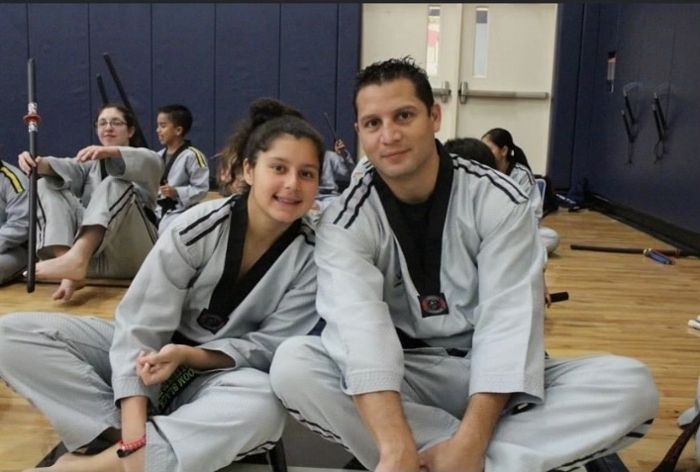 Together, We Can Achieve Greatness
People

| 14 December 2021 | 2 min read
Juan, 46, and Natalia, 21, have more in common than the average father/daughter duo—both will walk across the stage to receive their respective Associate of Science (A.S.) and Associate of Arts (A.A.) degrees from Broward College this December. Juan graduates with an A.S. in Information Technology (IT), and Natalia graduates with an A.A. focused on Criminology.
Juan worked full-time at a national construction company during the day and attended college classes at night. In contrast, Natalia rose early in the morning for her classes and worked as a part-time martial arts instructor in the afternoon. In addition to work and school, Natalia and Juan navigated the academic landscape amidst the pandemic together.
Facing Challenging Times Together
In March 2020, with the switch to remote classes early in Natalia's college career and about halfway through Juan's, they were left to navigate the unknown as a unit. At the beginning of the pandemic, Natalia had a part-time job as a martial arts teacher that moved online. As an instructor, Natalia explained the difficulty of teaching the same classes that were once in person while juggling her college classes that were also moving online.
"At first, when COVID hit, I thought there was no way I was going to be able to do this. Learning, doing homework, taking tests from my computer was so stressful for me," said Natalia. "But having my dad taking classes too was a bonus because we learned how to manage it and take control of our classes while supporting each other."
The Path to Broward
For Natalia, the road from high school to college was more predetermined. With her dad already enrolled at Broward College, he encouraged her to register without taking a year off or prolonging what he saw as the right next step. For Juan, the journey was different.
"There was a day when I was realized I was really comfortable with IT because I had been working in it for so long, but at the time, I didn't have a degree, so I knew I didn't want to put myself in a box by not having one [a degree]," said Juan." So, I said, let me see if there is something new for me to learn out there, and I looked around and found Broward College's program that was teaching things I knew I needed to learn so I could grow."
It's Not Too Late
Looking back on their experiences at the College, they both strongly credit the support of one another and their entire family. And as they wrap up this chapter of their lives, they are the first to tell family and new friends that getting a quality education is the way to go.
"I recommend Broward College to everyone that I know who is trying to do something with their life," added Juan. "There is no better way to start, and it's never too late."
It's never too late to get started on your dreams or a new goal. You can seize your chance at Broward College. You can take advantage of the resources available to help you succeed in your academic journey. Apply today!
Associate Degree
Local Residents
Broward College Students