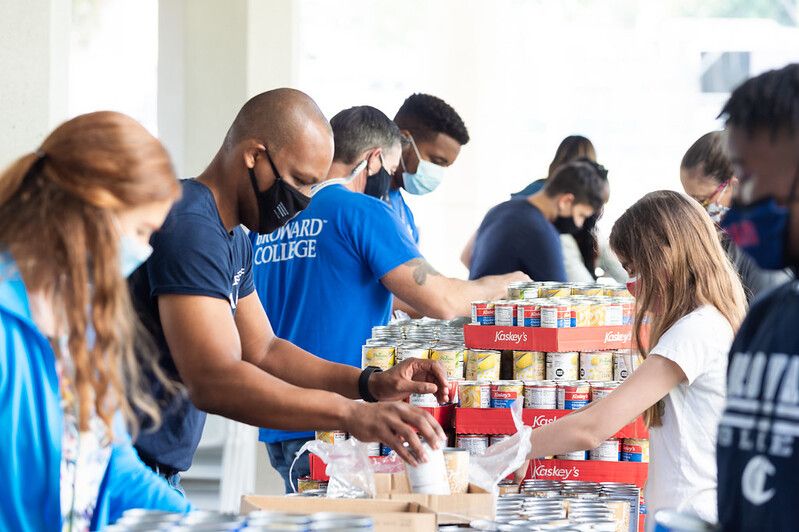 Honoring Dr. Martin Luther King, Jr.'s legacy – Find a way to Make it a Day On, Not Off
Events

| 13 January 2022 | 2 min read
On the third Monday in January, the United States celebrates the birthday of civil rights leader, Dr. Martin Luther King, Jr. More popularly known as MLK Day, the federal holiday recognizes the work and contribution of Dr. King and his family to issues of social justice.
Broward College has recognized Dr. King's work through supporting projects and encouraging volunteerism among its students and employees. Between 2015 and 2020, through funding provided by the state of Florida, the College awarded some $850,000 in grants to over 200 community organizations and nonprofits across Broward County that undertook projects as part of the MLK Day of Service to honor the legacy of Dr. Martin Luther King, Jr. That funding has been impacted by COVID-19, and while the College does not fund activities, it still finds ways to honor King's legacy and so can you.
Supporting the Community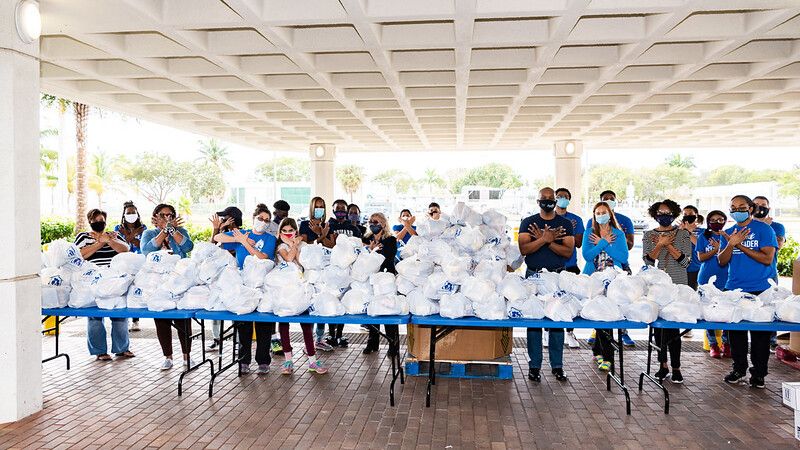 A small team of Broward College staff will participate in food packing and other volunteer activities at LifeNet4Families, from 10 a.m. to 12 p.m. The goal is to pack 500 bags to give to people in need.
"LifeNet4Famlies has been a partner and one of the very first contributors of our monthly food drives, donating food bags for our students and employees each month," says organizer Dr. Amoy Reid, interim dean, Academic Affairs. "Their help has been crucial in helping the Broward College family throughout the COVID-19 pandemic. On MLK Day, we will be paying back by helping pack food bags for members of the community and organizing clothes donated to LifeNet."
On Saturday, January 22, 2022, an employee drive will also take place at 10 a.m. on the Judson A. Samuels South Campus in Pembroke Pines. Employees may register through OneAcess to receive a food bag. Pet food is also available during the drive. If you wish to volunteer for the event, you may contact Dr. Reid at areid@broward.edu for more information on how to help.
You can also participate in a service project or event organized by one of our community partners in recognition of MLK Day. Here are a few highlights:  
Fort Lauderdale United Day: The city of Fort Lauderdale invites you to join them on January 17 at 8:30 a.m. at Provident Park, located at 1412 NW 6th, Fort Lauderdale, 33311, to participate in a neighborhood cleanup, which also includes decorating free libraries, and a reading corner and children's activities.
YMCA of South Florida MLK Inspirational Weekend: The YMCA is sponsoring an inspirational breakfast at the First Baptist Church of Fort Lauderdale located at 301 East Broward Blvd., Fort Lauderdale, 33301 on January 14 at 7:30 a.m. and an inspirational luncheon at the FTX Arena at 601 Biscayne Blvd, Miami, 33132 at 11:30 a.m. Both evens feature keynote speaker Dr. Clayborne Carson, who has devoted most of his life to the study of Dr. King and his legacy.
AmeriCorps MLK Day: Additional volunteer opportunities are listed by AmeriCorps.
You can also check your local government website for events and volunteer opportunities recognizing MLK Day or review this list assembled by the Sun Sentinel.
If you cannot safely join any volunteering opportunity to celebrate Dr. King's life, you can still make a difference by learning more about the importance of his achievements.
Remember, make this a day on, not off.
Community
Empowerment
Local Residents
Broward College Employees
Service