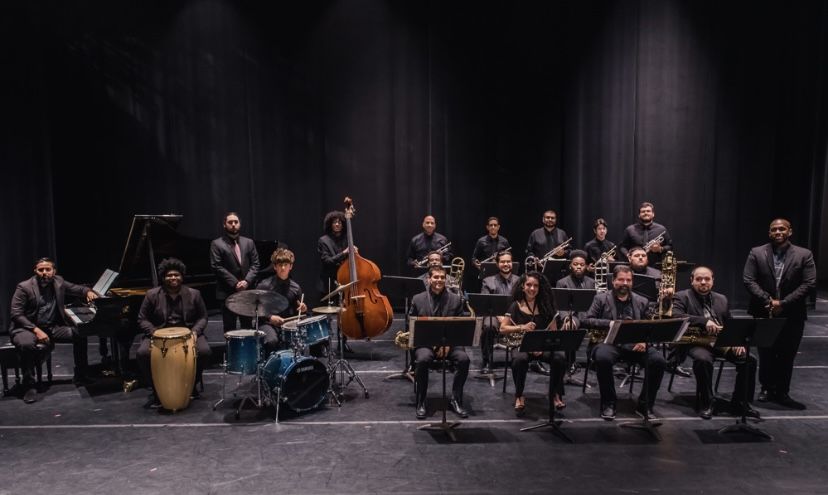 A Love of Craft and Community: The Broward College Community Big Band
News

| 23 February 2022 | 3 min read
Waldron E. Dunkley II's love for community and music has come full circle. The Broward College alum is currently leading the Broward College Community Big Band—comprised of Broward College students enrolled in its Music program and community musicians—and taking it to new heights. Already since its relaunch a year ago, the Big Band has been invited to share the stage with some of the industry's greats, with their next performance scheduled for the Melton Mustafa Jazz Festival Weekend on February 26.
The Big Band teaches the next generation of great jazz artists and provides a community service essential to the artistic fabric of Broward County. Jazz is a melting pot of genres that allows the band to play a bit of everything, ensuring a diverse platform, so the students become well-rounded musicians. According to Dunkley, the genres played by the band include everything from swing, contemporary, modern, Bebop to a bit of funk.
Big Band Reflects Broward College Culture of Togetherness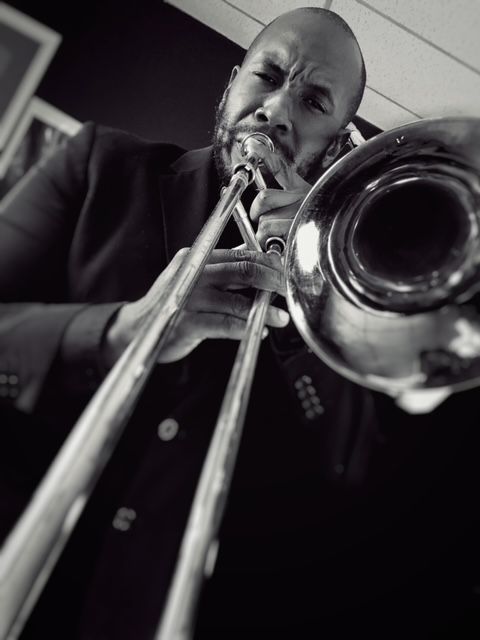 With musicians ranging from 17 to 55 years old, the Big Band shows that it's never too early or too late to be inspired by music. By blending the talents of students and professional musicians from the community, the Big Band is a space where musicians come together to learn and teach one another while simultaneously hearing from other industry professionals.
"We not only have tremendous talent at our school but also in our community," said Dunkley, who received his Associate of Arts with a concentration in Musical Performance from Broward College before continuing to Florid State University (FSU), where he received his bachelor's and a master's degree in Music Performance. "Nurturing this is a timeless art. The musicians teach the protege. What we have here is an environment where everyone is learning and growing." 
As a former Broward College student himself, Dunkley knew that if given the opportunity, he would choose to return to his stomping ground to help others embrace jazz the way he did. While attending Broward College, Dunkley's mentor was the former Director of Jazz Studies, Jason Hainsworth. 
"Under him [Hainsworth] and my classmates, I learned how to play, hear, and feel the music. I ended up learning more about myself in the process," said Dunkley. "After that, I always knew I wanted to come back and be a part of something that gives opportunities to so many different kinds of musicians and help those who wanted to understand how to navigate and maneuver through jazz."
Big Things for the Big Band 
This year the Big Band was selected to perform among many talented musicians in the 25th Annual Melton Mustafa Jazz Festival Weekend on February 26. The performances will celebrate 25 years of live jazz in South Florida, and it's an honor to be selected. The Melton Mustafa Jazz Festival/Workshop was started in December 1996. It was supported by Dr. Alfred Pinkston, former Chairperson of Music at Florida Memorial University, and former Florida Memorial University President, Dr. Albert E. Smith.
The festival was designed to expose middle school, high school, and college level students to the educational component of jazz music and to help preserve this great original art form of America. In the past, the following jazz artists have performed in concert at the Annual Melton Mustafa Jazz Festival: Najee on the saxophone, Clarke Terry on the trumpet, Curtis Lundy on bass, and Jon Faddis on trumpet. This year the Big Band will share the stage with Grammy-winning artists Kirk Whalum, Dr. Ed Calle, John Daversa,  International Drummer Victor Lewis, and many more. For more information about the festival weekend, please visit http://www.meltonmustafajazzfestival.com/ 
Are you an aspiring musician looking for an opportunity to fine-tune your talents or learn something new? It's never too late to get started. Explore Broward College courses available to help you succeed in your musical and academic journey
here
.  
students
Broward College Students