Are you interested in Real Estate? Don't Miss Out on This Informative Webinar
News

| 15 February 2022 | 2 min read
Broward College continues to find ways to help students and residents tap into some of the fastest-growing industries in the region. Following recent trends in the South Florida real estate market, the College is hosting a series of webinars to give insight into the world of real estate and the potential of a career in the field. This series is a collaborative effort with the Urban Land Institute (ULI), the oldest and largest network of cross-disciplinary real estate and land use experts in the world.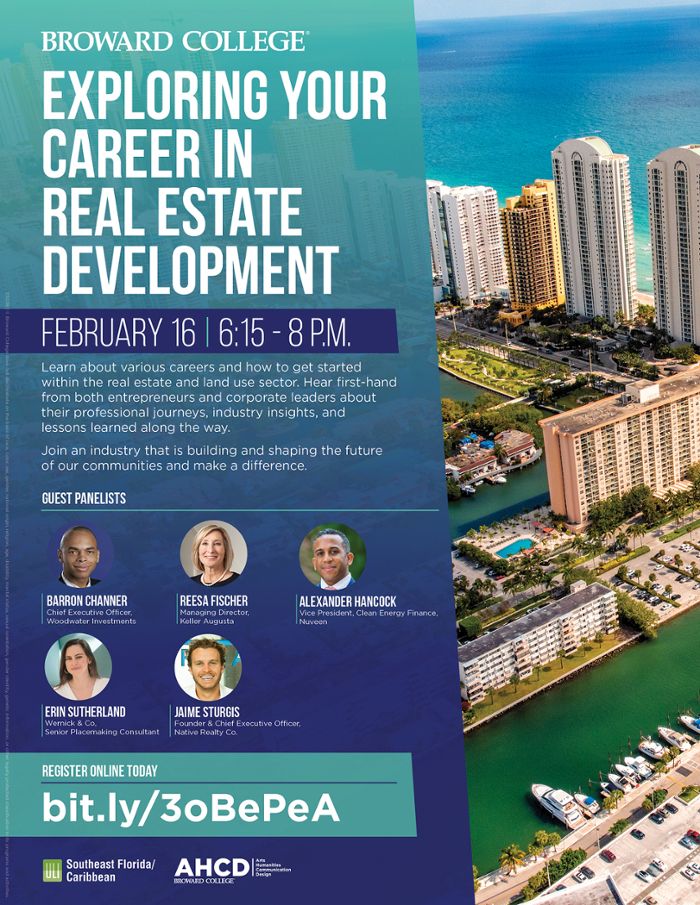 The webinar series began on February 8, Exploring your Career in Real Estate Development. The virtual event featured panelists Barron Channer, CEO of Woodwater Investments; Reesa Fischer, managing director, Keller August; Douette Pryce, founder of Pryce Resources; Omar Morales, an associate at Berkadia; and Melissa Govette, senior relationship manager and vice president of M&T Bank. Participants had the opportunity to hear first-hand from entrepreneurs and corporate leaders who discussed the types of real estate careers available, opportunities within the field, and how to get started. Additionally, speakers shared their personal experiences and important lessons learned.
The second session is Wednesday, February 16, at 6:15 p.m. on Zoom. It will feature industry leaders Barron Channer and Reesa Fischer alongside Alexander Hancock, vice president, Clean Energy Finance; Erin Sutherland, senior placemaking consultant, Wernick & Co; and Jaime Sturgis, founder and CEO, Native Realty Co. They will speak on how to get started within the real estate and land use sector and share their professional advice and industry insights. You can register here.
The third and final session is scheduled for Wednesday, March 7, at 9:15 a.m. and features Eduardo Valle, development associate, Atlantic Pacific Communities; Jess Brancaccio, director of Business Development, Pirtle Construction Company; and Craig Emmanuel, broke owner, Commercial Realty Advisors and Investment Group. You can register for the Zoom session here.
A Career of the Future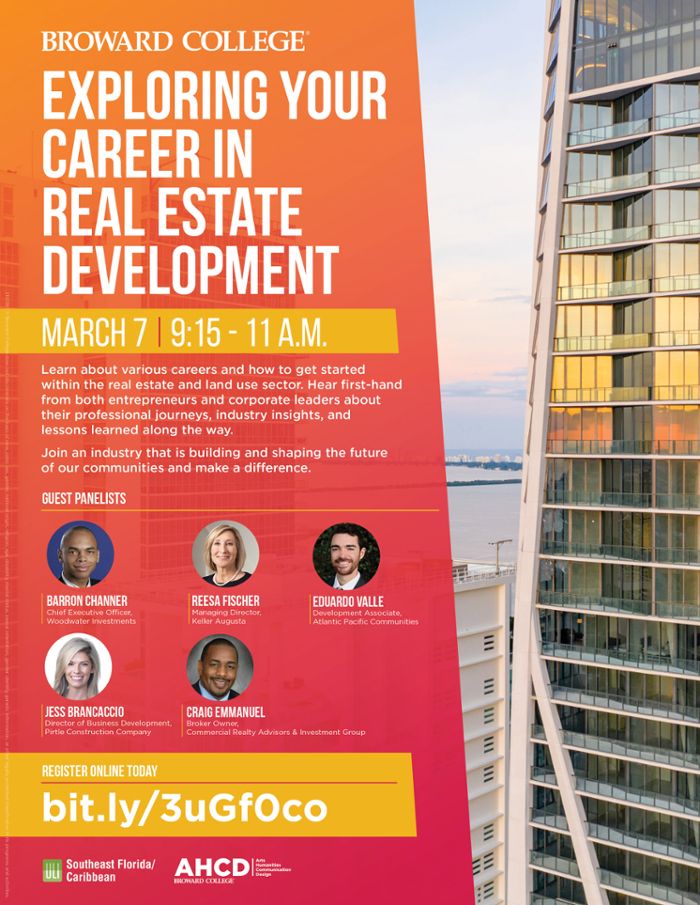 A professional career in Real Estate, especially in the current South Florida market, is in high demand, as Florida's population is expected to grow to at least 26 million people by 2030. As a result, the buying and rental market is expected to grow. Real Estate professionals can earn a median wage of $81,000 per year. According to the U.S. Bureau of Labor Statistics, the job outlook estimates four percent growth through 2030.
Opportunities within the industry include Real Estate brokers, sales agents, lawyers, home inspectors, and property managers.
At Broward College, you can take the first step towards a career in the field by completing a technical certificate to become a Real Estate Specialist.
ABOUT BROWARD COLLEGE:
Serving approximately 56,000 students annually, Broward College provides residents with certificate programs, two-year university-transfer degrees, two-year career degrees, and baccalaureate degrees in selected programs. The mission of the College is to provide high-quality educational programs and services that are affordable and accessible to a diverse community of learners. For more information, visit  www.broward.edu.
Certificates
Partnership
Broward College Students