Broward College Honors 2021-2022 Professors of the Year
30 April 2022 | 4 min read
The 11 honorees include full-time faculty and adjuncts from across the College's locations and online and one professor who received recognition for two locations.

FORT LAUDERDALE, FLA. (April 27, 2022) – In recognition of their remarkable work in the classroom and support of student success, Broward College announced 11 faculty as 2021-22 Professors of the Year. Nominated by their peers and students and reviewed by a selection committee from each campus, the awardees are full-time and adjunct professors who work across the College's locations and online. The Professor of the Year award is one way the College honors its faculty's dedication, innovation, and creativity.
"This Broward College academic tradition rewards teaching excellence, instructional innovation and creativity among our faculty," said Dr. Jeffrey Nasse, provost and senior vice president,  Academic Affairs. "We congratulate our colleagues who exemplify this outstanding commitment to student success."
The 2021-2022 Professor of the Year awardees are:

HUGH ADAMS CENTRAL CAMPUS



Professor Jason Aiken began teaching Economics at Broward College and College Academy in the fall of 2015. He attended Ithaca College in Ithaca, New York and graduated in 2005 with a Bachelor of Arts in Math-Economics and Physics. In 2009, he earned a Master of Science in International Economics from Florida Atlantic University. Professor Aiken was also recognized as the Professor of the Year for Broward College Online.
Professor Victoria Bower currently lectures in the Social Behavioral Science and Human Services department. She started serving at Broward College as an adjunct professor in 2007. Professor Bower is a Broward College alumna. She earned her Associate of Arts at the College, then a bachelor's from Florida International University. She earned her master's degree from Boston University and is currently pursuing a doctorate with research focused on the effects of interactive textbooks and their impact on minority graduation and retention rates.
Professor Joshua Kimber began teaching Introduction to Philosophy and Ethics courses at Broward College as an adjunct in 2008. After a few years, he became a full-time faculty member and is involved with several initiatives. Professor Kimber reflects on competencies and learning outcomes as a member of the College Assessment Team for Student Success (CATS). As a faculty coordinator for the Broward College Entrepreneurship Experience (BCEx), he explores the entrepreneurial mindset.
Professor Jose Rivera is a 2012 graduate of the Broward College Teacher Education Program (TEP). In 2013, Professor Rivera received the Adjunct Professor of the Year Award for the Willis Holcombe/Central Campus. Professor Rivera teaches Mathematics and Computer Science for Central Campus. He was inspired by his mentors, who are still faculty at the College, Dr. Dominique Charlotteaux and Dr. Mitzi Fulwood.

NORTH CAMPUS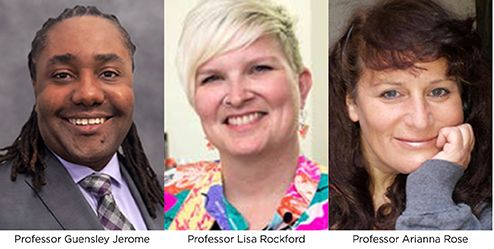 Professor Guensley Jerome joined the Broward College family as an adjunct instructor in 2014 and has taught various Math courses, ranging from Developmental Math I and II to Statistics, Pre-calculus and Trigonometry. He received his Bachelor of Science in Mathematics from Florida International University in 2010 and his Master of Science in Statistics from the same institution in 2017. During his master's studies, he researched and ultimately published a study on kurtosis parameters using various kurtosis estimators.
Professor Lisa Rockford currently lectures in the Visual Arts department at Broward College, where she has taught since 2006 and earned a continuing contract in 2014. She was awarded the Robert Elmore International Exchange Award by the Broward College Honors program to travel to China and was the recipient of an Endowed Teaching Chair in 2018. She earned her Bachelor of Fine Arts in Painting and Bachelor of Science in Art Therapy from Bowling Green State University in Ohio in 1999. She also has a   Master of Fine Arts from the School of the Art Institute of Chicago.
Professor Arianna Rose currently lectures in the Theatre department and has an extensive background in playwriting and drama. She is the recipient of the MAC Song of the Year Award, the York Theatre NEO Award, and various best play/playwright awards from many well-known theatre companies. Her plays and musicals have been presented in twenty-four states and seven countries.


JUDSON A. SAMUELS SOUTH CAMPUS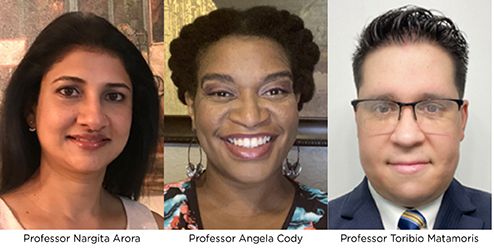 Professor Nargita Arora joined Broward College as an adjunct faculty member in 2015 in the Workforce Development department before transitioning to a full-time faculty position in 2017. In addition to Broward College, she has also taught at Chamberlain and Keiser Universities. Last year Professor Arora transferred to Nursing and teaches Mental Health Nursing at the South Campus. She is a dedicated and passionate educator with over 27 years of experience as a registered nurse.
Professor Angela Cody began her journey with Broward College in January 2017 as an adjunct professor on South Campus. Within the Social Behavioral Health and Human Services pathway, Professor Cody teaches Introduction to American Government primarily at Broward College South Campus. She has also taught at the Willis Holcombe and Miramar West centers.
Professor Toribio Matamoris joined the  College as an adjunct instructor in Mathematics and has worked at both Central and South campuses. He has served as Technology department chair and Campus Chief Information Officer at the Wolfson Campus of Miami Dade College. Professor Matamoris currently works at Baptist Health South Florida as a finance productivity analyst. She is currently pursuing a Ph.D. in Computer Science with a concentration in Data Science and Analytics at Florida Atlantic University.

ONLINE CAMPUS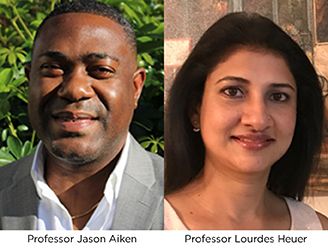 Professor Jason Aiken, who is also featured above as a Professor of the Year for Central Campus.
Professor Lourdes Heuer is an Associate Professor of English. She started her career with Broward College at Central Campus in 2000 before transferring to Broward College (BC) Online in 2013. She has developed or co-developed several fully online commissioned courses for the College, including Creative Writing and Composition.
- B.C. -
ABOUT BROWARD COLLEGE:
Serving approximately 60,000 students annually, Broward College provides residents with certificate programs, two-year university-transfer degrees, two-year career degrees, and baccalaureate degrees in selected programs. The mission of the College is to provide high-quality educational programs and services that are affordable and accessible to a diverse community of learners. For more information, visit www.broward.edu.