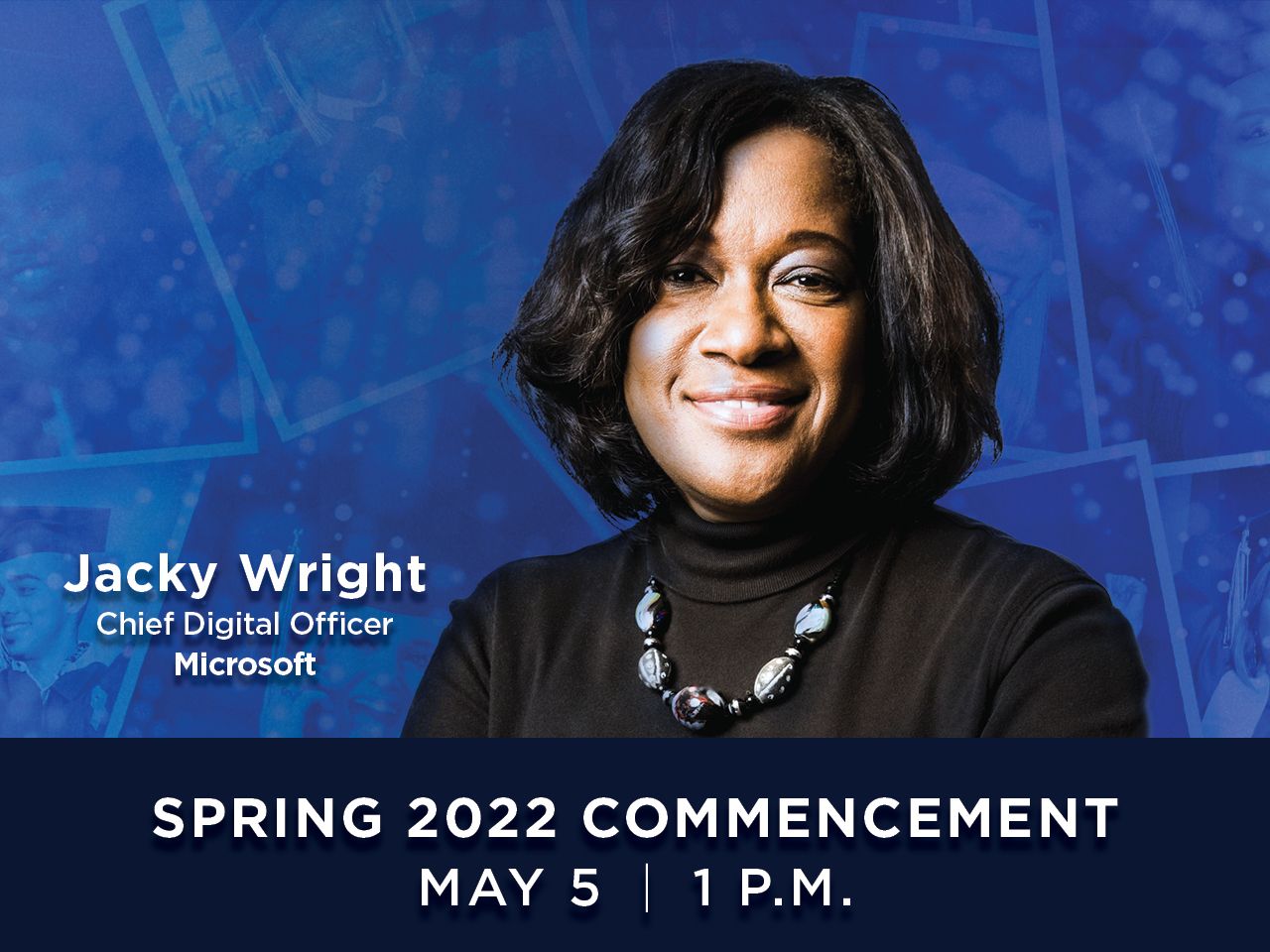 Jacky Wright, Spring 2022 Commencement Speaker: Using Information Technology to Help Others
People

| 12 April 2022 | 3 min read
A Winding Path to the Summit of IT
Jacky Wright's journey to becoming an Information Technology (IT) professional–a journey that recently led her to be named "The Most Influential Black Person in Britain" by U.K.-based Power Media–began, in some respects, by accident.
Wright, who currently serves as Corporate Vice President and Chief Digital Officer of Microsoft US, didn't initially show an interest in IT. A native of the U.K., Wright moved with her family to the United States in pursuit of better opportunities in work and education. Her college career began at Baruch College in New York City, where she majored in political science, hoping to make a difference through government. It was while working a part-time job at a bank, however, that she was first introduced to the IBM computer. She quickly developed a fascination with the nascent technology, and it wasn't long before she had learned to write code so that she could automate her work.
From there, her passion only grew. "I was curious about what else I could do with technology, and I continue to explore the many ways we can use technology to improve outcomes for people and society," she told Baruch College in a 2022 article.
Wright's side interest soon became the focus of her college career, and in 1985, she graduated with a Bachelor of Business Administration in Computer Science and Accounting from Baruch College's Zicklin School of Business. That decision set her on a career trajectory that would take her through senior positions at BP, Andersen Consulting, and General Electric. In 2011 she began working at Microsoft, serving as the company's VP of IT Strategic Services.
Passion Meets Profession
In 2017, Wright had the opportunity to return to her home country to help transform the British government's tax division and navigate Brexit, bringing her career in IT and passion for political science full circle. On secondment from Microsoft, Wright moved back to her native London to serve a two-year stint as the Chief Digital and Information Officer for Her Majesty's Revenue and Customs. During this time, she helped oversee the service's digital and IT functions. "Under Jacky's leadership, HMRC has also embarked on a cloud migration, network and sourcing strategy," the department said in an article for Civil Service World in 2019. "Her launch of a data strategy and governance model positions the organization to effectively develop a core capability for the future."
Upon returning to Microsoft in 2019, Wright rejoined the company as Chief Digital Officer. According to Microsoft Business Blogs, this role finds her "harnessing the technical intensity of Microsoft US to help accelerate our customers' ability to digitally transform."
In her efforts to make Britain a more equitable place through technology and inclusion in digital spaces, she was given the top spot in this year's Powerlist, the annual list of the U.K.'s most powerful people of African, African-Caribbean and African American descent. In a press statement, Michael Eboda, CEO of Powerful Media, said: "Jacky Wright is a true professional who is totally well deserved of being recognized as the U.K.'s most powerful black Briton on the Powerlist 2022."
Having witnessed first-hand the evolution of technology and its increasing importance in equity and representation, Wright continues to serve as a mentor and role model for aspiring IT professionals.
"Each of us has a responsibility to ensure that we not only showcase role models, so future generations can envision who and what they can be but, more importantly, we need to make monumental shifts to create a more equitable society," she said in a press statement.
As she works to foster a more equal society through technology, Wright hopes to remind people of the importance of continuously learning and being curious about the world around them – even when it follows an unexpected path.  
Jacky Wright will serve as the featured speaker for Broward College's Spring 2022 Commencement Ceremony. The event will take place Thursday, May 5 at 1 p.m. at the Broward County Convention Center. For more information, visit the Spring 2022 Commencement page.
Commencement
Commencement Speaker