Associate Degree in Business Administration Helps Student Brenda Amaya Builds Bridges to Career Advancement
People

| 04 May 2022 | 3 min read
A Solid Foundation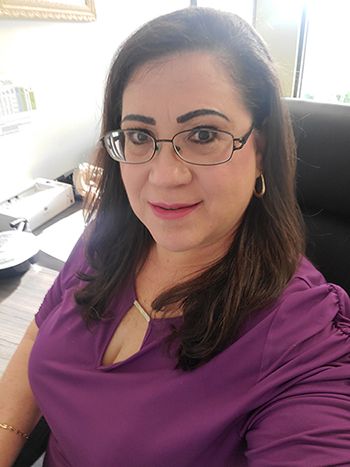 When Business Administration student Brenda Amaya wanted to build a better life for herself and her family, she relied on advice she learned from a lifetime of experience in the construction industry: you need the right tools.
Brenda graduated from South Broward High School in the early 1980s. After a brief stint studying word processing at Sheridan Technical College, she landed a job as an administrative assistant at Beiswenger, Hoch and Associates, a South Florida-based consulting engineering firm that designed highways, bridges, and interchanges including the Port of Miami Bridge and the I-95/I-595 Interchange.
Early on, Brenda had the skill set to move up in the company. She advanced into positions in the planning department and eventually contributed to proposals and presentations in bids for projects from the Florida Department of Transportation.  She took on tasks in payroll, accounting, marketing as well as assistance to the Executives. "I wore so many hats at the job," said Brenda. "I really had a wide variety of skills."
But by the early 2000s, Brenda noticed an incremental decrease in the rate of her advancement and the decline of firm. In 2014 she decided to leave the company and apply for new jobs. She had been with the engineering company for nearly 32 years.
Overcoming Obstacles
At first, she hit a roadblock. "Nobody would interview me because I did not have a degree," said Brenda. "All I had was that high school diploma."
But in 2014, she managed to land a position at the construction management firm Moss & Associates, accepting a cut in pay for the security of a full-time job. Right away, her supervisors noticed the breadth of her experience.
"They saw that I had a lot of information that I was able to apply," said Brenda. "So, I was looking for ways to move up the ladder and become an asset at my job. But it was slow."
Meanwhile, because she worked in payroll, Brenda was able to see that many of her entry-level colleagues with college degrees were making considerably more in salary, though often with less experience. When her youngest son was a senior in high school, she decided to focus on her personal and professional growth.
"I thought, it's time to do something for me now," said Brenda. "It's time to prove to this company who I am and what my capabilities are." In 2019, she enrolled in Broward College's Associate of Science in Business Administration program.
"It's a bucket list item for me," she shared. "But in a way, it's doing something for others—for my family and my company—as well."
From Blueprint to Reality
Brenda continued to work full-time throughout her studies and even managed to reorient her home life around her academic pursuits.  Her family provided 100% support and even accompanied her to the BC Math Lab and Tutoring Lab on weekends. "With three adult kids at home, I had to teach my husband to cook," joked Brenda. "He would be Facetiming me with questions about ingredients and recipes. Now, he loves it!"
Given her deep knowledge of business systems and experience in the construction industry, Brenda utilized the Prior Learning Assistance Program to earn credits toward her degree. The program is designed to recognize the educational value of what students have learned through experiences outside the college classroom, whether through work-based learning, work experience, employment-related training programs, study abroad, military training or intensive self-directed, focused learning. She was also able to receive tuition support from her employer.
"I had my whole family and entire company as my village," said Brenda. "It's been an amazing experience all around, and I am so grateful to them."
Brenda will graduate with her associate degree in Business Administration degree this May, with the full support of her family and employer. "My work supervisor is already asking to see my diploma!" said Brenda.
Brenda has applied and hopes someday to earn her bachelor's degree from Broward College. As she continues to advance in her current company, she is poised for a review in July. Her goal is to become a manager, which will give her a boost in salary. She knows that's now a possibility with her associate degree in tow.
"I'm not done," said Brenda. "I'm going to keep pursuing my goals for as long as I can."
To learn more about how you can advance your business career, visit the Business Administration page on the Broward College website.