Political Asylee Lucila Marquez Pursues Freedom to Learn Through Broward College RENEW Program
People

| 04 May 2022 | 2 min read
A Voice for Freedom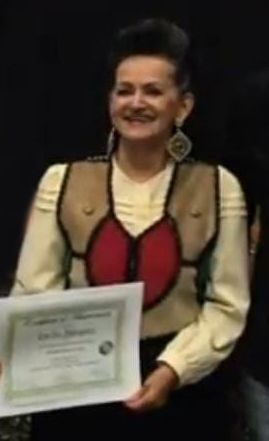 For Associate of Arts student Lucila Marquez, a degree was an act of freedom.
Lucila came to the United States as an asylum seeker from Venezuela, where she taught English grammar for a living. As a member of the opposition party, she wrote newspaper columns and distributed pamphlets that were critical of what she considered an oppressive government.
"It's always a problem when the government does not accept opposition," she said. "The people should be free to express their views."
She says she was detained by local authorities after attempting to vote "Yes" on the 2004 Presidential Recall Referendum and spent a night in jail. The police commissioner of that locality was the father of one of Lucila's former students. In time, he was able to secure her release.
Back in her hometown, Lucila continued to face mounting pressure from the government to cease sharing her opinions. Officials wanted her to pledge that she would stop disseminating her critiques of the government. When she refused, they kept a record of her personal information and whereabouts.
"I wouldn't promise anything," said Lucila. "I was fighting for what I believed in."
A Difficult Choice
She considered moving, but she shuttered at the idea of leaving her children and grandchildren behind. But when her grandson told her that he'd rather have a grandmother who lived far away than a grandmother who could be killed at home, she decided to leave her family and relocate to the United States.
"That shook me," said Lucila. "Having your own family say something like that is powerful."
Lucila arrived in South Florida in 2005 – alone and unable to speak the language. After filing for asylum status, she received an information packet in which she learned about Project RENEW (Refugees Entering New Enterprises and Workforce). The Broward College program provides free English for Speakers of Other Languages for eligible refugees, asylees, and victims of human trafficking living in Broward County.
Through RENEW, Lucila learned soft skills that would help her apply for jobs as a translator. Her success with the program led her to take even more classes at Broward College. Initially, she wanted to take courses for the sake of learning. But on the advice of Scott Miller, Broward College Dean of Arts, Humanities, Communication and Design, she decided to enroll and pursue a degree. Hoping to return to the field of teaching one day, she focused on an associate degree in the arts. This spring, she will earn her Associate of Arts. When she walks across the stage to receive her degree, she will be one step closer to trying her hand at teaching once again.
Liberty and Justice for All
In the future, Lucila plans on pursuing a bachelor's degree, perhaps in education. As a political refugee, she knows how important it is to educate future generations on civic matters and political liberties. She is in her 60s, with plenty of wisdom to share, and she hopes that her new degree will help her connect with students who are just as eager to share their opinions.
"I feel prepared to find a job that will recognize my capacities," said Lucila. "I know it might be difficult, but I have to try. I have to see what happens."
To learn more about Project RENEW, visit the program's page on the Broward College website.