Exceptional Education Student Maalik King Seeks to Provide Inclusive Spaces for Future Generations
People

| 04 May 2022 | 3 min read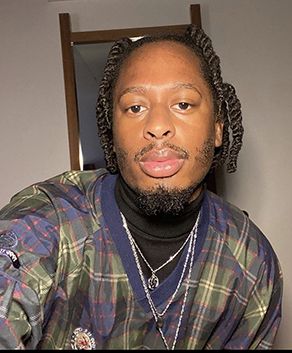 Maalik King wants to use his own education to provide crucial learning opportunities for others. The 25-year-old Exceptional Student Education major credits a volunteer event at Broward College for setting him on that path.
Reading Opens Doors
It started with a book. Maalik, a member of Broward College's Reading L.Y.F club, was among the many volunteers who took part in the Free Book Day at C. Robert Markham Elementary School in Pompano Beach, handing out books and helping to mentor students with reading difficulties. The event brought up memories from his childhood. Maalik was already studying to become an Exceptional Education Student at Broward College, but this student interaction flicked a light switch in his head.
"While participating in this event, I came to the realization that becoming a teacher has brought me full circle as I seek to be what most of my teachers were not," said Maalik. "To be a teacher is more than just lecturing to a room of students and giving them homework and tests. To be a teacher is to be an advocate, a guide, a motivator, and so much more."
Maalik's believes his childhood education was framed by what he now sees as misinformed attitudes. Part of why he enrolled at Broward College in the first place was to rectify those issues. "Seeing Black students at Markham Elementary light up at the opportunity to get cool new books for free afforded me a remarkable 'Aha' moment, because I saw myself in them," he said. "Many of us do not make it through public education in America because when they see us, they falsely see adults, anger, jail, and everything except who we truly are as individuals. They don't see students who deserve free book days, who would benefit from comprehensive social-emotional learning programs, nor do they see the boundless potential in us."
Making Connections
Reading L.Y.F.'s free book event affirmed Maalik's commitment to Exceptional Student Education. Back at Broward College, he dove headfirst into as many volunteer opportunities and organizations as he could. His aim was to build connections within Broward College that would help him develop as an educator and as a role model for future students.
"Throughout my journey at Broward College, I have been involved in the Professional Enhancement Program, Minority Male Initiative, Greatness in the Making, Reading L.Y.F., Minority Teacher Association, and BC Pride," he said. "During my time with the Professional Enhancement Program, I entered as an intern seeking to maximize my opportunities at Broward College, and I departed the program as one of the four lead interns tasked with facilitating the personal growth and career experiences of incoming interns."
He excelled in his in-class learning as well, absorbing the behaviors, attitudes, and soft skills displayed by the teachers he admired.
"My academic advisor, Ms. Crystal Umana, is an essential and effective part of the Teacher Education Program," he said. "Ms. Umana demonstrated consistent professionalism, maintained a positive and welcoming demeanor, and continually proved herself to be a resourceful advisor for me."
Paying It Forward
When he graduates from the Exceptional Student Education program on May 5, Maalik will emerge as a qualified educator with a sharpened sense of purpose. He says the connections made at Broward College, including indispensable bonds formed in clubs like BC Pride, got him there.
"BC Pride granted me the chance to observe the building of a framework for Broward College's LGBTQ diversity and inclusion initiatives," said Maalik, who identifies as a member of the LGBTQ community.
After graduation, Maalik plans to refine his professional development and classroom experience as a general education teacher, an ESE teacher, and a support facilitator. He wants to create the kinds of spaces for growth that Broward College provided to him. He is interested in becoming a member of the Equity and Diversity Department of Broward County Public Schools
"I've had to manage a lot of difficulties in my life," said Maalik. "So much of my social anxiety came from trying to cope with being a Black gay male."
Equipped with a degree from Broward College, he wants to ensure all students find the support they deserve.  
Learn how you can start a career in education by visiting the Education Careers page on the Broward College website.