A Recipe for Success: Former Culinary Professional Set to Graduate from IT Program with 4.0 GPA
People

| 02 May 2022 | 2 min read

Kitchen Confidential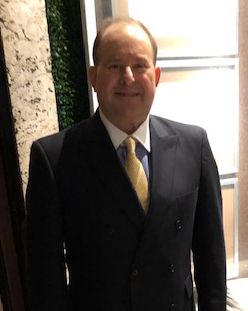 As a former restaurant professional, Matthew Almour knows that career success, like a great recipe, takes time.
A native New Yorker, Matthew spent most of his professional career in the culinary field, working in a variety of top-notch kitchens in his home state. As a kitchen manager, he got to see firsthand how restaurants can be made or broken based on the quality of their service, management and operations. He described the food industry as exhilarating yet draining, requiring almost total commitment.
"It was so demanding," said Matthew of his time in the restaurant business. "Seventy-hour work weeks, no days off. It was a lot. You either love it, or you don't. "
For a while, Matthew loved it, but there would soon come a time when he felt he needed to move on. Fortunately, the strong commitment he displayed in the culinary field would serve him well down the road.
Time for a Change
Matthew relocated to South Florida in 2014, seeking a change of scene. Yet even as he traded snowy sidewalks for sandy beaches, he continued to work in the restaurant industry. Eventually, the grind and late-night hours of the food business began to wear on him.
At 47, he decided to change careers. Since childhood, he has had a casual interest in computers, and as a restaurant manager, he regularly interacted with computer systems. So, with little more than a desire to start fresh, he made the leap toward becoming an IT professional. He enrolled at Broward College to pursue a Bachelor of Applied Sciences.
Out of the Frying Pan and Into the Fire
As a career-changer, Matthew encountered a steep learning curve. "Unfortunately, I didn't realize that IT wasn't as simple as plugging an ethernet cable into a jack," he joked.  
Still, he felt at home at Broward College, which catered to his needs as an adult learner. "I found it very open and welcoming," he said. "There was a wide array of students in all of my classes, and it's been a great experience."
And a busy one, too. While enrolled at the College, Matthew had jobs on the side, including delivering pizzas for Domino's and Pizza Hut. To fortify his in-school learning, he relied on after-hours meetings with his classmates and teachers. He is especially grateful to his A+ and Intro to Computers professor Vashista Jadoonanan.
"He was very, very helpful," said Matthew. "He helped prepare me for my certifications and really just always made himself available. I appreciated that."
Matthew proved to be an excellent student even through the disruptions brought on by the COVID-19 pandemic and a full-time job. In 2019, while still a student at Broward College, he was hired by the medical scribing company HealthChannels to serve as their Information Technology Asset Manager. This May, he will be graduating from the BAS-IT program with a 4.0 GPA.
In this new phase of his life, Matthew displays the same kind of ambition he had as a restaurateur. He has his sights set squarely on advancing his education, and someday, he hopes to earn his master's degree in business or teaching. For now, though, he can check one huge goal off his list: the restaurant industry is behind him, and he is officially an IT professional.
If you are interested in a career in IT, learn more about how Broward College can help you get there by visiting the
Information Technology page
Commencement
students
Community