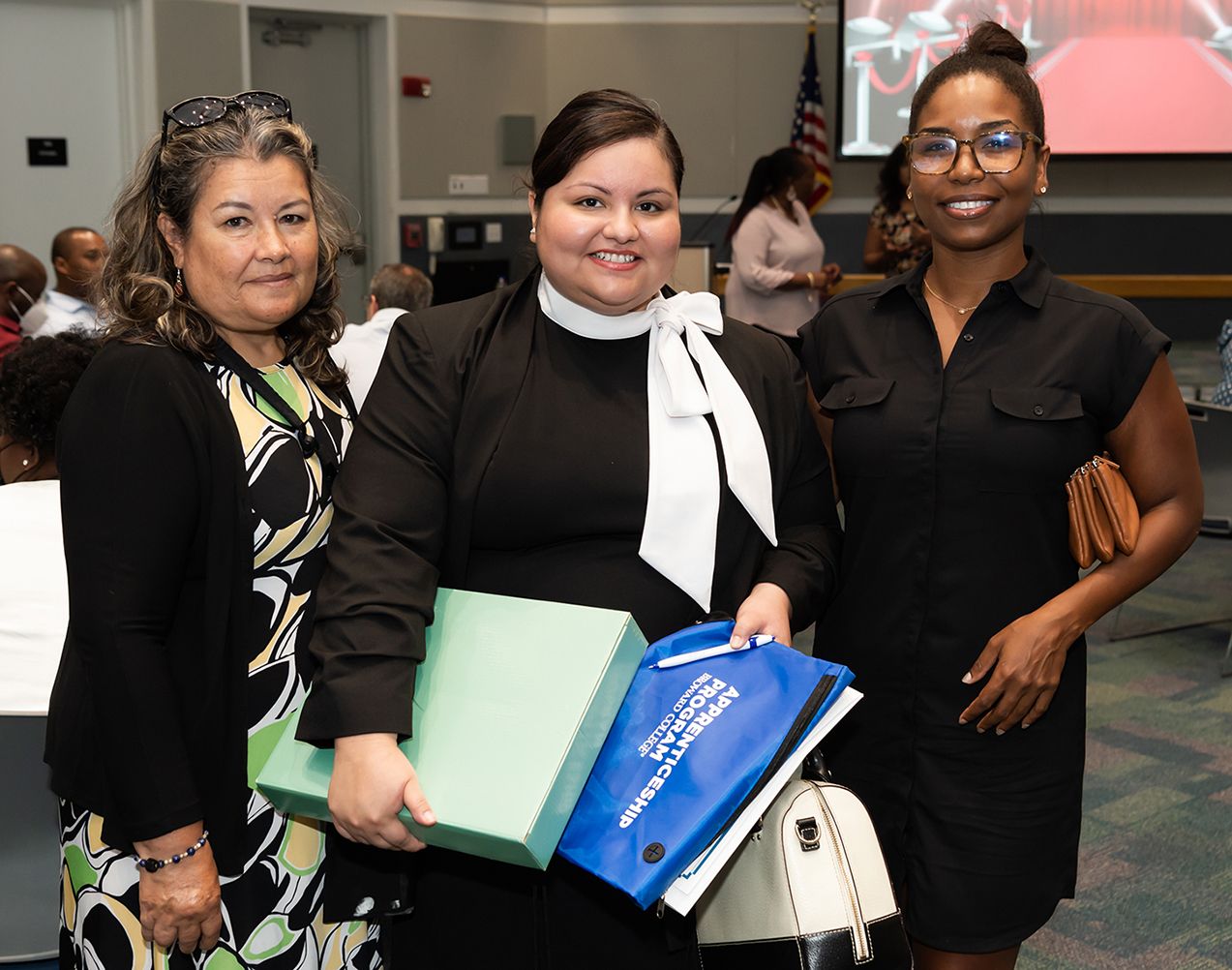 After Graduation, Pre-Apprenticeship Students Are Ready to Take on the World of Information Technology
People

| 22 July 2022 | 2 min read
Among the Fourth of July and Memorial Day festivities this summer, our Broward College pre-apprentices had another reason to celebrate. On June 28, the College observed the graduation of the 2021-22 Pathway to Career Opportunities Grant pre-apprenticeship class. Approximately 30 students, together with family and friends and 20 members of Broward College administration and leadership, were in attendance. The occasion provided an opportunity to honor pre-apprentices' accomplishments over the past six months. The keynote presentation at the graduation was given by Broward College alum Tameka McKay, Ph.D. candidate and director of Infrastructure and Operations/Public Safety IT Manager, City of Fort Lauderdale.
Broward College's Pathways to Career Opportunities Grant (PCOG) provided training for employment as information technology specialists and network support technicians to participants in the program. This cohort had a busy spring and summer, participating in Florida Soft Skills training, CompTIA A+, and CompTIA N+ training. They also attended multiple career fairs and boot camps provided by the dynamic Career Services team and on-site job shadowing hosted by the Technology Support team at the College's North Campus. Included with the instruction was a course in Career Readiness, which consisted of workplace ethics, collaboration strategies, sexual harassment training, portfolio development, and diversity training.
The instruction wasn't all business. During the program, participants attended the Ropes Course at Tiger Tail Lake Recreational Center to participate in outdoor activities that foster team building, motivation, and goal-setting. To develop a deeper understanding of strategies to ace their job interviews, they also participated in interview preparation sessions with Herman Anderson of the EMPLOYS program.
Having completed the training, the participants have received and accepted offers from various employers. Several pre-apprentices were placed in summer internships with GA Telesis, paid apprenticeships at Hotwire and The CompuLab, and full-time positions across Broward County. Their early career success puts them on pace to keep up with the rapidly changing U.S. economy. According to the Bureau of Labor Statistics, the demand for Information Technology Specialists is expected to grow by 11 percent by 2026, which is faster than average.
Pre-apprentice Daniel Murcia feels well prepared for whatever lies ahead. Reflecting on his experience with the program, he said, "Meeting all my co-workers, seeing how work gets done, and how people around me were answering my questions – it's a lot to learn at first, but you get the culture and the flow, and everything works out."
The program works in large part due to the holistic support from Broward College staff. From start to finish, the learning needs of the participants were supported by solid college-level systems that speak to preparing adults through life-long learning. This included members of the Pre-apprenticeship team –  Cheryl Rivera, Nelih Morgan, and Christopher Josef-Cheronsky. Also instrumental were Christine Honeycutt, dean, Career and Technical Education Support Services; Brian Faris, interim associate dean, Information Technology; Fortin Jean-Pierre, senior director, Career Services; the Career Services department and the Apprenticeship Grants Collaborative team among others.
The team's collective efforts are already paying off. For pre-apprentice Daniel, whose dream is to become a system administrator working with Windows Servers, the program has given him the skills and the boost of confidence he needs to compete in the career marketplace. 
"I anticipate achieving my career by using the experience I got from this pre-apprenticeship," he said. "I am getting hands-on training with an actual server. It allows me to experiment from home until I'm ready to get through in the real world."