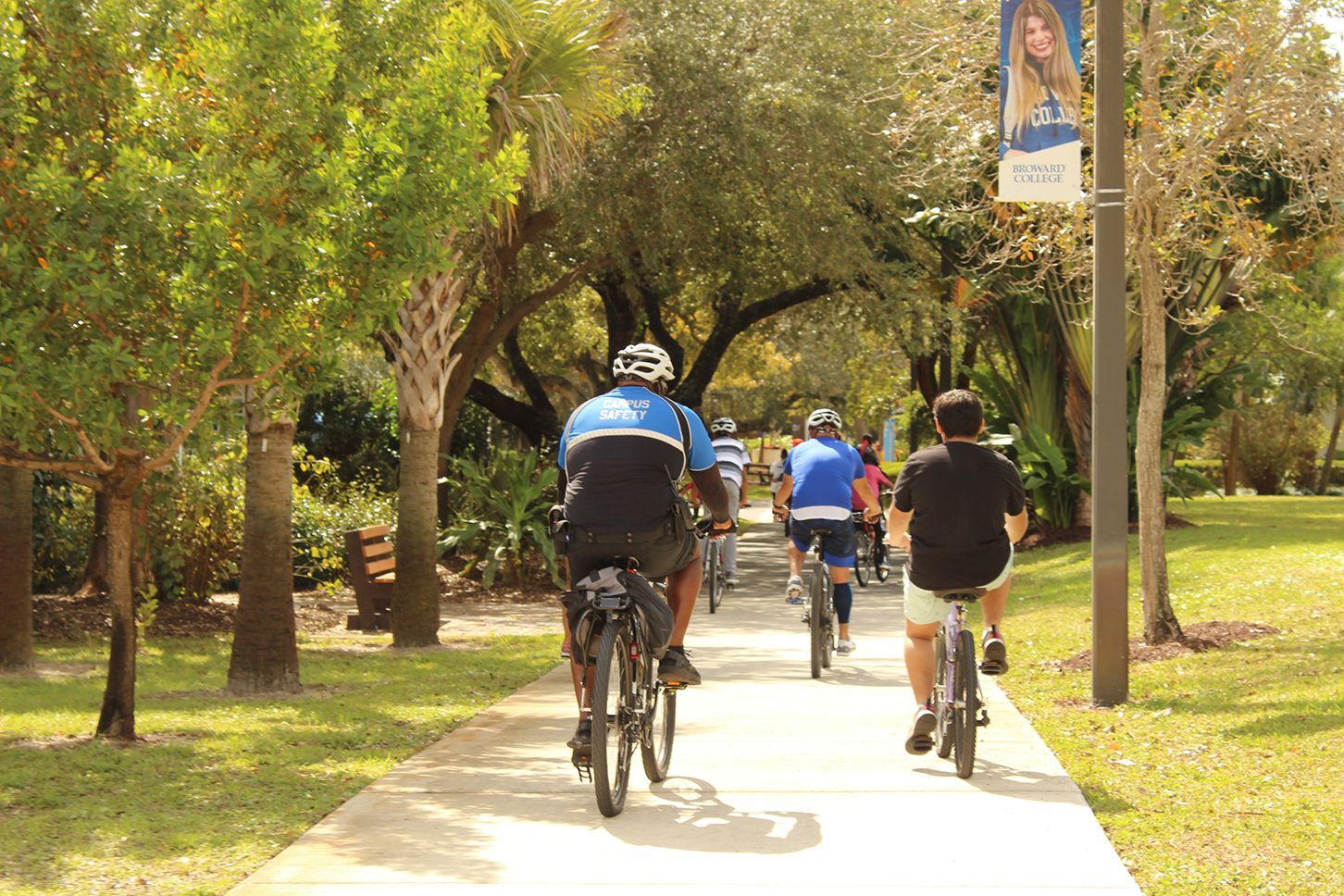 Broward College Department of Public Safety to Host Family Bike Rodeo to Promote Bike Safety
Events

| 01 September 2022 | 2 min read
Broward College students, community members, and bike enthusiasts of all ages are invited to hone their safety skills at the Family Bike Rodeo on Saturday, September 10, at the Broward College A. Hugh Adams Central Campus. Rain or shine, this free event will take place in the patio area of Building 19 from 11 a.m. to 2 p.m. Attendees are encouraged to bring their own bicycles. Helmets are required for all riders under 16 years of age, and a parent or guardian must accompany riders under 18.
The Family Bike Rodeo offers guests an array of pedal-powered events. It features two campus tours by bicycle, a chance to try part of the International Police Mountain Bike Association qualifying course, and dozens of raffle drawings for bicycles and bike accessories. Attendees can also expect a variety of complimentary refreshments provided by Student Life, as well as free bicycle maintenance, games, and music.
Representatives from the Broward College Public Safety Crime Prevention Office, Department of Safety Security and Emergency Preparedness, Public Safety Bike Patrol Unit, and Information Technology departments will be on hand to provide helpful information on crime prevention, emergency preparedness, general campus safety, and bicycling safety tips. Guests can also expect to meet officers and horses of the Davie Police Department Mounted Unit.
The Family Bike Rodeo at Broward College aims to provide a fun setting to learn about best practices for road safety on campus. "Broward College has a mixed-use campus with automobiles, bicyclists, and pedestrians sharing the roadways and some paths," said Jace Smith, district director, Campus Safety. "It is important for everyone to see cyclists and for cyclists to practice good safety habits and situational awareness."
In addition to responding to all fires, medical emergencies, crimes, and disruptions on campus, Broward College Public Safety also provides community-oriented services that positively impact the learning environment. The Family Bike Rodeo is a prime example of the services and activities offered by the department.
September's Family Bike Rodeo will be the second iteration of the event this year. A previous Bike Rodeo was held at the Central Campus in February 2022. Approximately 70 people attended. The Family Bike Rodeo is a production of Broward College Campus Safety and is made possible through the generous support of community members who are making donations. If you would like to donate to the Broward College Foundation, which makes events like the Family Bike Rodeo possible, please visit the Foundation's website.
Photo credit: A Broward College Campus Safety bike unit member accompanies bicyclists on a tour of the A. Hugh Adams Central Campus at last year's Family Bike Rodeo.