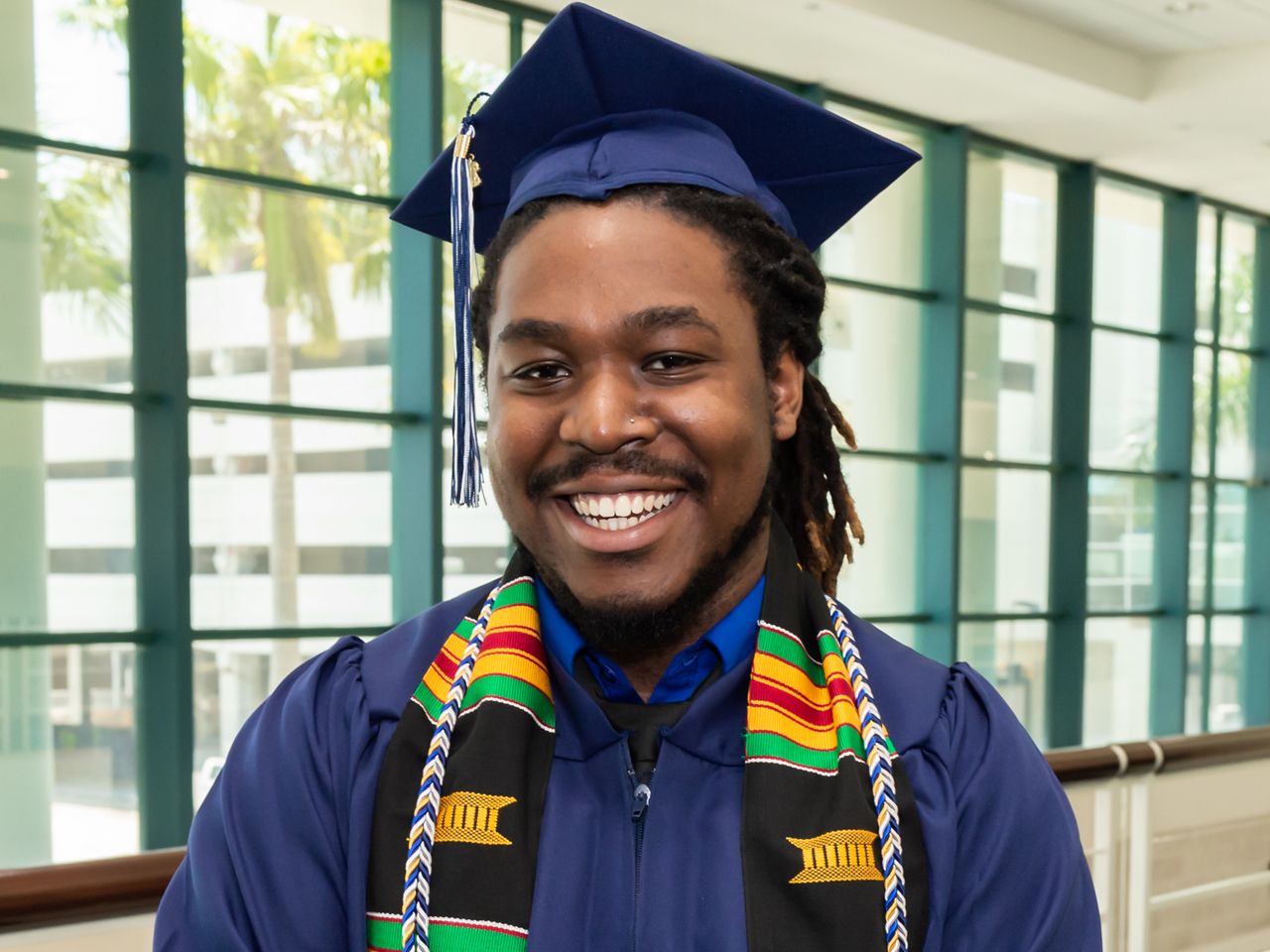 Destine Harrison-Williams Follows Love of Learning from Broward College to the Ivy League
People

| 03 November 2022 | 2 min read
When Destine Harrison-Williams thinks back on his childhood, he is reminded of bittersweet times. His mother raised him in Miami Gardens with as much love and financial support as she could muster, doing all she could to make sure her child had an education. But often, his housing situation was upended by domestic turbulence. He spent many nights on the streets. Despite it all, he remained committed to getting an education. "I remember having to do my homework under a streetlamp at night because it was too painful to go back home," he said.
It was a love for learning and a passion for film that kept Destine on his educational path. After high school, he initially enrolled as a student at Tallahassee Community College, hoping to transfer to Florida State University to attend their prestigious film school. But financial hardship and a medical scare sent him back home again. Then he heard about Broward College from a high school friend and decided to apply. What he found here was something he had been craving for a long time – stability, and faculty and staff who understood that hardship shouldn't be an obstacle to education.
"I was still dealing with adversity at home," said Destine. "But for once in my life I felt like I was surrounded by teachers who believed that I could overcome it, and who were patient and understanding when I'd come to them with a problem. That's the kind of support I didn't have growing up." Destine thrived in his new collegiate environment. Not only was he a peer mentor in the Minority Male Initiative, but he was named a PTK-All USA Scholar and participated in Black and Brown and College Bound. In March he was one of six Broward College students and 144 students statewide named as 2022 All-Florida Academic Team winner. At the encouragement of his professors, he applied for the prestigious Jack Cooke Kent Foundation Undergraduate Transfer Scholarship and was nominated as a semifinalist. He completed his Associate of Arts in spring 2022, and served as the student speaker for the commencement ceremony.
Through his participation in the Transfer Services Network, he will be attending Princeton University in New Jersey. He hopes that his Ivy League education will lay the academic groundwork for a career as an activist. He wants to use the gift that Broward College gave him to help others in his situation.
To read more about the Minority Male Initiative and the future leaders that call Broward College home, visit the MMI website.
Be inspired by more stories of student and faculty success in our Broward College 2021-22 Annual Report.
students
Broward College Students