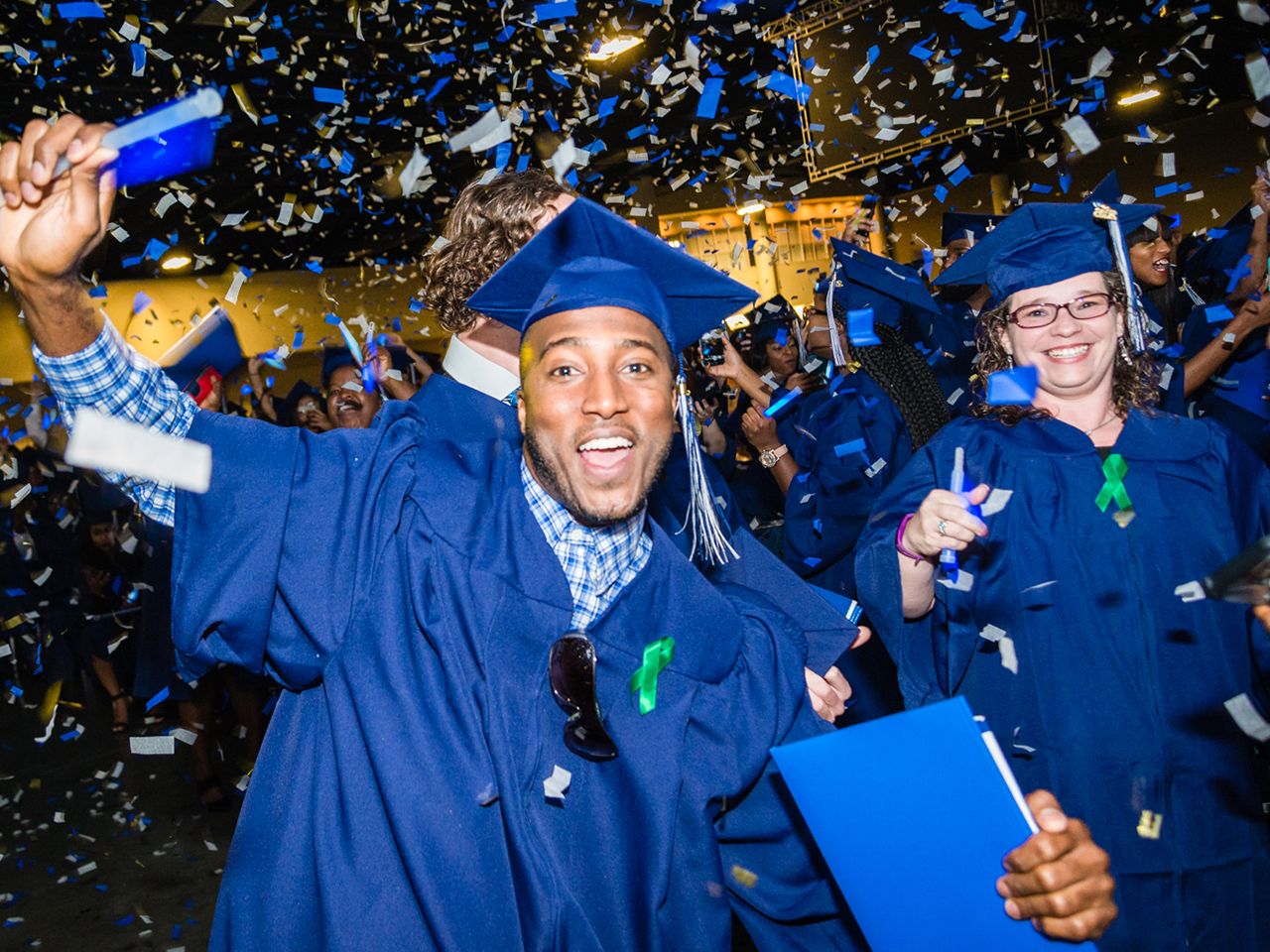 Broward College to Celebrate Fall 2022 Graduates with Commencement Ceremony at the Hard Rock Live in Hollywood
Press Releases

| 12 December 2022 | 3 min read
FORT LAUDERDALE, FLA. (December 12, 2022) -- Broward College will host its fall 2022 commencement ceremony on Wednesday, December 14, at 4 p.m. at Hard Rock Live in Hollywood, Florida.
More than 5,000 fall and summer candidates are eligible to participate in the commencement ceremony. Among them, more than 3,400 have earned associates degrees, more than 1,600 have completed technical certificates, and more than 370 have qualified for a bachelor's degree.
Brad Meltzer, a New York Times bestselling author of more than 25 novels and works of nonfiction, will deliver the commencement speech. Meltzer is the author of The Lightning Rod and eleven other bestselling thrillers. He also writes non-fiction books like The Lincoln Conspiracy and The Nazi Conspiracy, and the Ordinary People Change the World kids book series, which inspired the Emmy-nominated TV show on PBS KIDS, Xavier Riddle and the Secret Museum. In addition to his fiction, Meltzer is one of the only authors to ever have books on the bestseller list for Non-Fiction, Advice, Children's Books, and even comic books, for which he won the prestigious Eisner Award. He is a graduate of the University of Michigan, Columbia Law School, and North Miami Beach Senior High.
The ceremony will also feature remarks from Broward College President Gregory Adam Haile, J.D., College Provost and Senior Vice President for Academic Affairs Dr. Jeffrey Nasse, and Broward College Board of Trustees Chair Zachariah "Reggie" Zachariah.
Below are highlights of several notable December 2022 graduates:
Patricia Morgan
Patricia Morgan, 59, will graduate with her Associate of Science in Nursing this month. Prior to her studies at Broward College, she had a 25-year career with Motorola. However, when the pandemic hit, she had to consider an early retirement.  She ultimately used the opportunity to fulfill a lifelong dream of becoming a registered nurse.  When not taking classes, Patricia is already giving back to the community. She volunteers with several impactful Broward County charities— Guardian ad Litem of Broward County, a charity that represents abused, abandoned and neglected children in the courtroom and the community; Covenant House, a nonprofit providing shelter, food, immediate crisis care, and other services to homeless and runaway youth and with the Broward County Humane Society.
Rafael Vidal
Rafael Vidal, Jr., 19, will graduate with his Associate of Science in Criminal Justice. Rafael grew up in housing projects in the Bronx. He described his childhood as "not the easiest upbringing, and it often made me a person of antisocial nature when it came to extracurricular activities." He became very focused on his academics. However, in high school, he became discouraged by the college application process when one of his high school advisors gave him the impression that his financial standing would hold weight in determining which college he could attend. This low point in his life encouraged him to hunt for scholarships and other opportunities that were available. Rafael was ultimately offered a $10,000 scholarship by the Helios Education Foundation. The scholarship helped him pay tuition with $2,000 a year for his first two years at Broward College and $2,000 a year for another two to three years after transferring to Florida International University. He hopes to continue his studies in the Criminal Justice field and possibly pursue employment with Transportation Security Administration.
Nicolas Rangel De Pinto
Nicolas Rangel, 20, will graduate with his Associate of Science in Hospitality and Management. Nicolas grew up in Venezuela, where he was surrounded by a very tense political environment which included a lot of crime and rough living conditions, including regular power outages and lack of water. His high school professors were not supportive of him going to college. He chose Broward College because it gave him the opportunity for a second chance at education. He considers the Motwani Family Gala at The Conrad Hotel in Fort Lauderdale Beach his most meaningful Broward College experience because it introduced him to so many important people in his field. He hopes to continue his studies at Florida International University. Nicolas wants to inspire other students to become more positive and resilient during harsh times, showing how even through hard times can get the best out of them.
Brianna Randle
Brianna Randle will graduate with an Associate of Science in New Media Communications with a Technical Certificate in Social Media Writing.  Brianna is already an experienced Social Media Marketing Manager with skills in content creation, graphic design, writing and analytics. She has a background as an independent fashion blogger with recognition in The New York Times. Brianna graduates having already secured employment in her chosen field of study.
For more information about the commencement ceremony, please visit here.
-BC-
ABOUT BROWARD COLLEGE:
Serving approximately 56,000 students annually, Broward College provides residents with certificate programs, two-year university-transfer degrees, two-year career degrees, and baccalaureate degrees in selected programs. The mission of the College is to provide high-quality educational programs and services that are affordable and accessible to a diverse community of learners. For more information, visit  www.broward.edu.
Commencement
Certificates
Associate Degree
Bachelor Degree
Broward College Students
Broward College Leadership