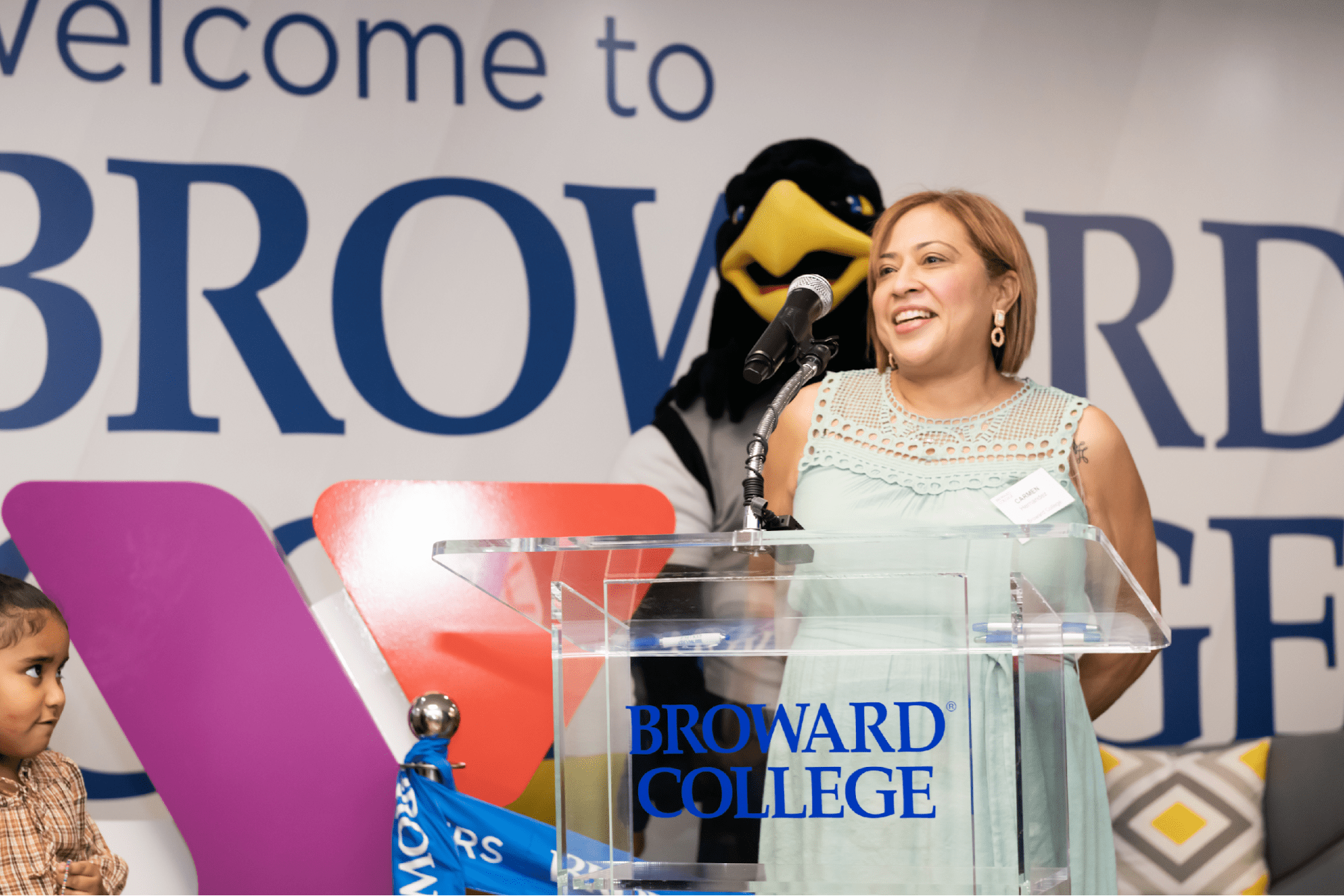 New Broward College @ YMCA Brings Job Training and More to a Broward UP™ Community
Press Releases

| 09 December 2022 | 3 min read
More photos are available here .
FORT LAUDERDALE, FLA. (December 9, 2022) – On December 6, Broward College leaders and community partners gathered to celebrate the official opening of Broward College at the YMCA and the promise of better job opportunities for residents in one of the zip codes in the College's Broward UP™, an award-winning model to expand access. But it was students like Carmen Hernandez, a mother of five who takes classes at the new fourth floor location, who have the most to celebrate.
Hernandez, who is employed for the first time in years, credits one of her Broward College teachers and her eldest son with giving her the confidence to pursue her GED at the Broward College at the YMCA.
"I enrolled at Broward College because of my son. He said, 'Mom, you've done so much for us. It's time to do something for you.' It has changed my life," said Hernandez between tears of joy. "I have started many GED programs before and quit, but Mr. Hannah, my teacher, I love him. If it were up to me, I would have left a long time ago. But because of Mr. Hannah's patience and dedication– I'm here today."
Broward UP™ seeks to improve access to education and economic mobility in communities with the highest rates of unemployment and low post-secondary education attainment by removing barriers and offering educational opportunities directly in these neighborhoods. The L.A. Lee YMCA/Mizell Community is in 33311, one of 11 zip codes supported by the community-centric model. Broward College is onsite to provide job readiness training and job placement services in high-demand fields, including business, hospitality, and information technology.
"Broward College at the YMCA is in the heart of the beautifully historic Sistrunk community. We are intentionally in this community, as it has the lowest post-secondary attainment rate in Broward County. Just like anyone else in Broward County, the members of this community deserve every opportunity to elevate their lives via a post-secondary credential leading to high-wage job opportunities," said Gregory Adam Haile, J.D., Broward College President. "This is about being proximate. Residents can look out of their home windows and see Broward College. They can walk to Broward College within minutes to take a class. Broward College will be relentlessly in their presence every day of their lives and the exceptional education they receive will cost them zero dollars. We are geographically, socially, and financially proximate– just like we are supposed to be."
Broward College will use the 10,000-square-foot facility to support eligible residents with quality training that begins with adult education courses that can lead to an associate degree, a nationally recognized certification, or a license in specific high-demand industries or professions. Launched in 2018, Broward UP™ has served more than 3,500 residents and made it possible for more than 2,200 students to earn workforce readiness certificates or industry-specific certifications. The program's success has generated national attention and the support of the community, municipal, and non-profit partnerships.
"The YMCA of South Florida could not be more excited about collaborating with Broward College," said Sheryl A. Woods, president, and CEO of the YMCA of South Florida. "In addition to the health and wellness and family programs and activities our new L.A. Lee YMCA/Mizell Community Center offers, the Sistrunk and surrounding communities will also have access to educational opportunities. Through Broward College's Broward UP, they will have access to free educational opportunities, workforce training, and support services right in their neighborhood. This allows them to acquire skills needed to find a good job, make more money and thrive in the workforce."
"On behalf of the Broward College Board of Trustees and the College, I want to thank all our partners – the education dream makers," said Trustee Gloria Fernandez. "With this collective support and partnership, we extend Broward College education and training opportunities to the community, and we are able to launch and sustain Broward College at the YMCA."
The official opening of Broward College at the YMCA was sponsored by Amazon, an employment solutions partner with the College.
During the event, the College also signed a memorandum of understanding with another employment solutions partner – the Florida Panthers – who has pledged to empower Broward College students through hiring programs, tuition reimbursement, an internship pipeline, and tailored academic programming.
"I'm super excited about the partnership and can't wait to get these students in at FLA Live Arena," said Matt Caldwell, Florida Panthers CEO. "We're going to work them hard, we're going to push them, but they're going to earn it."
To learn more about the classes and programming offered at the L.A. Lee YMCA/Mizell Community Center, visit broward.edu/browardup.
ABOUT BROWARD COLLEGE:
Serving approximately 56,000 students annually, Broward College provides residents with certificate programs, two-year university-transfer degrees, two-year career degrees, and baccalaureate degrees in selected programs. The mission of the College is to provide high-quality educational programs and services that are affordable and accessible to a diverse community of learners. For more information, visit  www.broward.edu.