It Takes a Village: How Broward College Nursing Student Doraine Forrest Balanced the Challenges of a Full Life with an Education
People

| 15 December 2022 | 2 min read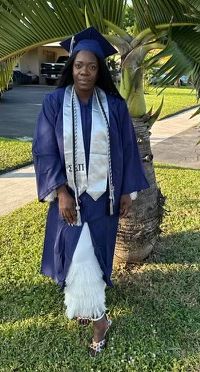 Pursing higher education already comes with its own set of challenges and commitments. Combine that with being a single mother and caring for your own mother. It can seem nearly impossible. At one point, it seemed that way for 34-year-old —Doraine Forrest. Two years ago, Doraine went back to school and fought to overcome the challenges and obstacles that had held her back from graduating in the past. This week, Doraine is graduating with an Associate of Science in Nursing from Broward College.
If at first you don't succeed, try again
Doraine moved to Florida in 2003 from her home country Jamacia; she remembers the culture shock of being a 13-year-old in a new country with new ways of living and learning. Growing up, Doraine was surrounded by a family of nurses. The profession seemed like an obvious choice when it came time to decide on a career.
Early in her education, Doraine had difficulty balancing all aspects of life—being a mother, caretaker, student, and employee. She recalls past attempts to get a degree, but life got in the way, and she had to put her dreams of becoming on nurse on hold.
"I had tried to get this degree earlier, but I had to stop," said Doraine. "I have a child. I have other things I need to take care of. I stopped quite a few times. But I'm getting older, and this is a passion I know I need to follow now."
From long clinical days to long study days, missed family celebrations, and emotional ups and downs, it seemed like an uphill battle with no end in sight. On top of all of that, Doraine managed to endure the rigors of the nursing program by day and then work a 12-hour shift at night.
A family that cheers you on
Doraine credits her support system, especially her sister, Yanique, for helping her through. Alongside Yanique, Doraine's 10-year-old daughter also watched and motivated her mother as she studied and worked hard to achieve her goals.
"It takes a village," said Doraine. "When I started the program, I told her that it was going to be two years of a lot of hard work. She works with me. She motivates me a lot. There were times where I was so tired, but she'd tell me 'Mom, what are you doing? You need to study so you can pass the exams.'"
In hindsight, Doraine speaks about the sense of relief and joy she feels for finally accomplishing what seemed like a daunting task. She credits her success to discipline, understanding, and good scheduling. 
At Broward College, Doraine selected classes that fit best with her schedule all while keeping the prices low. Now having secured her A.S. in Nursing, Doraine is prepared to move forward with a career in health care.
Long term, Doraine's goal is to transition from her patient care assistant (PCA) role and acquire her residency in a registered nurse (RN) position at her current organization, Memorial Hospital West. She hopes to pursue her advanced practice registered nurse (APRN) in Certified Nurse Midwife.
Is healthcare your passion? It's time to make it your profession. Learn how Broward College can help you land your dream job in nursing.
Commencement
Associate Degree
Broward College Students