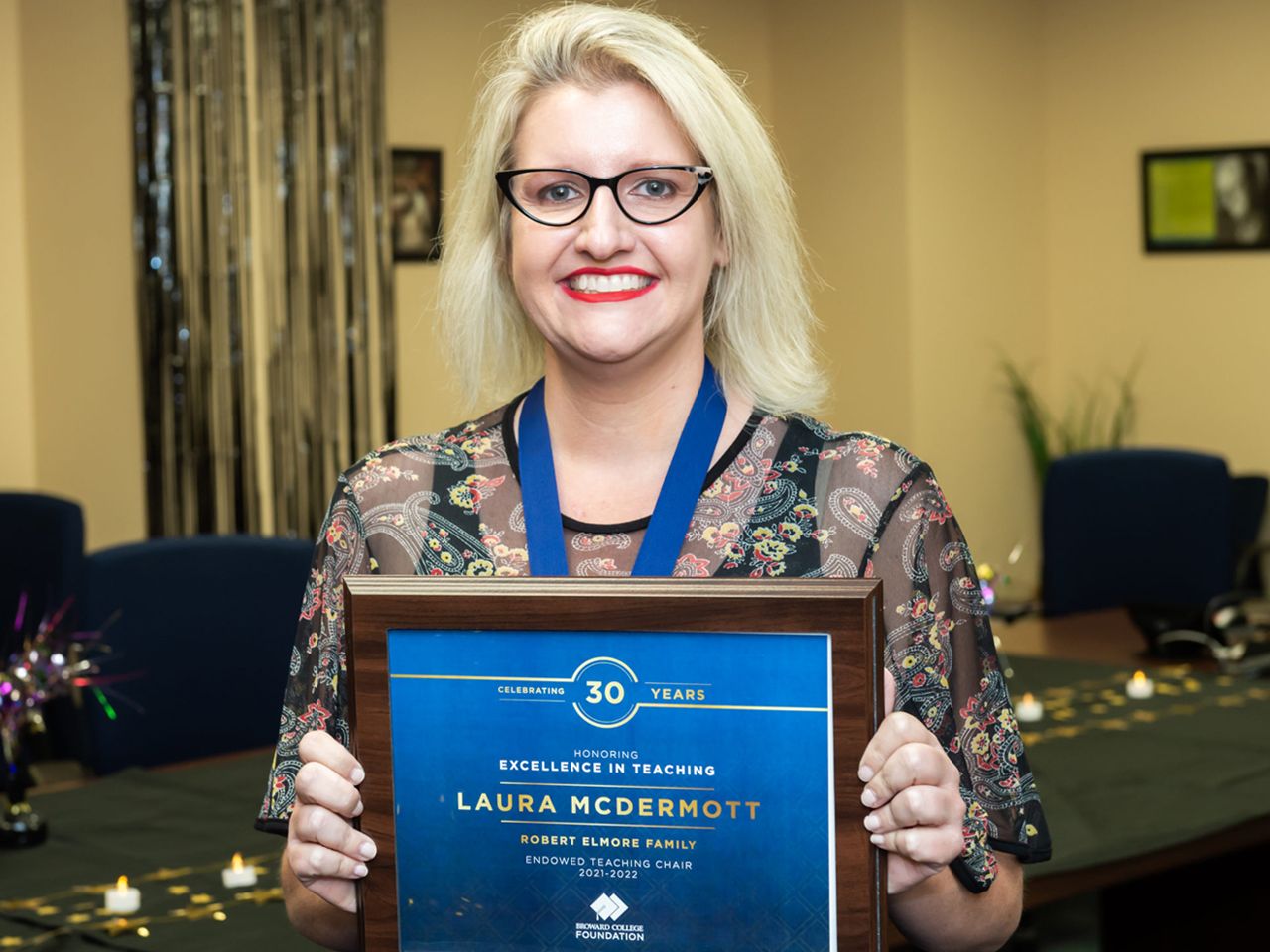 First Poet Laureate of Coconut Creek and Distinguished Finalist for the 2022 Professor of the Year
People

| 03 February 2023 | 2 min read
Laura McDermott Matheric has the power to make it look like there are more than 24 hours in a day. An associate professor of English at Broward College, President of the Women's Club of Coconut Creek, and Robert Elmore Endowed Teaching Chair for 2022-2023, Laura is non-stop when it comes to giving back to her community. 
Her list of titles, accolades, and accomplishments doesn't end there. In August of 2022, Laura was invited by the Mayor of Coconut Creek to serve as the city's first-ever Poet Laureate. She also earned the Distinguished Finalist for the 2022 Professor of the Year award sponsored by the Association of Florida Colleges.
Laura uses her power as an English professor at Broward College and Coconut Creek Poet Laureate to connect the town through literary programs, strengthen ties in the community, and unite the Broward College academic landscape. Laura orchestrates events and other projects to reinforce the idea that the education she provides is deeply joined to the community she serves, and that the expertise she teaches has currency in her students' wider world. She proves that education is an ongoing influence for a healthy community.
Writing In Action
Laura has held notable events in response to the shootings at Marjorie Stoneman Douglas High School in Parkland, a tragedy that captured the nation's attention on February 14, 2018. She used poetry as a context to promote understanding and support for the tragedy's survivors, but the events went far beyond poetry readings. She helped those involved relate to students' and educators' pain and promote opportunities to make things better. For the third anniversary of the tragedy, Laura held a Zoom commemoration that received widespread attention.
As a professor, Laura believes that you can't broad-stroke everyone's educational experience.
"My students are architects, pharmacists, nurses, lawyers, shoe designers, business majors, and creatives," said Laura. "I know that they need me to meet them where they're at. If you give respect, you will get respect."
Laura's students appreciate the time, energy, and tailored approaches she takes to teaching. In fact, Laura was nominated by one of her students for the Professor of the Year award. 
"Teaching in today's society can seem very difficult," said one student in his letter of recommendation for the Professor of the Year award. "The resources that are available are inadequate and sometimes difficult. One of the best resources that are very important to a student's success is who is educating the individual – individuals like Professor McDermott." 
What's to come?
This Poet Laureate is showing no signs of slowing down. During her tenure as the city's official literary figurehead –a position she will hold through August 31, 2024 – Laura is determined to use her new title to give back to the community and spread knowledge about the field.

Her dedication to healing through poetry continues Thursday, February 9, at 5:30 p.m., when she will present her poem written specifically for the Marjorie Stoneman Douglas memorial event at Coconut Creek City Hall. In April, Laura is offering a four-part poetry writing workshop series at the North Regional Library at Broward College in Coconut Creek. The lessons can be taken individually or sequentially on April 3, April 5, April 10, and April 12.
For more information on the poetry writing workshop and how you can get involved, please visit: https://broward.libnet.info/event/7633907#branch.
Community
Broward College Employees
Broward College Students