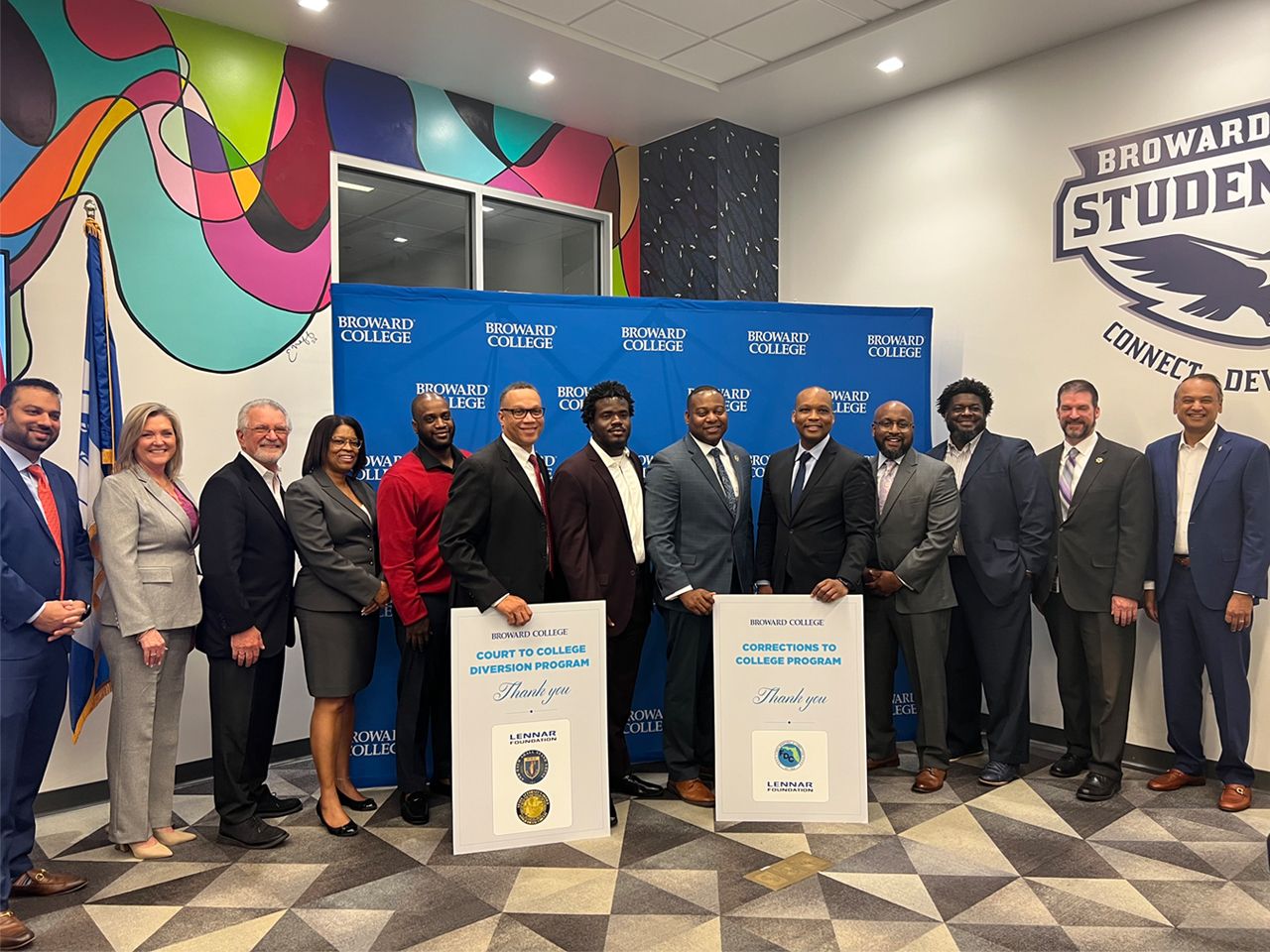 Broward College Expands Access to Post-Secondary Education with New Transformational Justice Programs
Press Releases

| 07 February 2023 | 4 min read
Initiatives give a second chance to Broward County residents involved in the legal system.
FORT LAUDERDALE, FLA. (Feb 7, 2023) – Broward College has launched two new programs aimed at improving access to post-secondary opportunities for residents. Through its new  Transformational Justice programs, the College is removing barriers to education and employment to select first-time offenders and other Broward County residents who have been involved with the legal system. Broward College is collaborating with the Broward County State Attorney's Office and the Law Office of the Public Defender for the Court to College Diversion program and with the Florida Department of Corrections for the Corrections to College program. Both programs offer residents of Broward County the opportunity to be enrolled in skills training and receive industry-recognized credentials that can lead to sustainable employment.
"With the Transformational Justice programs, Broward College is furthering its work to expand access to post-secondary education to everyone in our community," said Gregory Adam Haile, J.D., Broward College president. "Everyone, regardless of their circumstances, should have access to post-secondary education. "We want to give these residents a second chance by helping them acquire the knowledge, skills and experience they need to succeed in the workforce and improve their opportunities for economic mobility."
Court to College Diversion Program
The Court to College Diversion program allows first-time nonviolent offenders charged with a third-degree felony, or lower offense, to avoid a criminal conviction. Their case is diverted from the trial court process, and they can instead pursue an opportunity to improve their technical skills in high-demand industries. There is no age restriction; however, incoming students must meet all pre-existing Broward College admission requirements for eligibility. Upon completing the program, participants will receive a technical certificate and dismissal of their charges. 
Students have been enrolled in the Court to College Diversion program since October 2022.
"We always prefer to see people in a classroom instead of a courtroom or a jail cell," said Broward State Attorney, Harold F. Pryor. "This program will give students a second chance and the practical skills they need to be successful in the workforce."
"This program provides an exceptional opportunity for first-time offenders to get on the right track and turn their lives around," said Gordon Weekes, Broward Public Defender. "Too often, we see young people struggle to overcome the hardships that follow a criminal record, and it's important that those that have made mistakes and are in need of a second chance have access to programs like this. We are grateful for the partnership with Broward College and look forward to working together to change the trajectory of these students' lives."
A hallmark of the diversion program is the required collaboration between the Court to College participant and the person listed as the victim in their case, any first-time offender seeking to join the program must also receive the approval of the listed victim. Once approval is recognized from both parties, Broward College provides free tuition options for both the person listed as the victim in the case and the defendant, thanks to the Open Door and Rapid Credential grants. The funding will cover tuition, books, and the cost of certification exams for participants.
Defendants who are recommended to the program can choose from three different areas of study. They must complete all courses and requirements in one of three tracks to receive a technical certificate:
Marine Electrician Technical Certificate (12-credit)
Automotive Service Technician (24-credit)
Logistics and Transportation Specialist Technical Certificate (18-credit)
The College utilized labor market information regarding employment opportunities to determine which areas of study would be most beneficial to participants. The Court to College program is offered at the Judson A. Samuels South Campus in Pembroke Pines. It provides participants with job assistance services, career exploration activities, financial aid application assistance, and more.
Corrections to College Program
The Corrections to College program is a collaborative effort between Broward College and the Florida Department of Corrections. The program offers individuals housed at the Hollywood Community Release Center (CRC) – which serves only women who are in the last 18-months of their sentence – with the opportunity to participate in educational programming provided by Broward College.
The Corrections to College program will help these women attain industry-recognized credentials for jobs in in-demand industries; services will begin prior to release and be completed post-release. Before their release from the Hollywood CRC, the College will also provide program participants with pre-release academic counseling and transition services that encourage and support continuation in higher education at Broward College or other colleges and universities. It  will implement an integrated strategy that provides educational opportunities, career pathway and academic counseling, case management and support services, adult basic education, work readiness training, employment placement, and referrals to community partners for substance abuse and mental health counseling for its participants.
"The Department of Corrections is proud to partner with Broward College on this important program. The goal of a program like this is to educate its participants and provide tools to obtain meaningful employment upon release. With meaningful employment, individuals released from incarceration are not only productive members of our communities, but they also become responsible law-abiding members of society," said Patrick Mahoney, Director, Office of Programs and Re-Entry, Florida Department of Corrections. "This program is not only important to the future of its students but the community at large by ultimately improving public safety."
Participants must be a minimum of 18 years old, eligible to enroll in Broward College, have never been convicted of a sex crime (other than prostitution) and are currently involved or have been involved with the adult criminal justice system.
The program will offer participants industry-recognized certification in four areas of study:
Six Sigma Yellow Belt
Supply Chain Management
Marketing (Digital and Social Media)
Amazon Web Services (AWS) Cloud Practitioner Technical Essential
In addition to support through existing grant funding from the state, the College has  received $1 million from the Lennar Foundation to support the Court to College and Corrections to College programs.
- B.C. -
ABOUT BROWARD COLLEGE:
Serving approximately 56,000 students annually, Broward College provides residents with certificate programs, two-year university-transfer degrees, two-year career degrees, and baccalaureate degrees in selected programs. The mission of the College is to provide high-quality educational programs and services that are affordable and accessible to a diverse community of learners. For more information, visit  www.broward.edu.
students
Broward UP
Workforce Education
Community
Partnership
Community Partnership