Broward College Recognized with Cigna Healthy Workforce Designation
Press Releases

| 27 March 2023 | 2 min read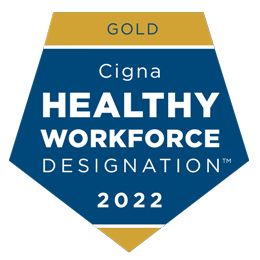 FORT LAUDERDALE, FLA. (March 27, 2023) – Broward College has once again been recognized for how it cares for its employees. Cigna has selected Broward College as a recipient of their Gold Level Healthy Workforce Designation for demonstrating a strong commitment to improving the health and well-being of its employees through a workplace wellness program.
"A top priority at Broward College is employee health; we are honored to be recognized with the Cigna Healthy Workforce Designation," said Sophia Galvin, Vice President, Talent and Culture. "We understand the important role employee well-being plays in a company's success and the relationship between healthy employees contributing to a more productive, satisfied workforce and positive business performance."
In 2018 the College hired a new Executive Director (now Vice President) of Talent and Culture to establish a comprehensive plan to improve institutional culture and retention of the best and brightest. Under new and existing leadership, the Culture Transformation Plan (CTP) was developed. The plan initiated structural changes to transform and fortify the College's workforce. This model was designed to streamline the delivery of services, enhance engagement, and address issues raised during employee feedback sessions. The CTP includes a strong emphasis on well-being, self-care, and personal and professional harmony.
"As a consultative growth partner, Cigna knows that a healthy workforce is critical to business growth," said Cindy Ryan, executive vice president and chief human resources officer. "We are honored to recognize organizations like Broward College who share our commitment to workplace wellness. Creating a healthy work culture is of critical importance, and many employers are seeing increased employee engagement, productivity, and retention as a result of whole person health wellness initiatives."
The Cigna Healthy Workforce Designation, formerly known as the Cigna Well-Being Award, evaluates organizations based on the core components of their well-being program, including leadership and culture, program foundations, program execution, whole person health, and utilization of Cigna's capabilities. Organizations recognized with this designation set the standard of excellence for whole- organization health.
This is the second time Cigna has recognized Broward College. In 2021 Cigna selected Broward College as a recipient of their annual Cigna Outstanding Well-Being Award for demonstrating a solid commitment to improving the health and well-being of its employees through a comprehensive and engaging workplace wellness strategy. Live Well at Broward College – a holistic approach to individual and collective well-being, is created, led, and implemented by Lisa Elsinger, Ph.D., Associate Director, Workplace Well-being.
- B.C. -
ABOUT BROWARD COLLEGE:
Serving approximately 56,000 students annually, Broward College provides residents with certificate programs, two-year university-transfer degrees, two-year career degrees, and baccalaureate degrees in selected programs. The mission of the College is to provide high-quality educational programs and services that are affordable and accessible to a diverse community of learners. For more information, visit  www.broward.edu.
Career
Broward College Employees
Broward College Leadership