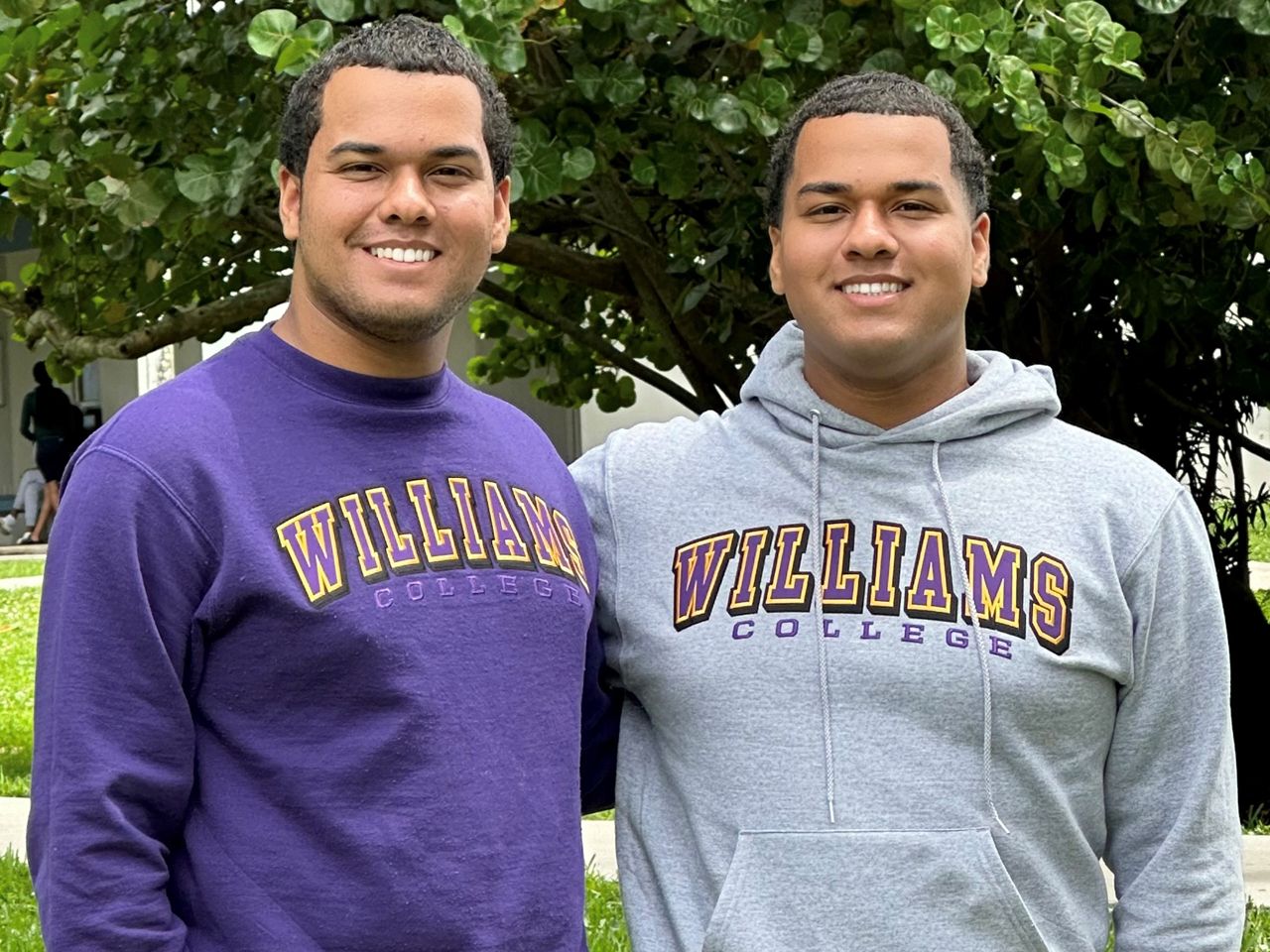 Two of a Kind: College Academy Twins Harryson and Herbert Ferreira to Attend University Together on Full Scholarship
People

| 04 May 2023 | 3 min read
The greater Broward College community is known colloquially as the Seahawk Family, and for most students, the close-knit cohort of faculty, staff, and students really does feel like family.
But for another group of Broward College students, higher learning truly is a family affair. That's the case for Herbert and Harryson Ferreira, identical twins set to graduate from the College Academy at Broward College this spring.
But the story does not end there. After they cross the stage at the spring Commencement ceremony on May 9 – earning their high school diploma and Associate of Art degrees – both twins will be attending Williams College in Massachusetts on a full-cost scholarship.
An Adventure Together
The Ferreira twins' journey began with a bit of happenstance. Originally unaware of the College Academy, they learned about the joint high school and Associate of Arts program through a card in the mail. The more they researched, the more their interest in the academy grew. Great minds think alike – especially when those minds belong to twins – and before long, the Ferreira brothers were enrolled.
"We believed it would be indispensable for our future academic and professional pursuits," said Herbert. "We were particularly drawn to the idea of having mentors to guide us through college life and offer us support that we would not have had access to otherwise. Additionally, we recognized the benefits of earning our associate degree and high school diploma concurrently."
On campus, they continued to pursue their interests inside and outside of the classroom. Per usual, they remained close at hand. "We are both members of the Black Student Union on the North Campus and have enjoyed participating in the various activities and discussions held during club meetings," said Harryson. "Our favorite organization outside of Broward College was the Mentoring Society for College Academy juniors. We, along with a committee of other seniors, were responsible for helping with the transition into College Academy and serving as mentors to the junior class. Through this organization, we were able to introduce them to the resources available at the College and expose them to the different clubs on campus."
Shared Adversity
The twins excelled on campus, carried along by their help for each other, but their selflessness and perseverance did not stop at the classroom door. At home, the twins – both first-generation college students – faced financial strain brought on by the COVID-19 pandemic.
"We had to work multiple jobs each week while also balancing our college-level coursework," said Harryson. "In our senior year, we also had to ensure that all of our applications and financial documents were submitted correctly and on time, while still working close to 30 hours a week."
Such a grueling schedule could have easily derailed their academic journey. But the Ferreira twins were able to navigate these obstacles with the help of the support network and the guidance provided by the College Academy administrators and academic resources.
"The Academic Success Centers have been the main resource that we have used during our time at College Academy," said Herbert. "During our junior year English classes, our instructor required that all our papers be reviewed at the ASC to get us used to using the resource and to see how helpful it was. We truly saw how helpful the ASC was given the fact that one of the essays that we submitted to the ASC was the same essay we submitted for our college applications, and the tutors showed us our mistakes and how to correct them." 
The support paid off. As the twins finished their junior year, Harryson maintained above a 3.8 GPA, and Herbert maintained a 4.0 GPA. Both twins were also named to the President's and Dean's lists, and when they begin university, this fall, it will be on a fully funded scholarship worth more than $671,680, encompassing the entire cost of attendance, including tuition, room and board, health insurance, books, summer storage, therapy, travel expenses, and personal expenses. For the remainder of their academic careers, their studies and finances will be secure. As for the future, Harryson hopes to pursue a career in Software Engineering, eventually transitioning into academia. Herbert, likewise, hopes to become a Software Engineer, while using his newly achieved financial stability to work in social justice.
"Our greatest strength lies in our unwavering sense of hope," said Herbert, and of course, Harryson concurs: "Throughout our journey, we have consistently maintained hope for our dreams and aspirations, and we are grateful that many of them have come to fruition. This optimism fuels our drive and keeps us excited for the future, as we believe that with hard work and perseverance, anything is possible."
To learn more about College Academy at Broward College, visit the academy's website. Read more about dual enrollment on the Broward College website.
Admissions
Commencement
Associate Degree
Broward College Students