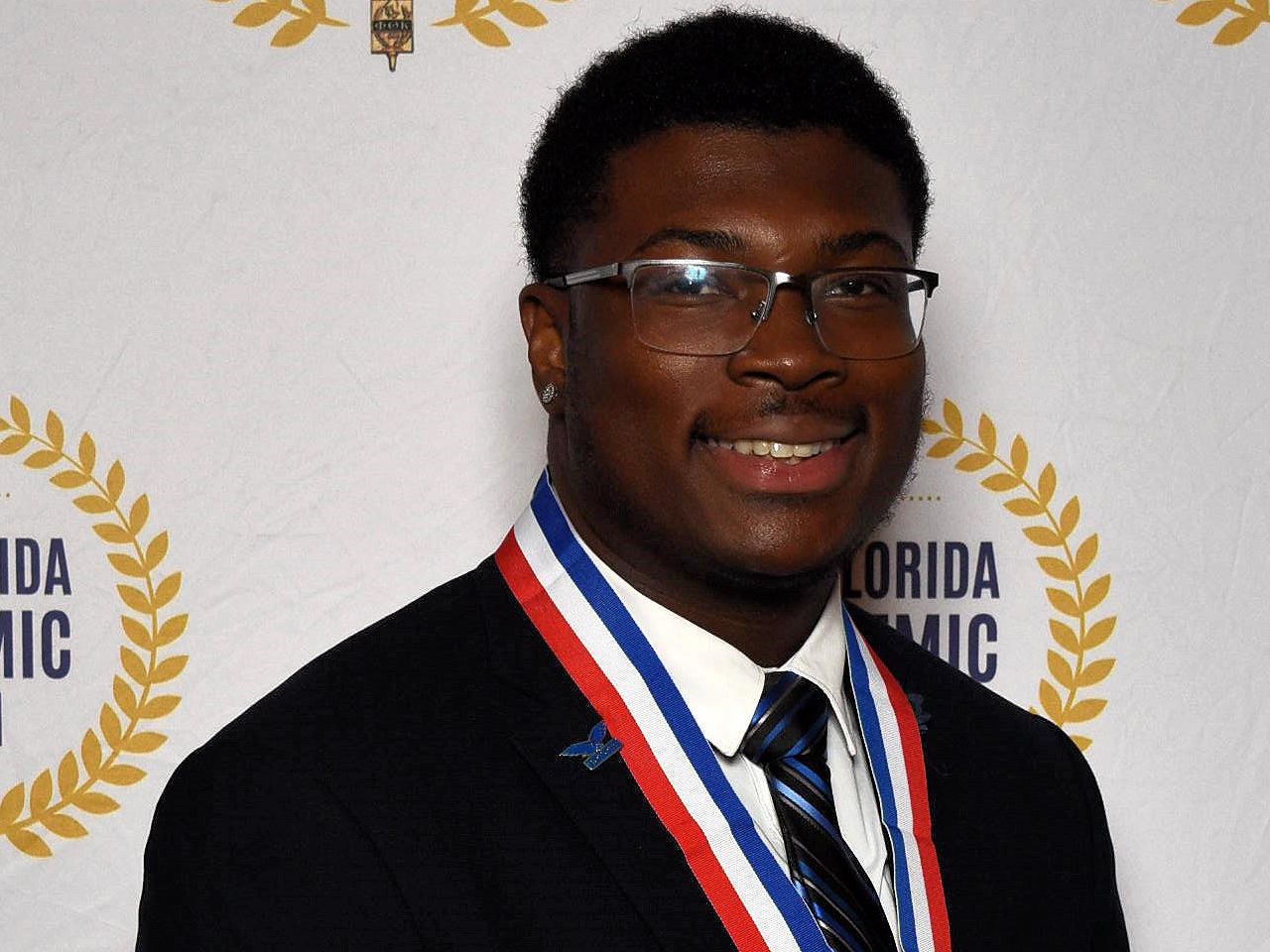 Finding the Good in Everything: How One Broward College Graduate Spends His Time Helping Others
People

| 09 May 2023 | 3 min read
Jean Saintgeorges, 20, is a 2023 Jack Kent Cooke Foundation Undergraduate Scholar and the only recipient among the six semifinalists shortlisted for the scholarship at Broward College. Recipients receive up to $55,000 per year toward tuition, living expenses, books, and required fees to complete their bachelor's degree. This year's cohort has 60 Scholars selected from across the nation. 
When the COVID-19 pandemic forced many institutions of higher learning to transition from fully in-person to entirely online, Jean was unsure about how college would figure into his future. After enrolling at Broward College, however, he thrived. Jean explained that he owes his success to selecting the right college and meeting the right people who showed him how to tap into his potential.  
At Broward College, he found motivation in a mentor at unlocked a passion within himself for helping and mentoring others. In May 2023, he graduated with an Associate of Science in Accounting Technology and was accepted to several top-ranked colleges across the country. This fall, he will pursue his bachelor's degree at Cornell University, an Ivy League university in Ithaca, New York.  
A Memorable Mentor
Born and raised in Miami to Haitian parents, Jean's high school experience was suddenly turned into something new and unfamiliar because of the COVID-19 pandemic. Like many others, Jean faced the challenges of an entirely different learning system. Online schooling made Jean feel apprehensive and incredibly unsure.
After taking a leap of faith, Jean started his journey at Broward College. After a few online classes, Jean got the hang of online school.
"My first in-person class at Broward was ENC1102 with Dr. Billy Jones," said Jean. "It was a class that I found at the last minute. Taking that class with Dr. Jones has changed my life forever."
As a first-generation college student, Jean was incredibly grateful for the mentor who significantly impacted his trajectory. At first, Dr. Jones helped Jean learn how to write research papers, speak like a leader, and excel academically. Dr. Jones introduced him to clubs on campus and opportunities to find scholarships.
Jean has gone on to participate in numerous clubs, and in his free time, he volunteers extensively at the College and around the community. He is a part of the Florida All-Academic Team, a Jack Kent Cooke Semifinalist, and has seen his name on the President's List four times. 
Giving Back
As president of Phi Theta Kappa, an international honor society, Jean hosted and contributed to workshops that helped people in the community; took part in several community service projects, including food distribution and beach cleanups.
As President of Greatness in the Making, Jean hosted meetings that discussed mental health awareness events, invited guest speakers to coach club members, and even mentored other club members seeking guidance.
"I knew that if I was navigating college by myself, I needed to build connections with my peers, professors, and even the administration," said Jean. "I know in today's digital age it can be hard to talk to other people, but making connections that way is what got me where I am today."
In his last semester at the College, Jean recalls taking a Business Calculus class where he helped another student pass a critical final test.
"I love Math. I'm a Math nerd," said Jean. "I saw a classmate struggling and asked him how I could help. He needed to pass the test to graduate. We studied together, and I taught him all the Math shortcuts that make getting the right answer easier."
After nights of studying together, Jean says the student could turn it around and get a passing grade. Jean volunteered at the graduation ceremony, where the other student walked across the stage.
Where do we go from here?
Jean is passionate about Math, Business, and Accounting. He hopes to take his academic excellence and community service passions to a university where he can earn a bachelor's in Accounting and a master's in Business Administration—aspiring to be a certified public accountant and work in the private sector before hopefully owning his own accounting firm. 
"I want people to know that it doesn't matter how or when you start, it only matters how you finish," said Jean. "Give it a try, and you never know what will happen when you try. Don't be afraid of branching out. Helping those that need it is a great plus." 
Inspired by Jean's story? Learn more about all the on-campus clubs and scholarship opportunities available to Broward College students.