2022-2023 Professors and Adjunct Professors of the Year Recognized
Press Releases

| 16 May 2023 | 6 min read
FORT LAUDERDALE, FLA. (May 12, 2023) -- Broward College has named 12 outstanding faculty members as Professors of the Year and Adjunct Professors of the Year for the 2022-2023 academic year.
"These recipients exemplify the commitment of all our faculty and staff to help our students achieve academic success," said Dr. Jeffrey P. Nasse, provost and senior vice president, Academic Affairs. "I want to congratulate this year's incredibly well-deserving winners who are helping us transform lives through teaching excellence and academic innovation."
These full-time and adjunct faculty are nominated by the students and colleagues, and then evaluated and interviewed by the Professor of the Year Committee which selects the recipients. The 2022-2023 awardees by campus are:
Hugh Adams Central Campus
Dr. Vanessa Hormann, associate professor at the A. Hugh Adams Central Campus, joined the Broward College faculty in 2006. She teaches a variety of Biological Science courses at the Central Campus in the STEM Pathway. Dr. Hormann centers her teaching philosophy on making the topics she teaches relate to the student's field of study. She encourages active learning and critical thinking in her courses and always tries to establish an inclusive and safe environment. Active in committee work, Dr. Hormann serves on the Student Conduct Committee and is a member of the College Assessment Team for Student Success (CATS).
Laura Rambarose, assistant professor at the A. Hugh Adams Central Campus, has been teaching various courses in Psychology at Broward College since 2007. In 2022, she officially joined as full-time faculty. Laura is first-generation in her family to attend and pursue higher education. She is deeply passionate about seeing her students succeed and thrive. In addition to teaching, Laura also serves as the Phi Theta Kappa Honor Society Central campus advisor, is a College Assessment Teams Member, and club advisor to Project Stay Gold: End the Demand for Human Trafficking.
Cynthia Addae, adjunct professor at the A. Hugh Adams Central Campus, joined Broward College as an adjunct professor in 2013. She teaches General Biology, Introduction to Biology, Anatomy and Physiology, Botany, and Zoology. Professor Addae holds her master's and bachelor's degrees in Biological Sciences from Alcorn State University. She earned her PhD in Environmental Toxicology from Southern University and A&M College. She is passionate and committed to helping students reach their full potential.
Alberto Rodriguez, adjunct professor at the A. Hugh Adams Central Campus, is a seasoned Information Security Professional with over seven years of professional experience. His specialty lies in adversary detection and simulation, drawing from his extensive background as a former Cyber Operations Officer in the Army and the commercial sector. Currently, Alberto leads a team of highly skilled hackers as a Managing Security Consultant (MSC) at Guidepoint Security. As an Adjunct Cybersecurity Professor, Alberto shares his expertise with aspiring professionals at various institutions around the United States.
North Campus
Dr. Shakira Khan, assistant professor at North Campus, relocated to Florida 10 years ago after completing a doctorate in Geology with a focus on carbonate sedimentology from the University of the West Indies in Jamaica. She joined Broward College in 2016 as an adjunct professor teaching Introduction Earth Science and Geology courses on Central Campus. In 2020 she began as a full-time faculty member on North Campus and teaches Earth Science, Geology and Environmental Science.
Jose Luis Garcia, adjunct professor at North Campus, is a Photo-Based Artist, who works throughout the gamut of the photographic medium. Selected Solo exhibitions include "Family Aggregate" at the Photography Gallery at FIU Biscayne Bay Campus, "Forget Me Not", and "In My Mind's Eye" at the Miami Beach Urban Studios. Garcia has taught various K-12 educational residencies as a Teaching Artist with Arts for Learning Miami, is an Adjunct Professor at Miami Dade College Hialeah Campus, Broward College North Campus, and teaches Photography at New World School of the Arts.
Michael P. O'Neill, adjunct professor at North Campus, has been working at Broward College since January 2011. He was born and raised in Guatemala before moving to Michigan and, ultimately, Florida. In addition to teaching courses, he has been active in various roles including co-sponsoring the Honor College's Model United Nations team from 2019-2022 with Professor Kari Hebert and has been working as a mentor and leader since 2014 at the #1 public high school in Broward County, College Academy at Broward College.
Judson A. Samuels South Campus
Dr. Robert Morris Jr., assistant professor at Judson A. Samuels South Campus, works tirelessly in the community to protect the rights of all Americans. He serves as the chair of the Miami Dade branch of the NAACP Education Committee. Dr. Morris chartered a collegiate chapter of the NAACP at Broward College.  He serves on several local, state, and national organizations including the NAACP, Color of Change, Campaign for Black Male Achievement, Phi Beta Sigma Fraternity Inc., Broward County Sheriff's Office Social Justice Task Force, and the National Council on Educating Black Children.
Dr. Domenica Diraviam, adjunct professor at Judson A. Samuels South Campus, has been an adjunct professor of Italian, French, and Humanities at Broward College since 2009. As an educator since 1992, her goal continues to be encouraging students to flourish holistically both in and out of the physical classroom space. This is evidenced in her approach as a faculty-led study abroad coordinator, a credentialed virtual exchange implementor, and a published scholar. Her area of expertise focuses on Italian American hybrid identity, transgenerational communication, and diasporic studies–with particular emphasis on visual culture, oral history, and public digital humanities.
Yamilca Gomez, adjunct professor at Judson A. Samuels South Campus, is a veteran teacher with over twenty years of experience in education. Born in Puerto Rico but raised in New Jersey, Gomez understands first-hand the importance of obtaining an education to change personal challenges and circumstances. For her, education is the key to freedom and greater opportunities. Her expertise as an educator has led her to present at numerous conferences and television programs including the College Board Forums, PACE for Girls, Univision, and NBC6 In the Mix.
Online Campus
Dr. Todd Price, assistant professor at the Online Campus, began his academic and professional journey as a Broward College student. He has over 20 years of teaching experience and became a full-time faculty member for the STEM-Information Technology Pathway at Broward College Online in 2020. In 2018, Dr. Price won FAU's Adjunct Excellence in e-Learning. As an andragogue, Dr. Todd Price believes his continuing passion and lifelong learning within the fields of education, graphic art, technology, and teaching translate to building robust learning environments that benefit faculty and students.
Stephen Muffler, adjunct professor at the Online Campus, has served at Broward College since 2012. He is particularly passionate about the courses he teaches, which include International Business Law, International Law, Corporations, Criminal Law, Constitutional Law, and Business Law and Ethics. He has been a practicing attorney in South Florida and a member of the Florida Bar for thirty years. Professor Muffler currently holds the position as Deputy General Counsel to the Broward Sheriff's Office (BSO), advising BSO Command concerning business law, employment law, administrative law, and criminal justice issues. He has been facilitating online academic classes since 1993, has experience teaching in a traditional face-to-face modality in five countries, and has authored or co-authored about twenty law-related articles and individual chapters in law textbooks.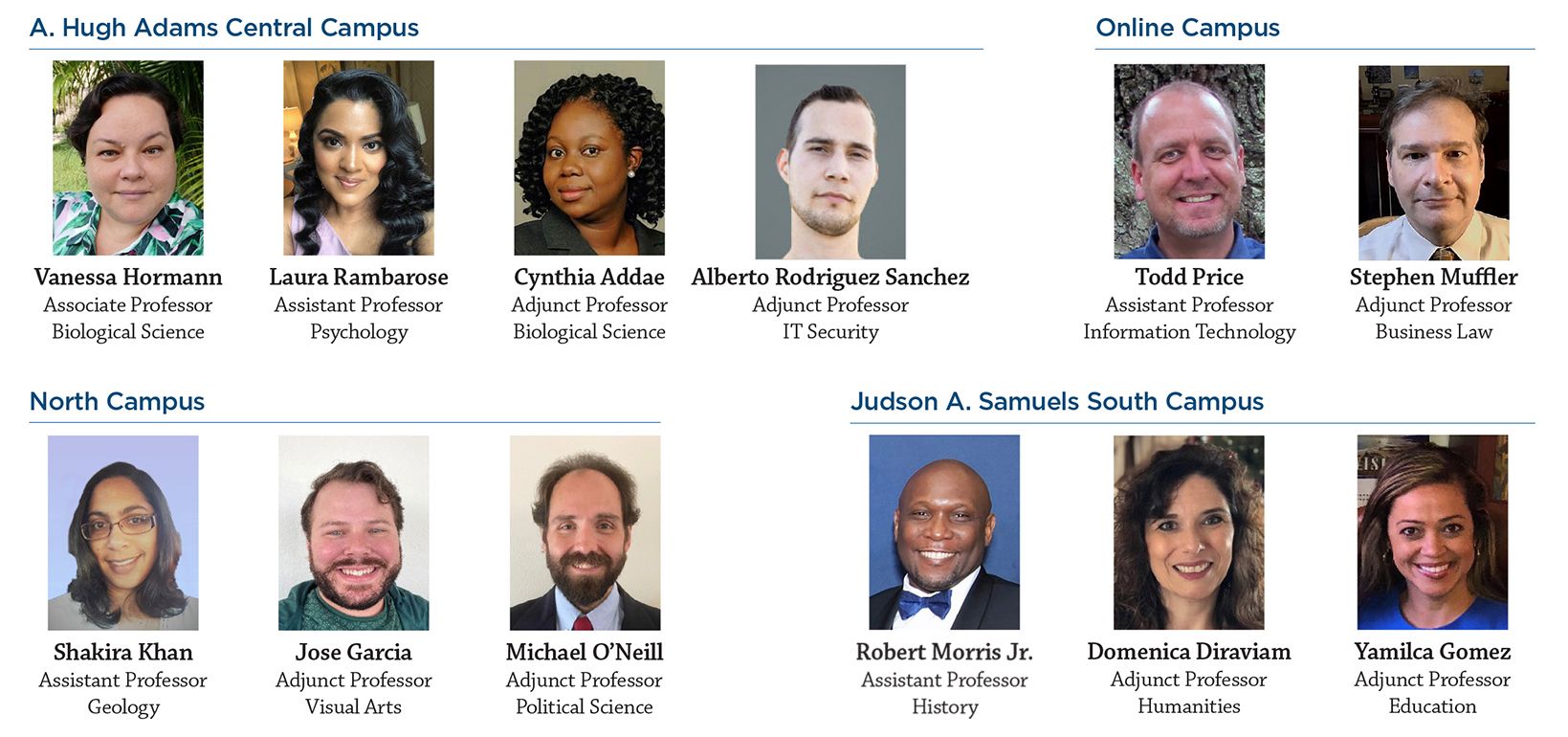 - B.C. -
ABOUT BROWARD COLLEGE
Serving approximately 56,000 students annually, Broward College provides residents with certificate programs, two-year university-transfer degrees, two-year career degrees, and baccalaureate degrees in selected programs. The mission of the College is to provide high-quality educational programs and services that are affordable and accessible to a diverse community of learners. For more information, visit www.broward.edu.
Broward College Students
Broward College Leadership